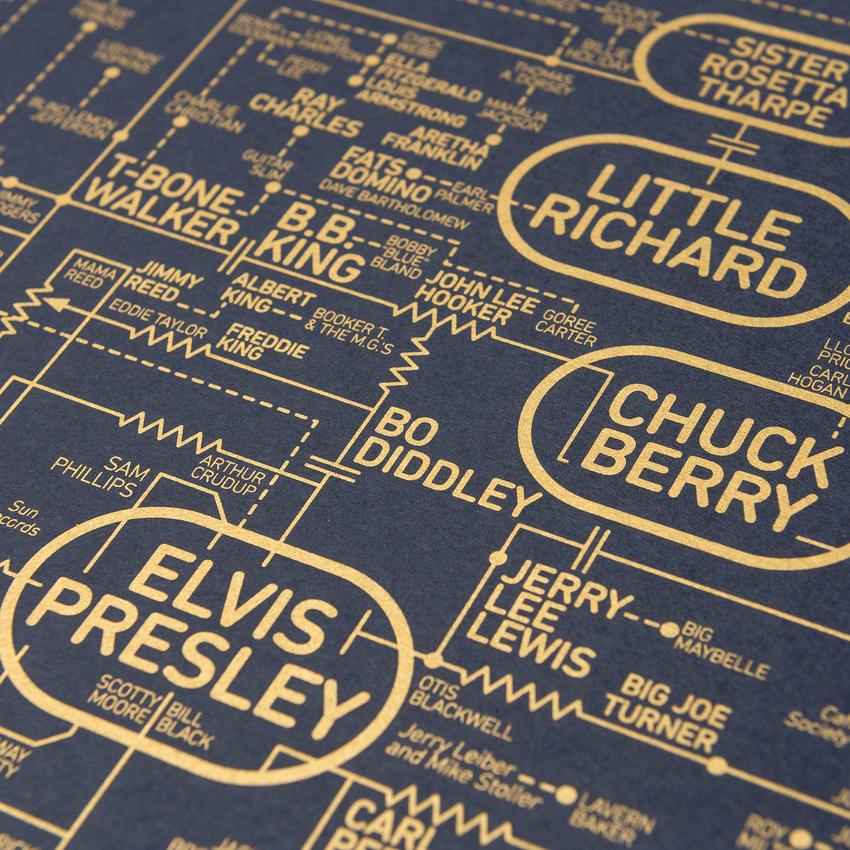 There is no rock and roll without the blues, as we know, but the relationship between the two is not so straightforward as a one-to-one influence. Blues forms, scales, and melodies are interwoven and interlaced throughout rock in a complex way well represented by the complexity of a circuit board, such as one powering an early guitar amplifier that doubled as a blues harp amp. To understand the relationship, we must understand the blues as a multifaceted phenomenon; at various times in rock history, artists have gravitated more toward acoustic Delta blues, or Memphis blues, or Chicago electric blues, or R&B, all of which themselves have continued to evolve and change.
The influence is persistent and ongoing even in periods after the 70s when radio became largely segregated, and artists moved away from strictly blues forms and explored the seemingly non-blues textures of soft rock, prog, and synth-pop—all genres that have still incorporated the blues in one way or another. As rock and roll expanded, spread out in new, non-blues directions, rock conventions themselves became a drag on the forward movement of the form. But the blues always returns.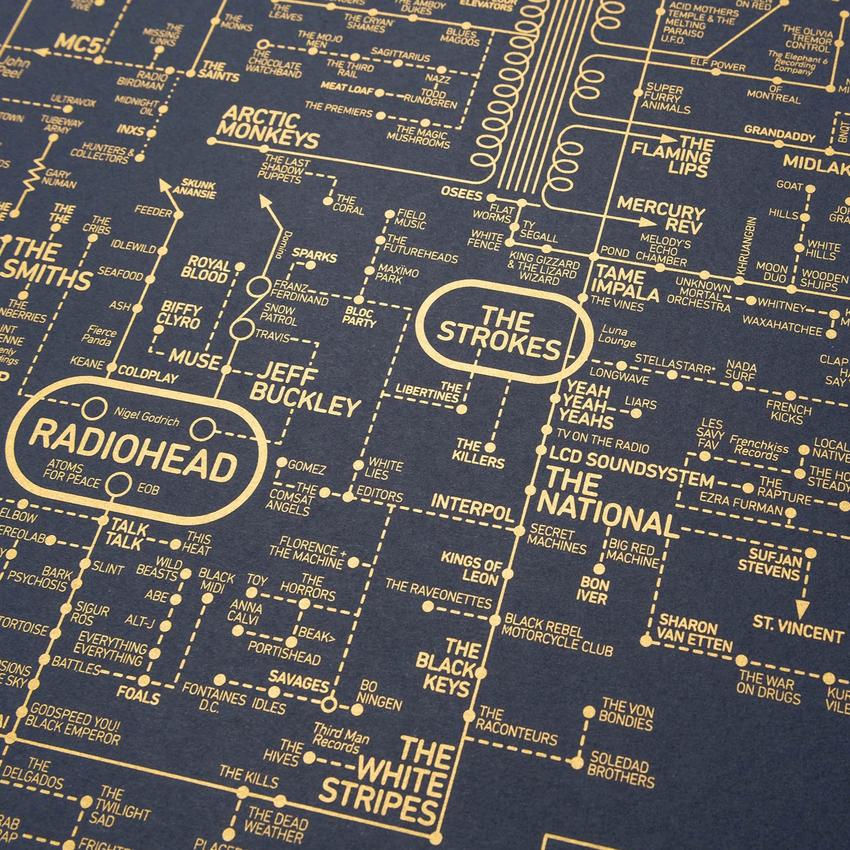 Radiohead ditched rock altogether and sit comfortably next to post-rock bands like Talk Talk, Bark Psychosis, and Godspeed You! Black Emperor. At the same time, the garage rock revivalism of The Strokes and The White Stripes made sure guitars and 12 bars stayed relevant, as they have, decade after decade, in the raw forms of punk and hardcore or in spaced-out psychedelia. The noisiest noise rock or the harshest and most extreme metal may never be that far away from Bessie Smith, Sister Rosetta Tharpe, Robert Johnson, or Lead Belly.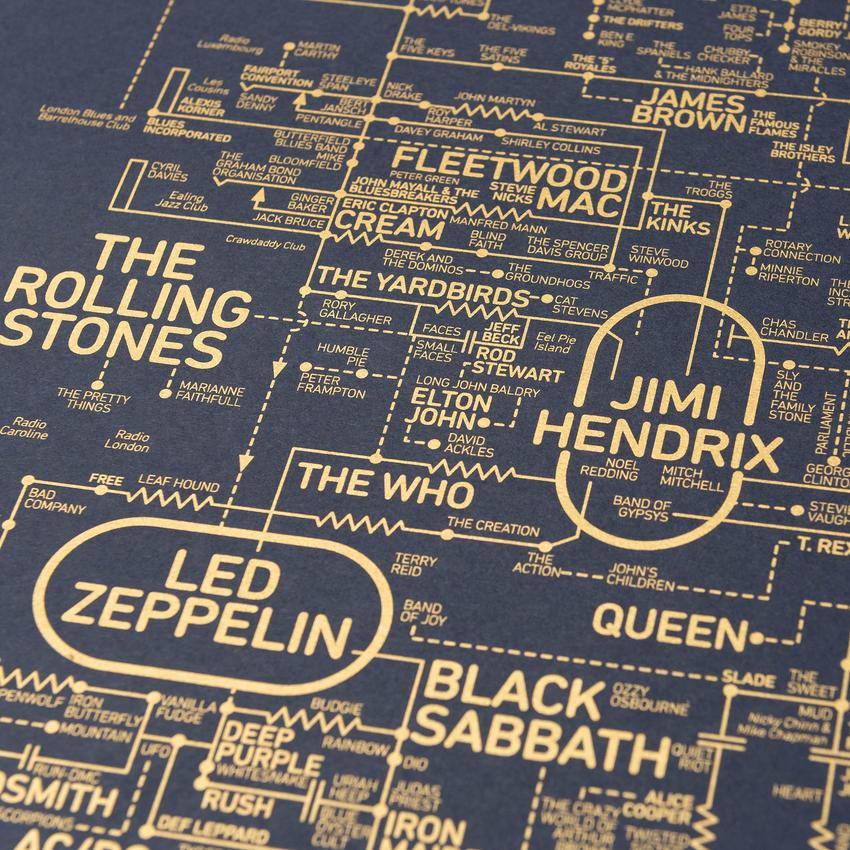 You'll find this rock and roll circuit board in design house Dorothy's Rock and Roll Love Blueprint, a history of rock in guitar amp schematic form (ostensibly), showcasing "1400 musicians, artists, songwriters and producers who have been pivotal to the evolution of the sprawling genre that is rock music."
Like Dorothy's other schematic pop music histories—alternative music on a transistor radio circuit and hip hop mapped on a turntable diagram—this one organizes its genres, artists, and periods around a series of transistors, capacitors, and valves with big names inside them like Bob Dylan and The Beatles, radiating influence, like electricity, outward.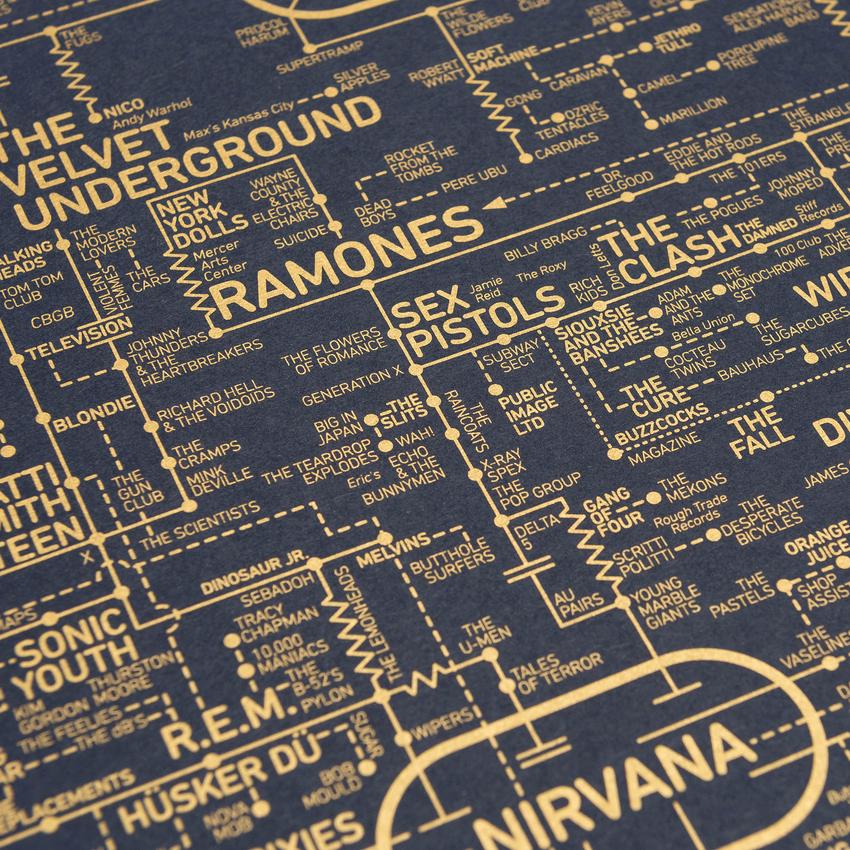 In many cases, it's hard to say why some bands and artists get more emphasis than others. Are The Byrds really more influential than The Beach Boys or David Bowie? While it might be possible to quantify such things—and any good technician would insist on getting the values right (or our amp might explode), the Rock and Roll Love Blueprint is a fun visual metaphor that should encourage interest in cultural figures old and new rather than scorching debates about whose name should be a few millimeters larger and to the left.
We begin with W.H. Handy, the father of the blues, and end, on the right side, with the guitar rock of Wolf Alice and The 1975. In-between, the blueprint seems to hit on just about every major or minor-but-influential figure you might name. See the full blueprint, in zoomable high-resolution, and order prints for yourself at Dorothy.
Related Content: 
A History of Alternative Music Brilliantly Mapped Out on a Transistor Radio Circuit Diagram: 300 Punk, Alt & Indie Artists
The History of Hip Hop Music Visualized on a Turntable Circuit Diagram: Features 700 Artists, from DJ Kool Herc to Kanye West
History of Rock: New MOOC Presents the Music of Elvis, Dylan, Beatles, Stones, Hendrix & More
The Women of Rock: Discover an Oral History Project That Features Pioneering Women in Rock Music
Josh Jones is a writer and musician based in Durham, NC. Follow him at @jdmagness.