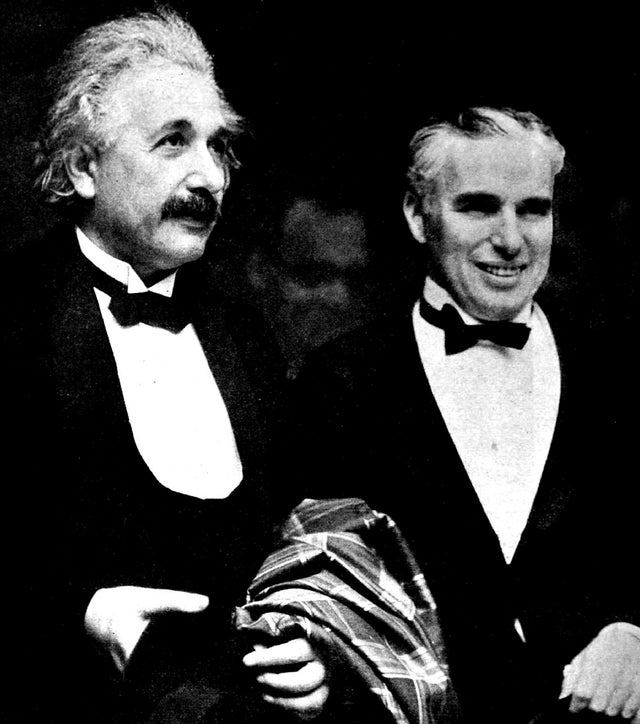 Pho­to via Wiki­me­dia Com­mons
"You do not real­ly under­stand some­thing unless you can explain it to your grand­moth­er," goes a well-known quote attrib­uted var­i­ous­ly to Albert Ein­stein, Richard Feyn­man, and Ernest Ruther­ford. No mat­ter who said it, "the sen­ti­ment… rings true," writes Michelle Lav­ery, "for researchers in all dis­ci­plines from par­ti­cle physics to ecopsy­chol­o­gy." As Feyn­man dis­cov­ered dur­ing his many years of teach­ing, it could be "the mot­to of all pro­fes­sion­al com­mu­ni­ca­tors," The Guardian's Rus­sell Gross­man writes, "and espe­cial­ly those who earn a liv­ing com­mu­ni­cat­ing the tricky busi­ness of sci­ence."
Ein­stein became one of the world's great sci­ence com­mu­ni­ca­tors by choice, not neces­si­ty, and found ways to explain his com­plex the­o­ries to chil­dren and the elder­ly alike. But per­haps, if he'd had his way, he would rather have avoid­ed words alto­geth­er, and pre­ferred acro­bat­ic feats of silent dar­ing to get his mes­sage across. We might at least con­clude so from his rev­er­ence for the work of Char­lie Chap­lin. Chap­lin was the only per­son Ein­stein want­ed to meet in Cal­i­for­nia dur­ing his sec­ond, 1930–31 vis­it to the U.S., when he was "at the height of his fame," notes Claire Cock-Starkey at Men­tal Floss, "with news­pa­pers track­ing his every move and aca­d­e­mics clam­or­ing for expla­na­tions of his the­o­ries."
The admi­ra­tion, of course, was mutu­al. Their first meet­ings hap­pened out­side the press's scruti­ny, at Uni­ver­sal Stu­dios, "where the pair took a tour and had lunch togeth­er. They hit it off straight away, shar­ing quick wits and curi­ous minds." In his auto­bi­og­ra­phy, Chap­lin writes that Einstein's wife Elsa fina­gled an invi­ta­tion to din­ner at Chaplin's house. And he "was only too hap­py to oblige," Cock-Starkey writes, arrang­ing an "inti­mate din­ner, at which Elsa regaled him with the sto­ry of when Ein­stein came up with his world-chang­ing the­o­ry, some­time around 1915."
The two con­tin­ued to cor­re­spond, and the big pub­lic unveil­ing of their friend­ship came when Chap­lin invit­ed Ein­stein to the pre­mier of City Lights in 1931 (see pho­to up top) where the mega-celebri­ties from very dif­fer­ent worlds were greet­ed by reporters, pho­tog­ra­phers, and ador­ing crowds. There are sev­er­al record­ed ver­sions of their con­ver­sa­tion. In one account, Ein­stein expressed bemuse­ment at the cheer­ing, and Chap­lin remarked, "the peo­ple applaud me because every­one under­stands me, and they applaud you because no one under­stands you."
Chap­lin him­self wrote in his 1933–34 trav­el­ogue, A Come­di­an Sees the World, that one of Einstein's sons uttered the line, weeks after­ward: "You are pop­u­lar [because] you are under­stood by the mass­es. On the oth­er hand, the professor's pop­u­lar­i­ty with the mass­es is because he is not under­stood." Yet anoth­er ver­sion, cir­cu­lat­ing on the Nobel Prize's Insta­gram and col­lect­ing tens of thou­sands of likes, has the exchange take place in a dia­logue.
Ein­stein: "What I most admire about your art, is your uni­ver­sal­i­ty. You don't say a word, yet the world under­stands you!"

Chap­lin: "True. But your glo­ry is even greater! The whole world admires you, even though they don't under­stand a word of what you say."
What­ev­er they real­ly said to each oth­er, it's clear Ein­stein saw some­thing in Char­lie Chap­lin worth emu­lat­ing. Chap­lin left his mark on Exis­ten­tial­ist phi­los­o­phy, lend­ing the name of his film Mod­ern Times to Jean-Paul Sartre and Simone de Beauvoir's influ­en­tial jour­nal, Les Temps Mod­ernes. He left a lega­cy on Beat poet­ry, lend­ing the name City Lights to Lawrence Ferlinghetti's infa­mous San Fran­cis­co book­store and pub­lish­er. And it seems he also maybe had some small effect on physics, or on the most famous of physi­cists, who might have har­bored a secret ambi­tion to be a silent film comedian—or to com­mu­ni­cate, at least, with the uni­ver­sal effec­tive­ness of one as skilled as Char­lie Chap­lin, favorite of genius­es and grand­moth­ers (and genius grand­moth­ers) every­where.
Relat­ed Con­tent:
60+ Free Char­lie Chap­lin Films Online
Einstein's The­o­ry of Rel­a­tiv­i­ty Explained in One of the Ear­li­est Sci­ence Films Ever Made (1923)
Hear Albert Ein­stein Read "The Com­mon Lan­guage of Sci­ence" (1941)
The Char­lie Chap­lin Archive Opens, Putting Online 30,000 Pho­tos & Doc­u­ments from the Life of the Icon­ic Film Star
Josh Jones is a writer and musi­cian based in Durham, NC. Fol­low him at @jdmagness