Maybe you've sung the Christmas carol "Good King Wenceslas" and wondered who this good king was. The carol wasn't written until the 19th century, but "Wenceslas was a real person," writes NPR's Tom Manoff, the patron saint of the Czechs and "the Duke of Bohemia, a 10th-century Christian prince in a land where many practiced a more ancient religion. In one version of his legend, Wenceslas was murdered in a plot by his brother," Boleslav, "under the sway of their so-called pagan mother," Drahomíra.
Wenceslas' grandmother Ludmilla died a Christian martyr in 921 A.D. Her husband, Bořivoj, ruled as the first documented member of the Přemyslid Dynasty (late 800s-1306), and her two sons Spytihnĕv I (circa 875–915) and Vratislav I (circa 888–921), Wenceslas' father, ruled after their father's death. The skeletal remains of these royal Bohemian brothers were identified at Prague Castle in the 1980s by anthropologist Emanuel Vlček. Due to advances in DNA analysis and imaging, we can now see an approximation of what they looked like. (See Spytihnĕv at the top and Vratislav at the bottom in the image below.)
A Czech-Brazillian research team created the reconstructions, making "educated guesses" about the brothers' hairstyles, beards, and clothing. "The team, which included archaeologists Jiří Šindelář and Jan Frolík, photographer Martin Frouz, and 3-D technician Cicero André da Costa Moraes," Isis Davis-Marks writes at Smithsonian, "has previously reconstructed the faces of Zdislava of Lemberk (circa 1220–1252), patron saint of families, and Czech monarch Judita of Thuringia (circa 1135–1174), among others."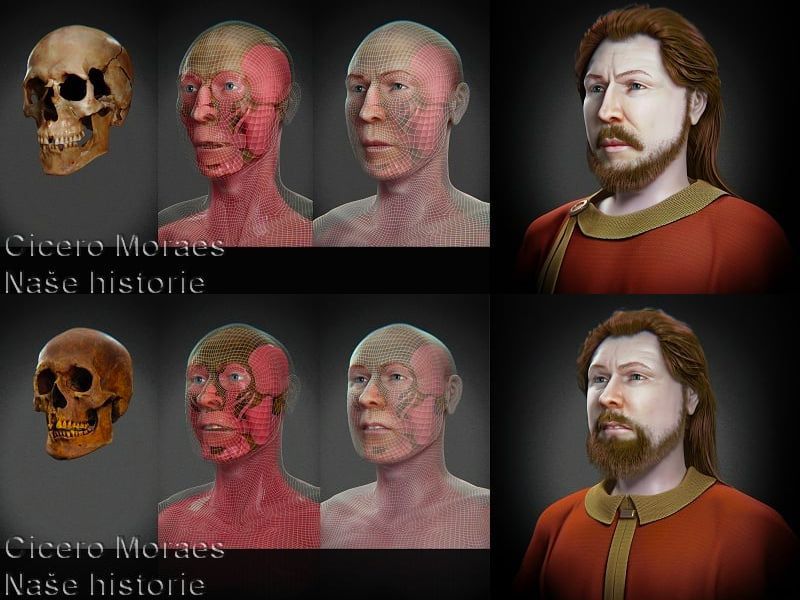 The project proceeded in several stages, with different experts involved along the way. "First," notes Archaeology, "detailed images of the bones were assembled using photogrammetry to form virtual 3-D models" of the skulls. Then, facial reconstruction expert Moraes added muscle, tissue, skin, etc., relying on "multiple three-dimensional reconstruction techniques," Davis-Marks writes, "including anatomical and soft tissue depth methods, to ensure the highest possible level of accuracy." DNA analysis showed that the brothers likely had blue eyes and reddish-brown hair.
Spytihnĕv and Vratislav's other features come from the best guess of the researchers based on "miniatures or manuscripts," says Frolík, "but we don't really know." Do they look a bit like video game characters? They look very much, in their digital sheen, like characters in a medieval video game. But perhaps we can anticipate a day when real people from the distant past return as fully animated 3D reconstructions to replay, for our education and amusement, the battles, court intrigues, and fratricides of history as we know it.
Related Content: 
20,000 Endangered Archaeological Sites Now Catalogued in a New Online Database
Beer Archaeology: Yes, It's a Thing
The History of Europe from 400 BC to the Present, Animated in 12 Minutes
Josh Jones is a writer and musician based in Durham, NC. Follow him at @jdmagness.