The jury remains out as to the number of angels that can dance on a pin, but self-taught artist Flor Carvajal is amassing some data regarding the number of itty bitty sculptures that can be installed on the tips of matchsticks, pencil points, and — thanks to a rude encounter with a local reporter — in the eye of a needle.
According to Tucson's Mini Time Machine Museum of Miniatures, where her work is on display through June, The Vanguardia Liberal was considering running an interview in conjunction with an exhibit of her Christmas-themed miniatures. When she wouldn't go on record as to whether any of the itty-bitty nativity scenes she'd been crafting for over a decade could be described as the world's smallest, the reporter hung up on her.
Rather than stew, she immediately started experimenting, switching from Styrofoam to synthetic resin in the pursuit of increasingly miniscule manger scenes.
By sunrise, she'd managed to place the Holy Family atop a lentil, a grain of rice, the head of a nail, and the head of a pin.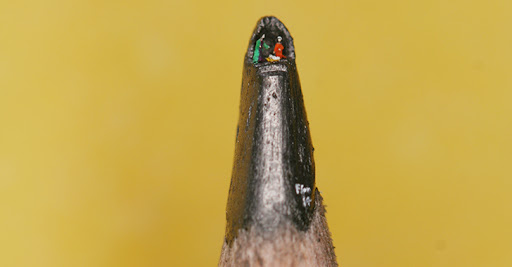 These days, most of her micro-miniature sculptures require between 2 and 14 days of work, though she has been laboring on a model of Apollo 11 for over a year, using only a magnifying glass and a needle, which doubles as brush and carving tool.
In a virtual artist's chat last month, she emphasizes that a calm mind, steady hands, and breath control are important things to bring to her workbench.
Open windows can lead to natural disaster. The odds of recovering a work-in-progress that's been knocked to the floor are close to nil, when said piece is rendered in 1/4" scale or smaller.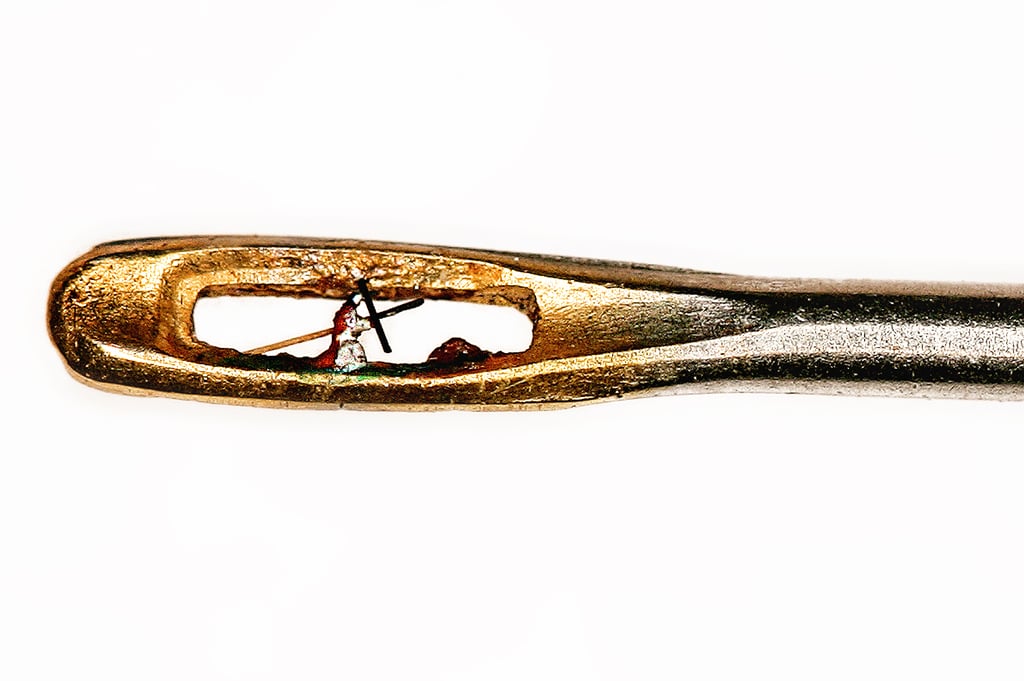 Religious themes provide ongoing inspiration – a recent achievement is a 26 x 20 millimeter recreation of Leonardo da Vinci's Last Supper — but she's also drawn to subjects relating to her native Columbia, like Goranchacha, the son the Muisca Civilization's Sun God, and Juan Valdez, the fictional representative of the national coffee growers federation.

See more of  Flor Carvajal's micro-miniatures on her Instagram.
Related Content: 
Cooking with Wool: Watch Mouthwatering Tiny Woolen Food Animations
Watch Teeny Tiny Japanese Meals Get Made in a Miniature Kitchen: The Joy of Cooking Mini Tempura, Sashimi, Curry, Okonomiyaki & More
The Gruesome Dollhouse Death Scenes That Reinvented Murder Investigations
Ayun Halliday is an author, illustrator, theater maker and Chief Primatologist of the East Village Inky zine.  Follow her @AyunHalliday.