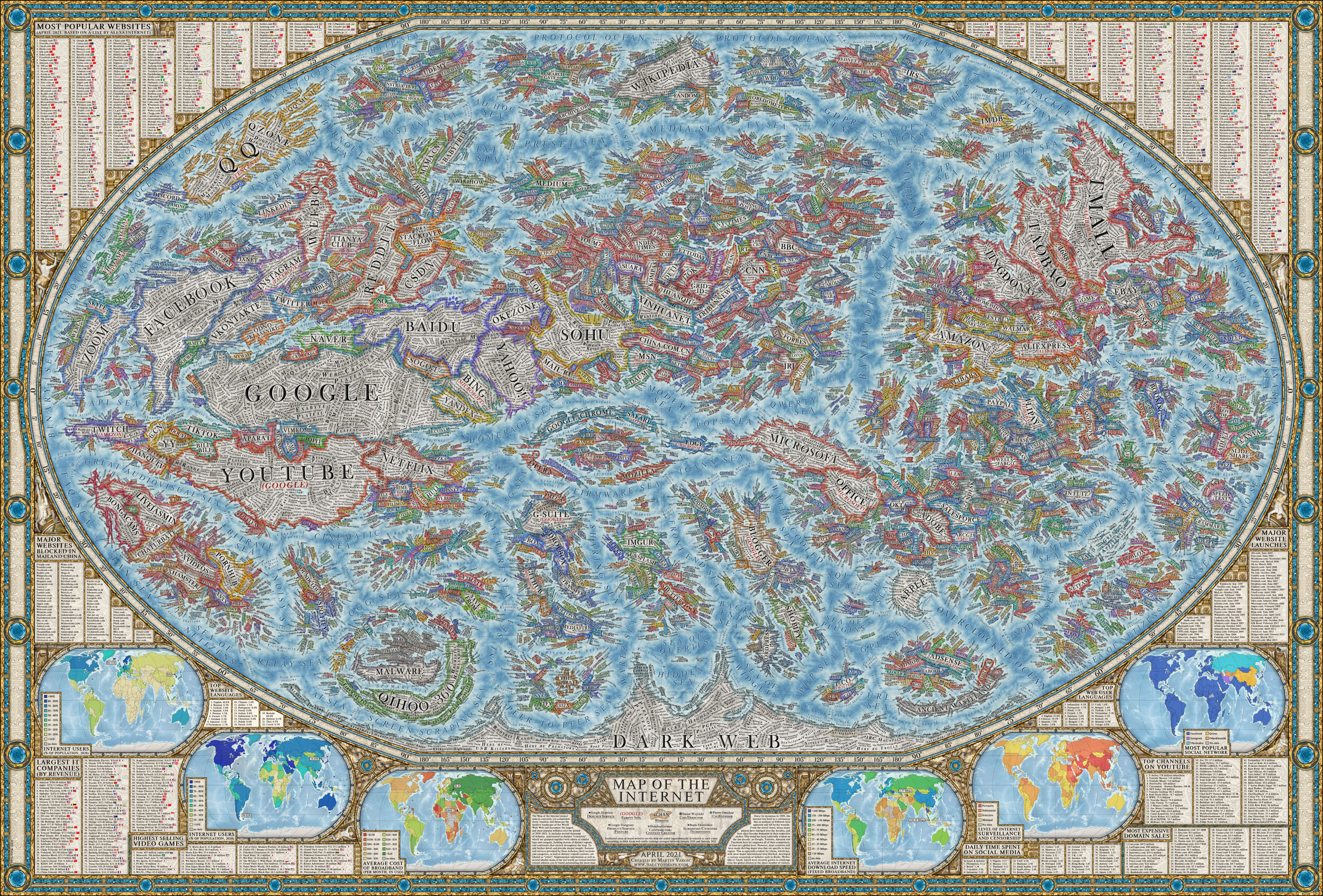 The begin­nings of the Inter­net were unchart­ed ter­ri­to­ry, espe­cial­ly before the days of graph­ic browsers. You had a num­ber, you dialed up to a loca­tion. Cer­tain loca­tions were named after their host uni­ver­si­ties or gov­ern­ment sites and that made sense in an old-school tele­phone exchange way. But the rest was just a vast ocean of data, of strange lands, and many, many bar­ri­ers. How big, exact­ly, is the inter­net? And how do we mea­sure it? What is the "space" of cyber­space?
There have been maps that over­lay the internet's main land­lines onto the map of the earth—this Vox arti­cle shows the spi­dery web grow­ing from the first four loca­tions of ARPANET until the whole world is con­nect­ed. But that's not how we think of it. Sure­ly Open Cul­ture is always where you, dear read­er, reside, and this writer's undis­closed loca­tion has noth­ing to do with it. Maybe the inter­net is real­ly the space that it takes up in our minds, in our lives, and in the amount of inter­net traf­fic.
Ama­teur graph­ic design­er Mar­tin Var­gic visu­al­ized those spaces as coun­tries on a vast globe inspired by Nation­al Geo­graph­ic Mag­a­zine. (Although Nation­al Geo­graph­ic bor­rowed its car­to­graph­ic style from some of the first print­ed maps of the world.) Var­gic first pub­lished his map in 2014 when he was a stu­dent in Slo­va­kia. And now he has decid­ed to update the map for 2021. (See the map in high res­o­lu­tion here.) Large con­ti­nents rep­re­sent the main web­sites of the Inter­net: Face­book, Google, Apple, Ama­zon. The seas rep­re­sent the afore­men­tioned ocean of data under dif­fer­ent names: Ocean of Infor­ma­tion, North Con­nec­tion Ocean, etc. To com­pare his rel­a­tive­ly spare orig­i­nal map to the one he just released is to notice how much more crowd­ed this world has become, and how divid­ed.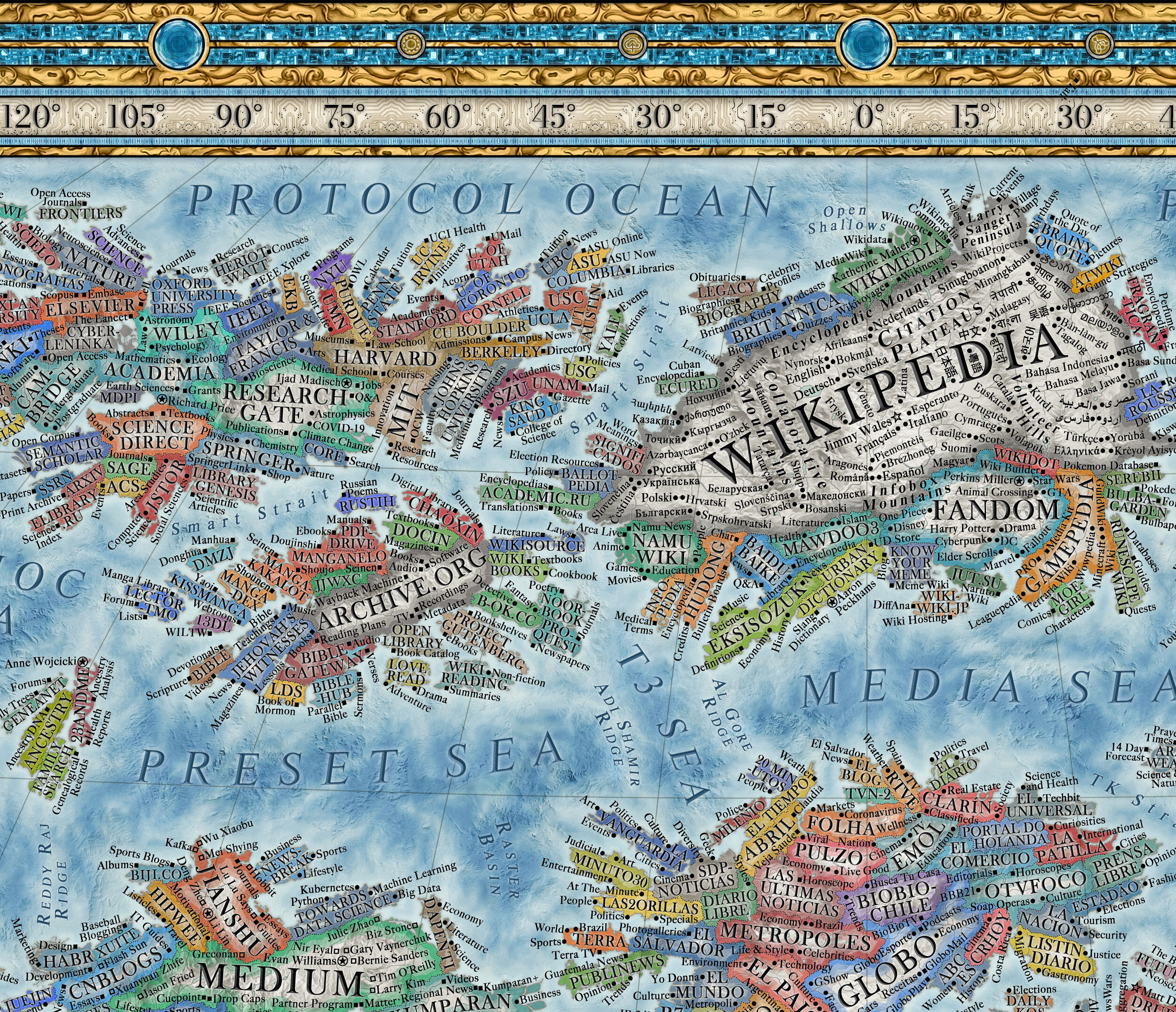 Var­gic based the rel­a­tive size of each web­site on its aver­age traf­fic between Jan­u­ary 2020 and Jan­u­ary 2021, accord­ing to Alexa Rank, the Ama­zon-owned Alexa Internet's mea­sure of how pop­u­lar a web­site is, cal­cu­lat­ed by unique users and page views.
How­ev­er, the cen­ter of the map is now dif­fer­ent. This now depicts the "core and back­bone of the Inter­net as we know it," Var­gic said. This means a core of ser­vice providers sur­round­ed by larg­er islands of web browsers (Chrome, Fire­fox, et al).
While the 2014 map con­sid­ered web­site size as the main orga­niz­er and con­tained around 200 web­sites, this ver­sion con­tains 3,000. The north of the globe fea­tures coun­try clus­ters: a group­ing of aca­d­e­m­ic, research, and free edu­ca­tion sites (wikipedia, archive.org, etc.), gov­ern­men­tal web­sites to the east and con­spir­a­cy QAnon lands to the west.
The Antarc­ti­ca of the map? The Dark Web, where the Onion isn't a par­o­dy news site and TOR isn't the sci-fi/­fan­ta­sy pub­lish­er.
You might find some of Vargic's deci­sions odd, or you might just spend your time won­der­ing how much of the inter­net is indeed an unknown land, with large "coun­tries" you've nev­er heard of, but with mil­lions of "res­i­dents". It might not be real, but Vargic's map will put you in an explorato­ry mood while you light off for the ter­ri­to­ries. You can view it in a high res­o­lu­tion for­mat here. Pur­chase it as a poster here.
Relat­ed Con­tent:
The His­to­ry of the Inter­net in 8 Min­utes
How the Inter­net Archive Dig­i­tizes 3,500 Books a Day–the Hard Way, One Page at a Time
The Old­est Known Globe to Depict the New World Was Engraved on an Ostrich Egg, Maybe by Leonar­do da Vin­ci (1504)
Ted Mills is a free­lance writer on the arts who cur­rent­ly hosts the Notes from the Shed pod­cast and is the pro­duc­er of KCR­W's Curi­ous Coast. You can also fol­low him on Twit­ter at @tedmills, and/or watch his films here.