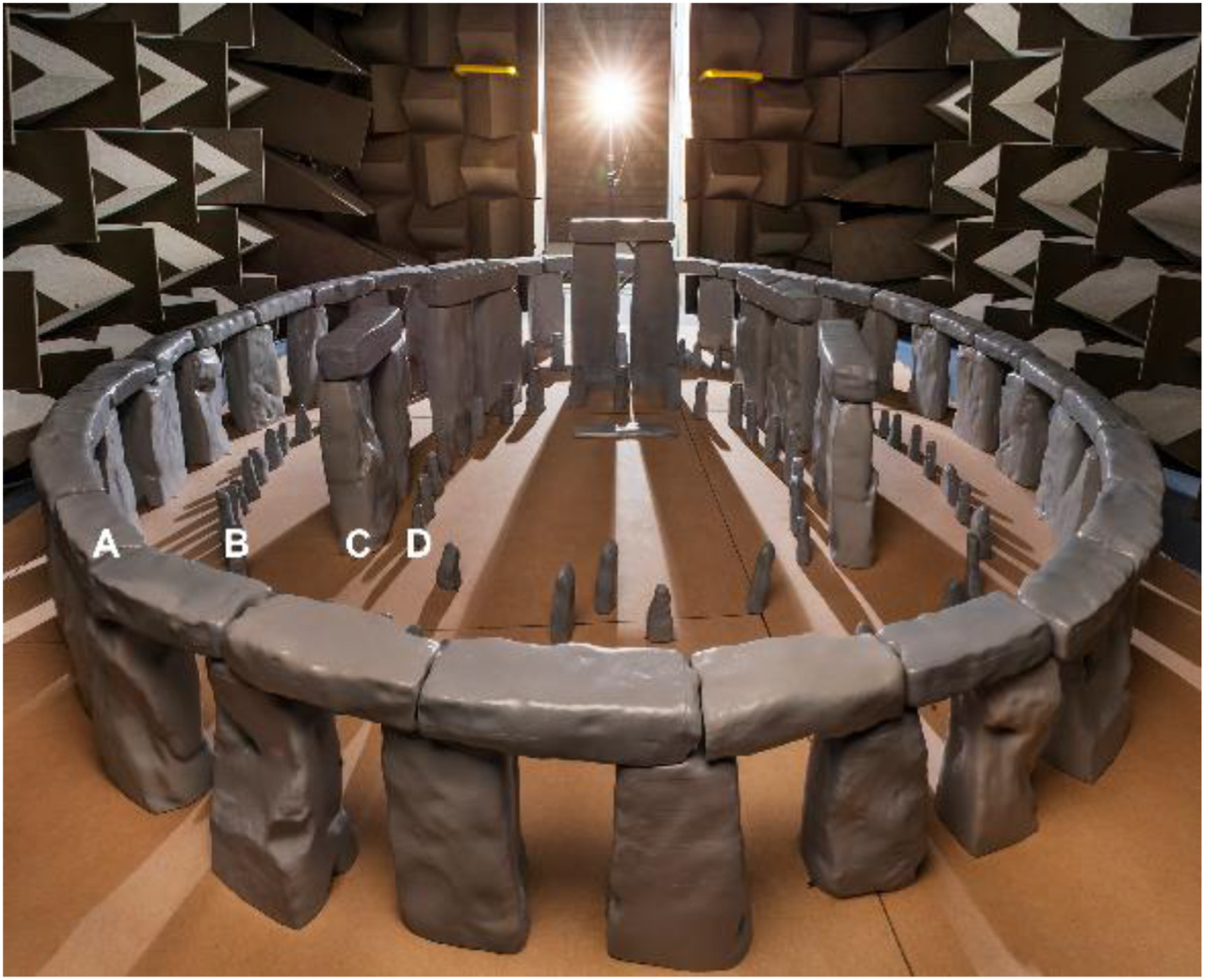 It's impos­si­ble to resist a Spinal Tap joke, but the cre­ators of the com­plete scale mod­el of Eng­land's ancient Druidic struc­ture pic­tured above had seri­ous inten­tions — to under­stand what those inside the cir­cle heard when the stones all stood in their upright "henge" posi­tion. A research team led by acousti­cal engi­neer Trevor Cox con­struct­ed the mod­el at one-twelfth the actu­al size of Stone­henge, the "largest pos­si­ble scale repli­ca that could fit inside an acoustic cham­ber at the Uni­ver­si­ty of Sal­ford in Eng­land, where Cox works," reports Bruce Bow­er at Sci­ence News. The tallest of the stones is only two feet high.
This is not the first time acoustic research has been car­ried out on Stone­henge, but pre­vi­ous projects were "all based on what's there now," says Cox. "I want­ed to know how it sound­ed in 2200 B.C., when all the stones were in place." The exper­i­ment required a lot of extrap­o­la­tion from what remains. The con­struc­tion of "Stone­henge Lego" or "Mini­henge," as the researchers call it, assumes that "Stonehenge's out­er cir­cle of stand­ing sarsen stones — a type of sil­crete rock found in south­ern Eng­land — had orig­i­nal­ly con­sist­ed of 30 stones." Today, there are 17 sarsen stones in the out­er cir­cle among the 63 com­plete stones remain­ing.
"Based on an esti­mat­ed total 157 stones placed at the site around 4,200 years ago, the researchers 3‑D print­ed 27 stones of all sizes and shapes," Bow­er explains. "Then, the team used sil­i­cone molds of those items and plas­ter mixed with oth­er mate­ri­als to re-cre­ate the remain­ing 130 stones. Sim­u­lat­ed stones were con­struct­ed to min­i­mize sound absorp­tion, much like actu­al stones at Stone­henge." Once Cox and his team had the mod­el com­plet­ed and placed in the acoustic cham­ber, they began exper­i­ment­ing with sound waves and micro­phones, mea­sur­ing impulse respons­es and fre­quen­cy curves.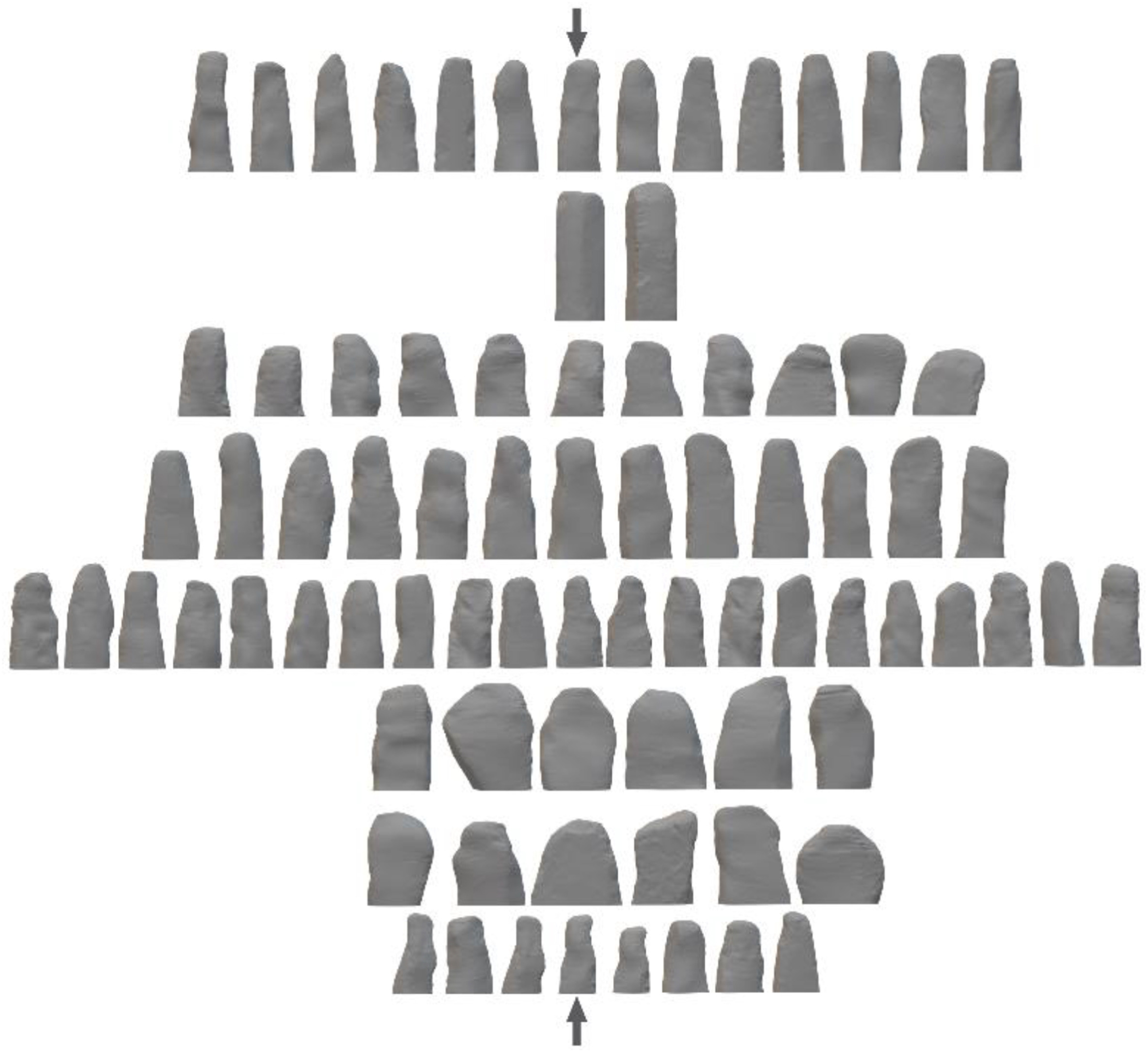 What were the results of this son­ic Stone­henge recre­ation? "We expect­ed to lose a lot of sound ver­ti­cal­ly, because there's no roof," says Cox. Instead, researchers found "thou­sands upon thou­sands of reflec­tions as the sound waves bounced around hor­i­zon­tal­ly." Par­tic­i­pants in rit­u­al chants or musi­cal cel­e­bra­tions inside the cir­cle would have heard the sound ampli­fied and clar­i­fied, like singing in a tiled bath­room. For those stand­ing out­side the mon­u­ment, or even with­in the out­er cir­cle of stones, the sound would have been muf­fled or damp­ened. Like­wise, the arrange­ment would have damp­ened sound enter­ing the inner cir­cle from out­side.
Indeed, the effect was so pro­nounced that "the place­ment of the stones was capa­ble of ampli­fy­ing the human voice by more than four deci­bels, but pro­duced no echoes," notes Art­net. This sug­gests that the site's acoustic prop­er­ties were not acci­den­tal, but designed as part of its essen­tial func­tion for an elite group of par­tic­i­pants, "even though the site's con­struc­tion would have required a huge amount of man­pow­er." This is hard­ly dif­fer­ent from oth­er mon­u­men­tal ancient reli­gious struc­tures like pyra­mids and zig­gu­rats, built for roy­al­ty and an elite priest­hood. But it's only one inter­pre­ta­tion of the structure's pur­pose.
While Cox and his team do not believe acoustics were the pri­ma­ry moti­va­tion for Stonehenge's design — astro­log­i­cal align­ment seems to have been far more impor­tant — it clear­ly played some role. Oth­er schol­ars have their own hypothe­ses. Research still needs to account for envi­ron­men­tal fac­tors — or why "Stone­henge hums when the wind blows hard," as musi­col­o­gist Rupert Till points out. Some have spec­u­lat­ed the stones may have been instru­ments, played like a giant xylo­phone, a the­o­ry test­ed in a 2013 study con­duct­ed by researchers from the Roy­al Col­lege of Art, but this, too, remains spec­u­la­tive.
As the great Stone­henge enthu­si­ast Nigel Tufnel once sang, "No one knows who they were, or what they were doing." But what­ev­er it sound­ed like, Cox and his col­leagues have shown that the best seats were inside the inner cir­cle. Read the research team's full arti­cle here.
Relat­ed Con­tent:
The Ancient Astron­o­my of Stone­henge Decod­ed
An Artist Vis­its Stone­henge in 1573 and Paints a Charm­ing Water­col­or Paint­ing of the Ancient Ruins
The Spinal Tap Stone­henge Deba­cle
Josh Jones is a writer and musi­cian based in Durham, NC. Fol­low him at @jdmagness