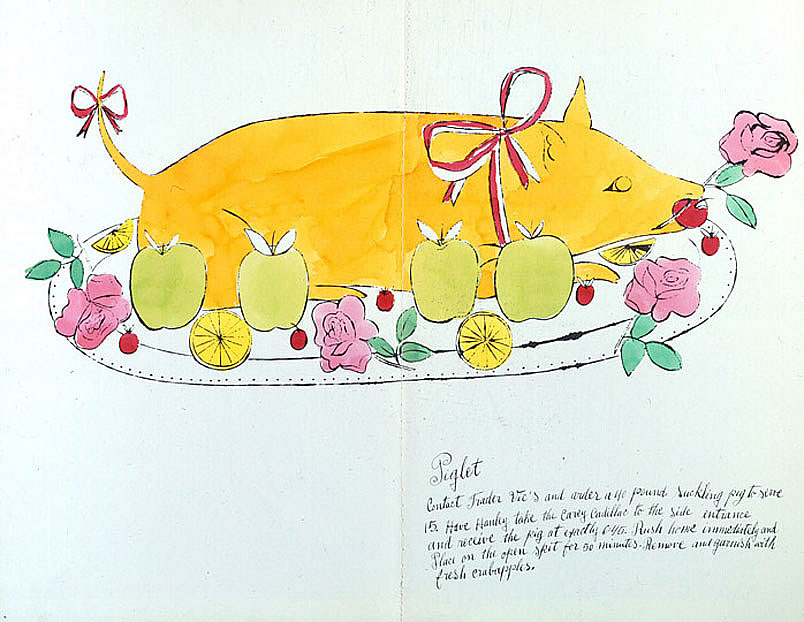 Gorgeously illustrated cookbooks featuring sumptuous images of fancy desserts and other special occasion food can be quite an intimidating proposition to self-doubting beginners.
The recipes themselves are daunting, and as every Great British Baking Show viewer learns, watching the top contestants squirm in advance of co-host Paul Hollywood's icy judgment, flavor can't save an edible creation that fails as art.
Andy Warhol's approach to cookery appears rather more blithe.
His 1959 cookbook, Wild Raspberries — the title is a play on Ingmar Bergman's Wild Strawberries — displays little interest in its readers' cooking ability… or, for that matter, its authors.
Fanciful representations of such delicacies as Gardoons a la Mousseline are pretty as a picture… and stress free given that no one is actually expected to make them.
Wild Raspberries is all about attitude… and ambition of a purely social nature.
Warhol's co-author, interior decorator and society hostess Suzie Frankfurt, recalled hatching the idea for this collaboration, shortly after encountering the young artist at New York City's fabled sweet spot, Serendipity: "We thought it would be a masterpiece and we'd sell thousands. I think we sold 20."
It's possible the endeavor was a few decades ahead of its time. We can imagine Wild Raspberries doing quite well as an impulsive lifestyle type buy at Urban Outfitters.
Secondhand copies of a 1997 reprint occasionally resurface, as do auction lots of the original 34 lithograph sets, hand-colored by four schoolboys who lived upstairs from Warhol, prior to hand-binding by rabbis on the Lower East Side.
After consigning a few copies to Doubleday and Rizzoli bookstores, Warhol and Frankfurt gave the bulk of the first edition away as Christmas presents to friends, who were no doubt well equipped to appreciate the tongue-in-cheek nature of its "recipes," hand-lettered by Warhol's mother, Julia — whose spelling boo-boos were purposefully allowed to stand.
The instructions eschew crass mention of measurements or cooking times… perfect for anyone with hired staff, standing reservations at Upper East Side hot spots, or a social X-Ray diet regimen.
Instead, readers are directed to send the Cadillac round to Trader Vic's tiki bar for a suckling pig of sufficient size for a party of 15, or to gather morels should they find themselves holidaying in the vicinity of Normandy.
Salade de Alf Landon, a bombe of lobster tails named for FDR's opponent in the 1936 Presidential election, crowned with asparagus tips and hardboiled plover eggs, seems like it could double as a fetching chapeau, especially when paired with one of Warhol's whimsical fantasy  for footwear company I. Miller's weekly ads in The New York Times.
In fact, nearly everything in this vibrantly hand colored "cookbook" makes for plausible mid-century millinery, from Torte a la Dobosch to an impractically vertical arrangement of Hard Boiled Eggs.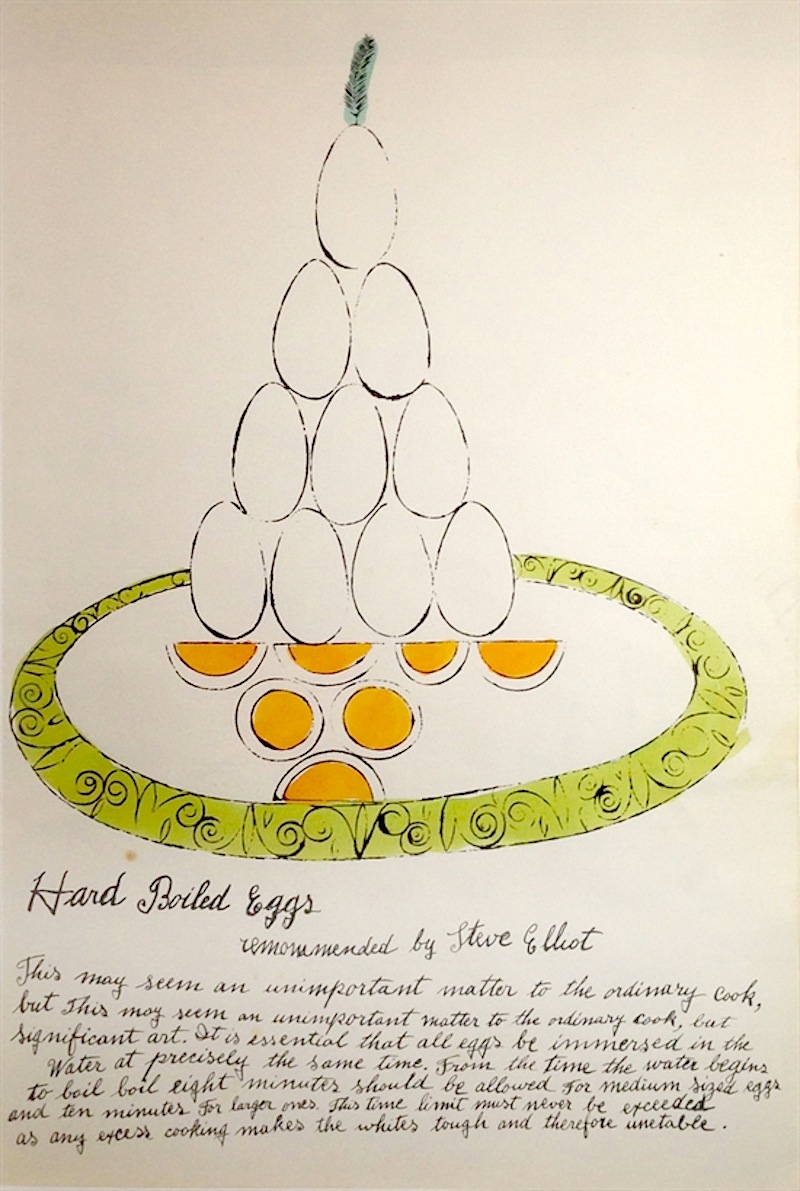 Wild Raspberries may have been a swipe at aspirational, hostess-oriented late-50s cookbooks, but Greengages a la Warhol's reference to hyperlocal produce would fit right in with with Portlandia's 21st century foodie spoofs.
High and low combine to great effect with winking references to Greta Garbo and gossip columnist Dorothy Kilgallen, Lucky Whip dessert topping, a "Seared Roebuck," and store-bought supermarket sponge cake (the latter in Wild Raspberries' most legit-sounding recipe, something of an upgrade from the recipe for "cake" Warhol shared in The Philosophy of Andy Warhol — a chocolate bar served between slices of bread.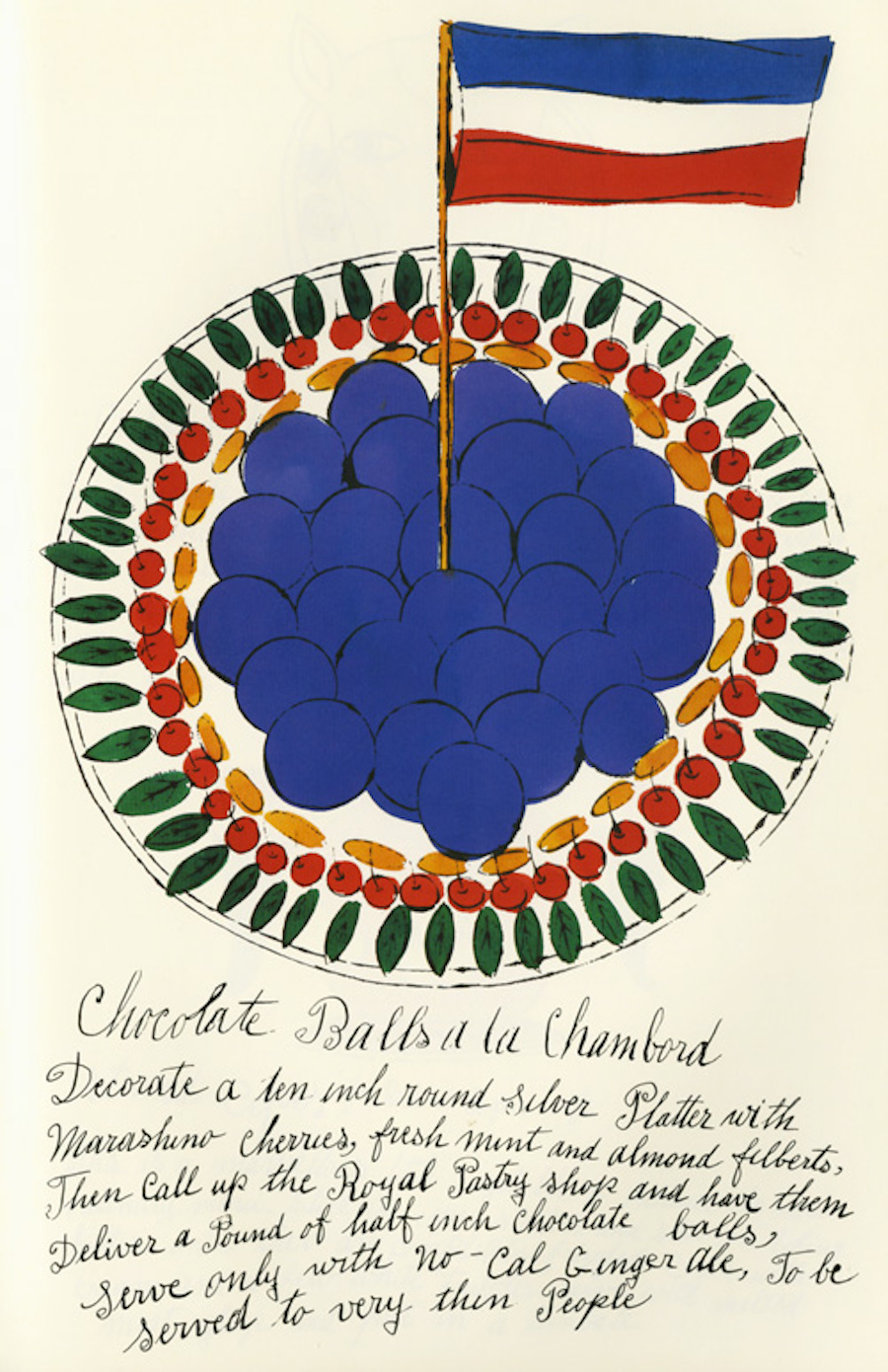 Related Content: 
MoMA's Artists' Cookbook (1978) Reveals the Meals of Salvador Dalí, Willem de Kooning, Andy Warhol, Louise Bourgeois & More
300 Rarely-Seen, Risqué Drawings by Andy Warhol Published in the New Book, Andy Warhol: Love, Sex, and Desire. Drawings (1950–1962)
130,000 Photographs by Andy Warhol Are Now Available Online, Courtesy of Stanford University
Ayun Halliday is an author, illustrator, theater maker and Chief Primatologist of the East Village Inky zine.  Follow her @AyunHalliday.