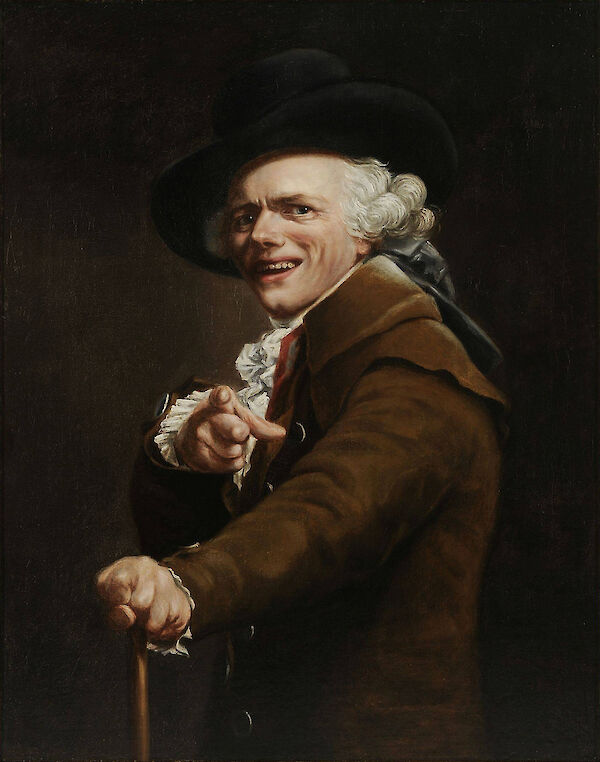 We all know him, the dap­per cross between a smarmy office bro and smug, pull-my-fin­ger uncle; lean­ing on his walk­ing stick, hat pushed back at a rak­ish angle, point­ing at the view­er with a leer.… The 18th-cen­tu­ry paint­ing, titled Self-Por­trait in the Guise of a Mock­er, enjoyed a brief but rich sec­ond life for a cou­ple years as a 21st cen­tu­ry meme, first appear­ing online in a 2009 image macro with the cap­tion "Dis­re­gard Females, Acquire Cur­ren­cy," an over­ly stuffy, thus hilar­i­ous, rephras­ing of Noto­ri­ous B.I.G.'s "Get Mon­ey" lyrics. Thou­sands of imi­ta­tions fol­lowed. With­in a cou­ple years, Steve Buscemi's face got pho­to­shopped in place of the grin­ning bon vivant, and the meme began its decline.
But whose face was it, pre-Busce­mi, giv­ing us that toothy grin and point, "like a man catch­ing sight of an old friend across a crowd­ed room," the Pub­lic Domain Review writes, "or a politi­cian try­ing to charm a vot­er." The gen­tle­man in ques­tion, in fact, hap­pened to be the artist, Joseph Ducreux, a high­ly skilled oil painter whose minia­ture of Marie Antoinette in 1769 won him a baronet­cy and the title of primer pein­tre de la reine (First Painter to the Queen).
This was an hon­or not giv­en to any old slouch. Ducreux worked along­side such mas­ters as Élis­a­beth Vigée Le Brun and Jacques-Louis David, despite the fact that he was not a mem­ber of the Roy­al Acad­e­my of Paint­ing and Sculp­ture, unheard of at the time for a court painter.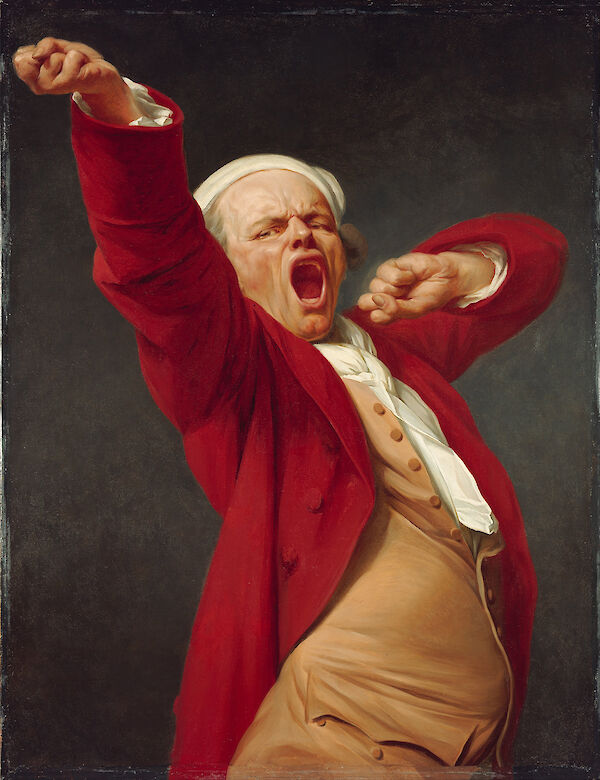 Dur­ing the French Rev­o­lu­tion, Ducreux hid out in Lon­don, where he made the last por­trait of Louis XVI before the king's behead­ing. After­ward, he returned and, through his friend­ship with David, resumed his career as a por­trait painter, as well as an eccen­tric self-por­traitist, an avo­ca­tion he'd tak­en up in the 1780s and 90s to sat­is­fy his curios­i­ty about the the­o­ry of phys­iog­no­my, a pseu­do­science that attempt­ed to divine a per­son­'s char­ac­ter and per­son­al­i­ty from their facial expres­sions and bod­i­ly pos­tures.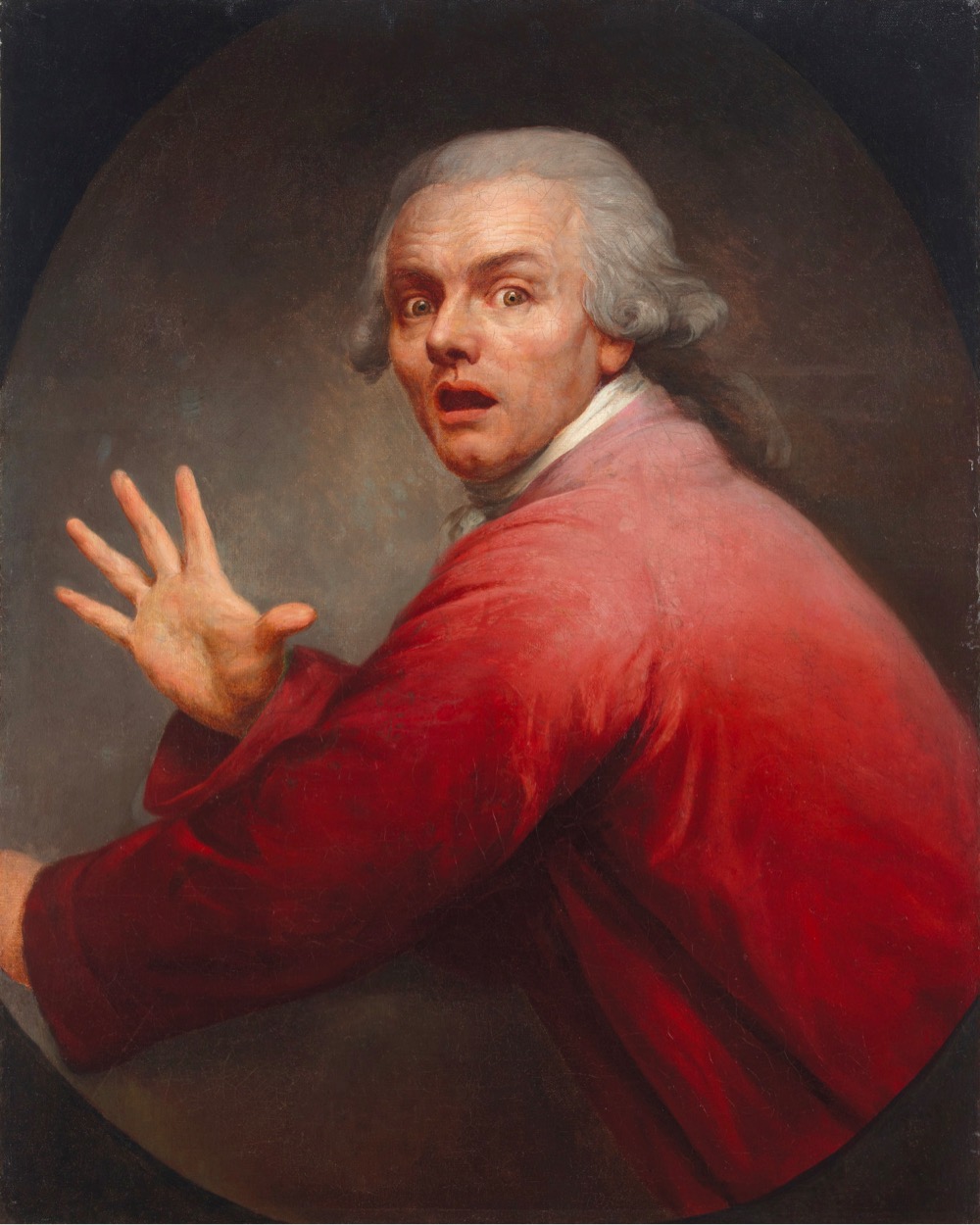 These were remark­able paint­ings for their time, but they were not made with Tum­blr or Twit­ter in mind. Giv­en that they were made before the age of pho­tog­ra­phy and paint­ed on large can­vas­es in oils, the process of cre­at­ing these goofy self­ies would have been painstak­ing and time-con­sum­ing — hard­ly the kind of effort a work­ing artist applies to a joke.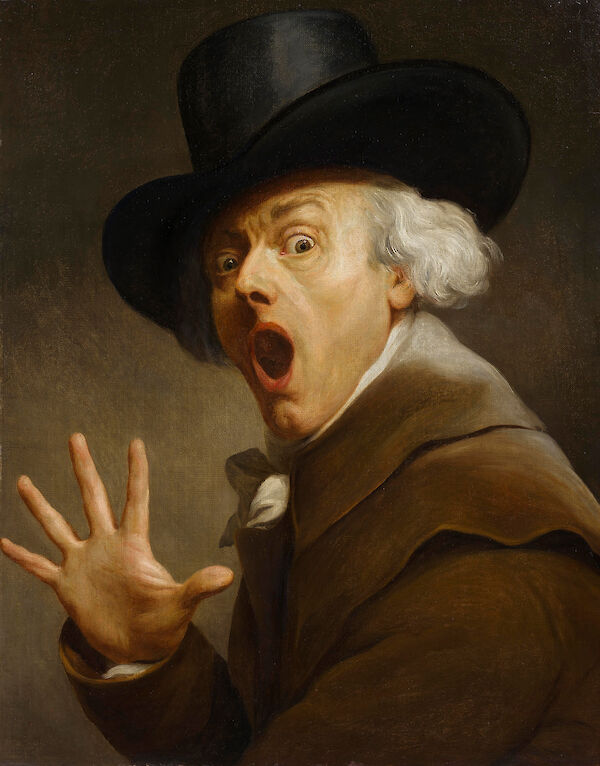 Humor­ous as they are, and no doubt Ducreux had a healthy sense of humor, the por­traits were also meant to serve a sci­en­tif­ic pur­pose of a sort, and they show an artist push­ing past the con­ser­v­a­tive tra­di­tions of por­trai­ture in his day, chaf­ing at the sedate roy­al pos­tures and placid expres­sions that were sup­posed to tele­graph the aris­toc­ra­cy's inner nobil­i­ty. We might sus­pect that through­out his career as a court painter, Ducreux him­self had rea­sons to sus­pect oth­er­wise about his sub­jects. But he only had per­mis­sion to prac­tice his the­o­ries on him­self.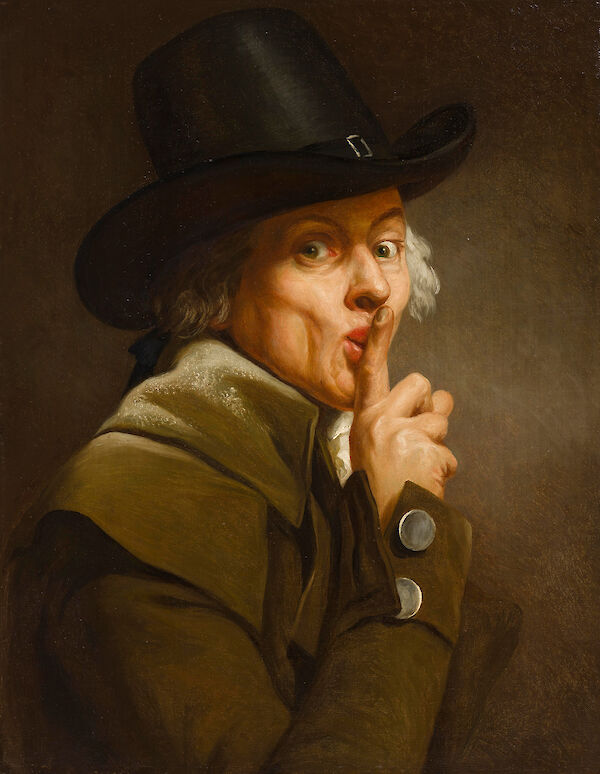 Relat­ed Con­tent:
The Inti­ma­cy of Fri­da Kahlo's Self-Por­traits: A Video Essay
14 Self-Por­traits by Pablo Picas­so Show the Evo­lu­tion of His Style: See Self-Por­traits Mov­ing from Ages 15 to 90
Vin­cent Van Gogh's Self Por­traits: Explore & Down­load a Col­lec­tion of 17 Paint­ings Free Online
25 Mil­lion Images From 14 Art Insti­tu­tions to Be Dig­i­tized & Put Online In One Huge Schol­ar­ly Archive
Josh Jones is a writer and musi­cian based in Durham, NC. Fol­low him at @jdmagness