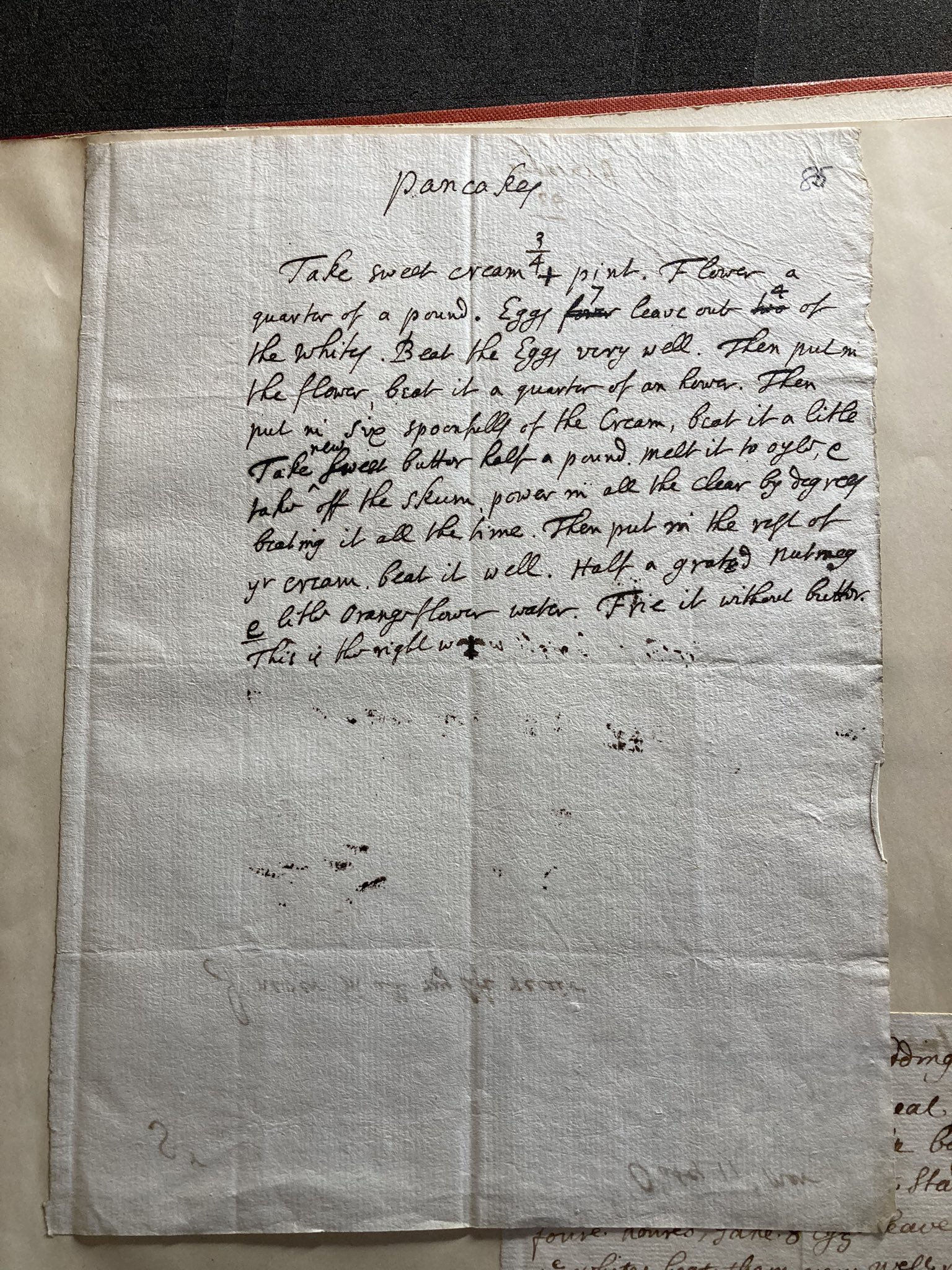 No student of Western political philosophy can ignore John Locke, whose work defined the concepts of governance we now know as liberalism. By the same token, no student of Western cuisine can ignore pancakes, a canonical element of what we now know as breakfast. The oldest pancake recipe we've featured here on Open Culture dates to 1585. Ernest Hemingway had his own preferred pancake-making method; so do Simon and Garfunkel, though theirs are of the potato variety.
Locke, as you might imagine, opted for a more traditionally English recipe. Three centuries on, how well his vision of liberalism has held up remains a matter of active debate. As for his pancakes, Marissa Nicosia at Cooking in the Archives put them to the test just last year. "When David Armitage posted this recipe for pancakes in the Bodleian collection on Twitter, I knew that I wanted to try it," Nicosia writes. Her transcription is as follows:
pancakes
Take sweet cream 3/4 + pint. Flower a
quarter of a pound. Eggs four 7 leave out two 4 of
the whites. Beat the Eggs very well. Then put in
the flower, beat it a quarter of an hower. Then
put in six spoonfulls of the Cream, beat it a litle
Take new sweet butter half a pound. Melt it to oyle, &
take off the skum, power in all the clear by degrees
beating it all the time. Then put in the rest of
your cream. beat it well. Half a grated nutmeg
& litle orangeflower water. Frie it without butter.
This is the right way
"From the start, I was intrigued by the cross-outs and other notes in the recipe. It appears that it was first drafted (or prepared) using significantly fewer eggs." As meticulous in his cooking as in his philosophy, Locke clearly paid close attention to "the details of separating and whisking eggs as well as adding just the right amount of orange blossom water ('litle') and nutmeg ('Half a grated nutmeg') — an exceptional, expensive amount."
Drawing on her significant experience with early modern pancakes, Nicosia describes Locke's version as "a bit fluffier and fattier than a classic French crêpe," though with "far less rise than my favorite American breakfast version"; her husband places them "somewhere between a classic English pancake and a Scotch pancake." Perhaps that somewhat northerly taste and texture stands to reason, in light of the considerable influence Locke's non-pancake-related work would later have on the Scottish Enlightenment.
The final line of Locke's recipe, "This is the right way," may sound a bit stern in context today. But whether you work straight from his original or from the updated version Nicosia provides in her post, you should end up with "pancakes made for a decadent breakfast." Locke's inclusion of an extravagant amount of nutmeg and splash of orange-blossom water "elevates this specific pancake recipe to a special treat." Nicosia includes a picture of her own honey-drizzled Lockean breakfast with the a copy of Two Treatises of Government and a cup of coffee — the latter being an especially ideal accompaniment to pancakes, and one that also comes thoroughly philosopher-endorsed.
Related content:
Introduction to Political Philosophy: A Free Online Course from Yale University
Hobbes, Locke & Rousseau: An Animated Introduction to Their Political Theories
The Political Thought of Confucius, Plato, John Locke & Adam Smith Introduced in Animations Narrated by Aidan Turner
What Makes Us Human?: Chomsky, Locke & Marx Introduced by New Animated Videos from the BBC
A 1585 Recipe for Making Pancakes: Make It Your Saturday Morning Breakfast
Tasting History: A Hit YouTube Series Shows How to Cook the Foods of Ancient Greece & Rome, Medieval Europe, and Other Places & Periods
Based in Seoul, Colin Marshall writes and broadcasts on cities and culture. His projects include the book The Stateless City: a Walk through 21st-Century Los Angeles and the video series The City in Cinema. Follow him on Twitter at @colinmarshall or on Facebook.