Am I alone in thinking that the "dozens of nutty, turned-on, easy-to-prepare recipes" in 1967's Singers and Swingers in the Kitchen bear more than passing resemblance to the festively photographed dishes in Betty Crocker's 1965 New Boys and Girls Cook Book?

Could Sonny and Cher, Simon and Garfunkel, and Herman's Hermits – to name a few of the "top scenemakers" Singers and Swingers author Roberta Ashley designates as the "grooviest gourmets happening" – really shared a common palate with Betty and her child-chefs?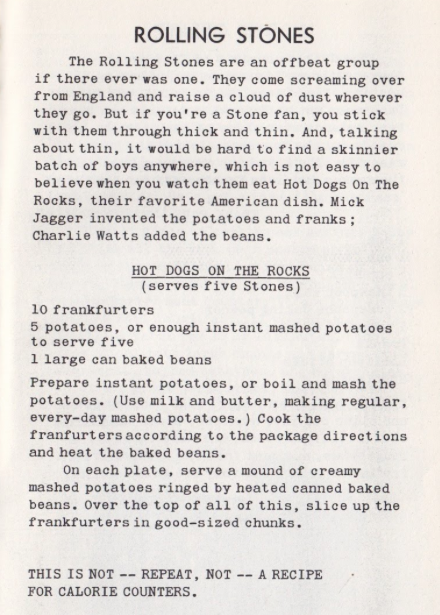 It's hard to imagine 1967's rock stars" eating this stuff, let alone making it. The Rolling Stones' "Hot Dogs on the Rocks" sounds more suited to Mick Jagger's hot pot at the
London School of Economics
 than the back of a
"Ruby Tuesday"
era tour bus. I don't recall Keith Richards mentioning them in 
Life.
(Though take away the recipe's three middle words, and you're left with the title of a certain multi-platinum double hits album. Coincidence?)
Moving on to Singers and Swingers' salad course, Monkee Peter Tork's "Mad Mandarin Salad" (click here for ingredients) sounds like it would taste quite similar to the New Boys and Girls Cook Book's "Rocket Salad", above. Canned fruit features prominently in both, but "Rocket Salad" is way more phallic, and thus more rock n' roll.
"Barbra Streisand's Instant Coffee Ice Cream" sounds sophisticated, mayhaps because coffee, like alcohol, has no place in the Betty Crocker New Boys and Girls' realm. It seems like it would uphold the Singers and Swingers' mandate by being "easy-to-prepare". Dare I say "easy enough for a child to prepare"? So my own mother told the Indianapolis Star sometime in the late 60's. The evidence is below. Just like Barbra's, my mother's recipe required marshmallows and a blender.
And, oh by the way, don't miss Simon and Garfunkel's Potato Pancake Recipe. It's to die for…
Related Content: 
The Recipes of Iconic Authors: Jane Austen, Sylvia Plath, Roald Dahl, the Marquis de Sade & More
Learn to Make Borscht with Neko Case and Get a Taste of Her New Album
Alice B. Toklas Talks About Her Famous Recipe for Hashish Fudge
Ayun Halliday continues to lust after Betty Crocker's Enchanted Castle Cake. Follow her @AyunHalliday