Am I alone in think­ing that the "dozens of nut­ty, turned-on, easy-to-pre­pare recipes" in 1967's Singers and Swingers in the Kitchen bear more than pass­ing resem­blance to the fes­tive­ly pho­tographed dish­es in Bet­ty Crock­er's 1965 New Boys and Girls Cook Book?

Could Son­ny and Cher, Simon and Gar­funkel, and Her­man's Her­mits — to name a few of the "top scene­mak­ers" Singers and Swingers author Rober­ta Ash­ley des­ig­nates as the "groovi­est gourmets hap­pen­ing" — real­ly shared a com­mon palate with Bet­ty and her child-chefs?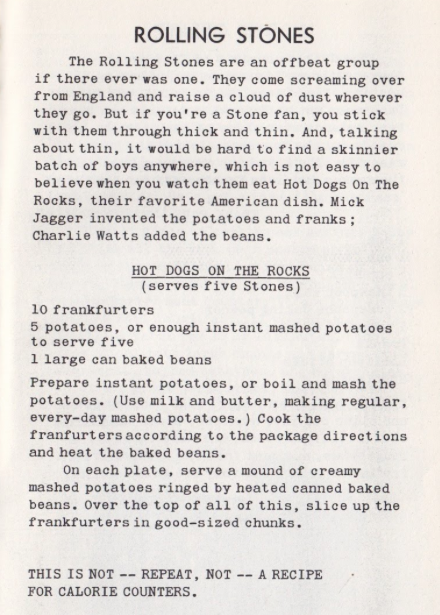 It's hard to imag­ine 1967's rock stars" eat­ing this stuff, let alone mak­ing it. The Rolling Stones' "Hot Dogs on the Rocks" sounds more suit­ed to Mick Jag­ger's hot pot at the
Lon­don School of Eco­nom­ics
than the back of a
"Ruby Tues­day"
era tour bus. I don't recall Kei­th Richards men­tion­ing them in
Life.
(Though take away the recipe's three mid­dle words, and you're left with the title of a cer­tain mul­ti-plat­inum dou­ble hits album. Coin­ci­dence?)
Mov­ing on to Singers and Swingers' sal­ad course, Mon­kee Peter Tork's "Mad Man­darin Sal­ad" (click here for ingre­di­ents) sounds like it would taste quite sim­i­lar to the New Boys and Girls Cook Book's "Rock­et Sal­ad", above. Canned fruit fea­tures promi­nent­ly in both, but "Rock­et Sal­ad" is way more phal­lic, and thus more rock n' roll.
"Bar­bra Streisand's Instant Cof­fee Ice Cream" sounds sophis­ti­cat­ed, may­haps because cof­fee, like alco­hol, has no place in the Bet­ty Crock­er New Boys and Girls' realm. It seems like it would uphold the Singers and Swingers' man­date by being "easy-to-pre­pare". Dare I say "easy enough for a child to pre­pare"? So my own moth­er told the Indi­anapo­lis Star some­time in the late 60's. The evi­dence is below. Just like Bar­bra's, my moth­er's recipe required marsh­mal­lows and a blender.
And, oh by the way, don't miss Simon and Garfunkel's Pota­to Pan­cake Recipe. It's to die for…
Relat­ed Con­tent:
The Recipes of Icon­ic Authors: Jane Austen, Sylvia Plath, Roald Dahl, the Mar­quis de Sade & More
Learn to Make Borscht with Neko Case and Get a Taste of Her New Album
Alice B. Tok­las Talks About Her Famous Recipe for Hashish Fudge
Ayun Hal­l­i­day con­tin­ues to lust after Bet­ty Crock­er's Enchant­ed Cas­tle Cake. Fol­low her @AyunHalliday