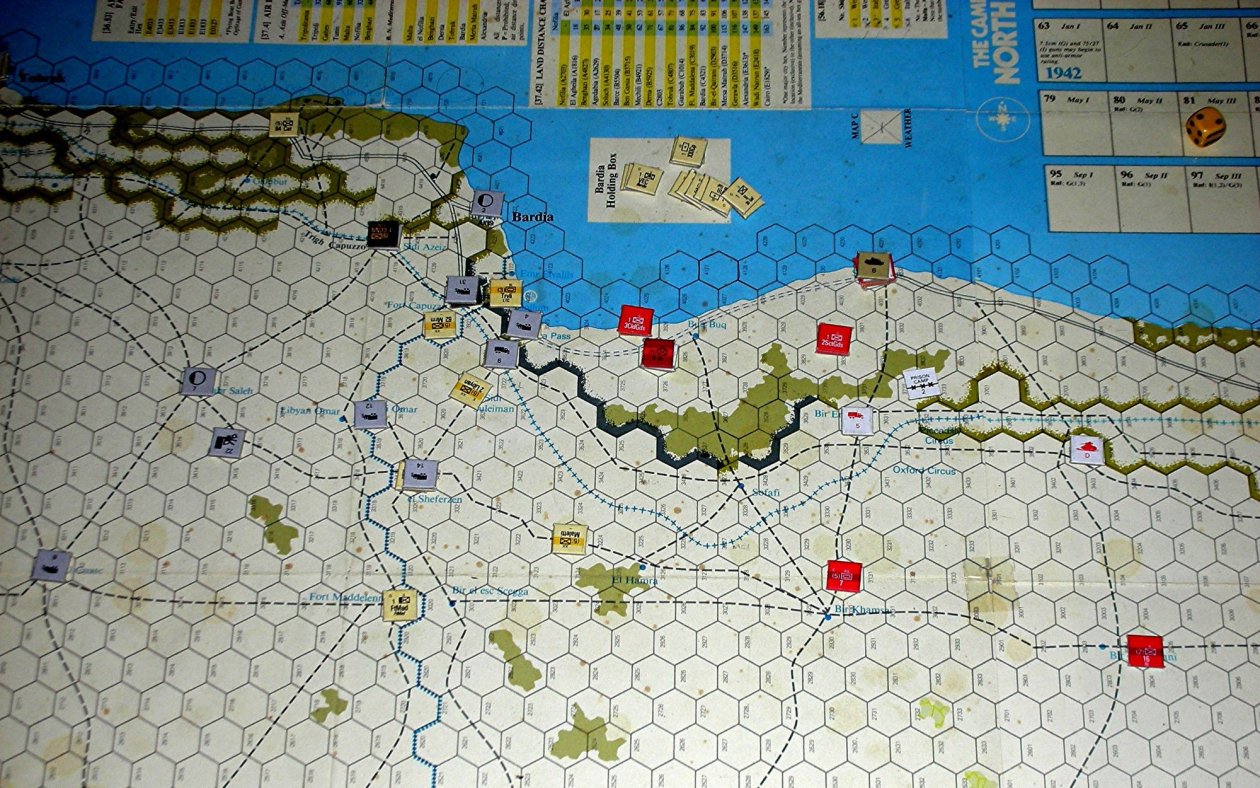 Monopoly is notoriously time-consuming. On the childhood Christmas I received my first copy of that Parker Brothers classic, my dad and I started a game that ended up spreading over two or three days. That may have had to do with my appreciation for Monopoly's aesthetic far exceeding my grasp of its aim, and I've since realized that it can be played in about an hour. That's still a good deal longer than, say, a game of checkers, but it falls somewhat short of the league occupied by The Campaign for North Africa — which is, in fact, a league of its own. Since its publication in 1979, it's been known as the longest board game in existence, requiring 1,500 hours (or 62 days) to complete.
We are, of course, talking about a war game, and that genre has its own standards of complexity — standards The Campaign for North Africa leaves in the dust. "The game itself covers the famous WWII operations in Libya and Egypt between 1940 and 1943," writes Kotaku's Luke Winkle. "You'll need to recruit 10 total players, (five Allied, five Axis,) who will each lord over a specialized division. The Front-line and Air Commanders will issue orders to the troops in battle, the Rear and Logistics Commanders will ferry supplies to the combat areas, and lastly, a Commander-in-Chief will be responsible for all macro strategic decisions over the course of the conflict. If you and your group meets for three hours at a time, twice a month, you'd wrap up the campaign in about 20 years."
You can get an idea of what you'd be dealing with over those two decades in the video below from Youtuber Phasing Player, an overview that itself takes about an hour and a half. "Honestly, if I'm being straight-up here, this game does sound, broadly speaking, like a fun time," he says, half an hour deep into the explanation. "Imagine setting up a giant map of Africa," getting your friends together, "Sarah's in charge of the air force and Jim is in charge of logistics. You have all these people in charge of different things, and you're communicating strategies, and the commander-in-chief is formulating plans and doing all this stuff. That sounds like a real hoot, right?" Alas, "the big asterisk comes in when that good time has to last literally a thousand hours," involving what another player quoted by Winkle calls "doing tedious calculations all the time."
Those calculations necessitate paying close attention, on every single turn, to not just quantities like fuel reserves but the historically accurate size of the barrels containing those reserves. Note also that, as Winkle adds, "the Italian troops in World War II were outfitted with noodle rations, and in the name of historical dogma, the player responsible for the Italians is required to distribute an extra water ration to their forces, so that their pasta may be boiled." The Campaign for North Africa's designer, the late Richard Berg, claimed that the so-called "pasta rule" was a joke, and that the game's fiendish overall complexity was in keeping with the style of the times, a "golden age" of war gaming with high sales and ever-escalating ambitions. As with so many other seemingly inexplicable artifacts of cultural history, one falls back on a familiar explanation: hey, it was the 70s.
via Kotaku
Related content:
Watch a Playthrough of the Oldest Board Game in the World, the Sumerian Royal Game of Ur, Circa 2500 BC
Learn to Play Senet, the 5,000-Year Old Ancient Egyptian Game Beloved by Queens & Pharaohs
The Fear and Loathing in Las Vegas Board Game, Inspired by Hunter S. Thompson's Rollicking Novel
Monopoly: How the Original Game Was Made to Condemn Monopolies & the Abuses of Capitalism
Download & Play the Shining Board Game
Board Game Ideology — Pretty Much Pop: A Culture Podcast #108
Based in Seoul, Colin Marshall writes and broadcasts on cities, language, and culture. His projects include the Substack newsletter Books on Cities, the book The Stateless City: a Walk through 21st-Century Los Angeles and the video series The City in Cinema. Follow him on Twitter at @colinmarshall or on Facebook.