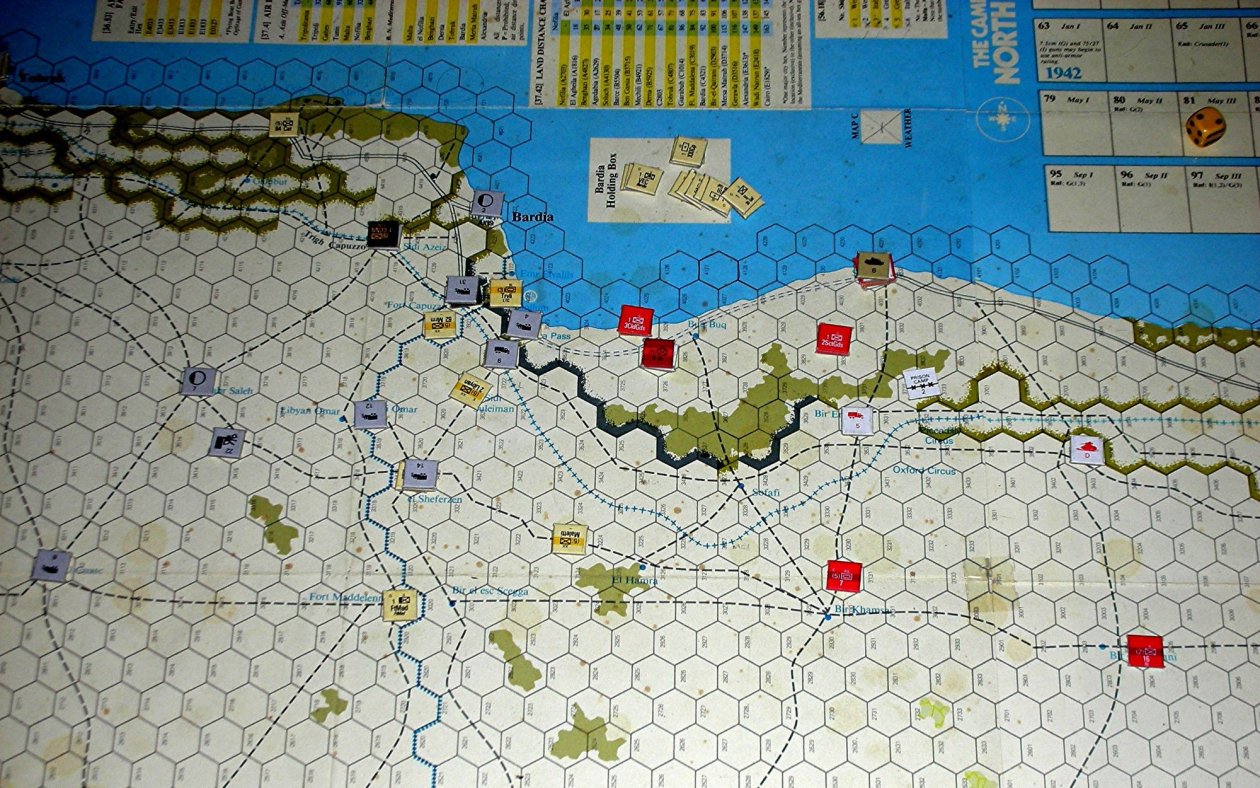 Monop­oly is noto­ri­ous­ly time-con­sum­ing. On the child­hood Christ­mas I received my first copy of that Park­er Broth­ers clas­sic, my dad and I start­ed a game that end­ed up spread­ing over two or three days. That may have had to do with my appre­ci­a­tion for Monopoly's aes­thet­ic far exceed­ing my grasp of its aim, and I've since real­ized that it can be played in about an hour. That's still a good deal longer than, say, a game of check­ers, but it falls some­what short of the league occu­pied by The Cam­paign for North Africa — which is, in fact, a league of its own. Since its pub­li­ca­tion in 1979, it's been known as the longest board game in exis­tence, requir­ing 1,500 hours (or 62 days) to com­plete.
We are, of course, talk­ing about a war game, and that genre has its own stan­dards of com­plex­i­ty — stan­dards The Cam­paign for North Africa leaves in the dust. "The game itself cov­ers the famous WWII oper­a­tions in Libya and Egypt between 1940 and 1943," writes Kotaku's Luke Win­kle. "You'll need to recruit 10 total play­ers, (five Allied, five Axis,) who will each lord over a spe­cial­ized divi­sion. The Front-line and Air Com­man­ders will issue orders to the troops in bat­tle, the Rear and Logis­tics Com­man­ders will fer­ry sup­plies to the com­bat areas, and last­ly, a Com­man­der-in-Chief will be respon­si­ble for all macro strate­gic deci­sions over the course of the con­flict. If you and your group meets for three hours at a time, twice a month, you'd wrap up the cam­paign in about 20 years."
You can get an idea of what you'd be deal­ing with over those two decades in the video below from Youtu­ber Phas­ing Play­er, an overview that itself takes about an hour and a half. "Hon­est­ly, if I'm being straight-up here, this game does sound, broad­ly speak­ing, like a fun time," he says, half an hour deep into the expla­na­tion. "Imag­ine set­ting up a giant map of Africa," get­ting your friends togeth­er, "Sarah's in charge of the air force and Jim is in charge of logis­tics. You have all these peo­ple in charge of dif­fer­ent things, and you're com­mu­ni­cat­ing strate­gies, and the com­man­der-in-chief is for­mu­lat­ing plans and doing all this stuff. That sounds like a real hoot, right?" Alas, "the big aster­isk comes in when that good time has to last lit­er­al­ly a thou­sand hours," involv­ing what anoth­er play­er quot­ed by Win­kle calls "doing tedious cal­cu­la­tions all the time."
Those cal­cu­la­tions neces­si­tate pay­ing close atten­tion, on every sin­gle turn, to not just quan­ti­ties like fuel reserves but the his­tor­i­cal­ly accu­rate size of the bar­rels con­tain­ing those reserves. Note also that, as Win­kle adds, "the Ital­ian troops in World War II were out­fit­ted with noo­dle rations, and in the name of his­tor­i­cal dog­ma, the play­er respon­si­ble for the Ital­ians is required to dis­trib­ute an extra water ration to their forces, so that their pas­ta may be boiled." The Cam­paign for North Africa's design­er, the late Richard Berg, claimed that the so-called "pas­ta rule" was a joke, and that the game's fiendish over­all com­plex­i­ty was in keep­ing with the style of the times, a "gold­en age" of war gam­ing with high sales and ever-esca­lat­ing ambi­tions. As with so many oth­er seem­ing­ly inex­plic­a­ble arti­facts of cul­tur­al his­to­ry, one falls back on a famil­iar expla­na­tion: hey, it was the 70s.
via Kotaku
Relat­ed con­tent:
Watch a Playthrough of the Old­est Board Game in the World, the Sumer­ian Roy­al Game of Ur, Cir­ca 2500 BC
Learn to Play Senet, the 5,000-Year Old Ancient Egypt­ian Game Beloved by Queens & Pharaohs
The Fear and Loathing in Las Vegas Board Game, Inspired by Hunter S. Thompson's Rol­lick­ing Nov­el
Monop­oly: How the Orig­i­nal Game Was Made to Con­demn Monop­o­lies & the Abus­es of Cap­i­tal­ism
Down­load & Play the Shin­ing Board Game
Board Game Ide­ol­o­gy — Pret­ty Much Pop: A Cul­ture Pod­cast #108
Based in Seoul, Col­in Mar­shall writes and broad­casts on cities, lan­guage, and cul­ture. His projects include the Sub­stack newslet­ter Books on Cities, the book The State­less City: a Walk through 21st-Cen­tu­ry Los Ange­les and the video series The City in Cin­e­ma. Fol­low him on Twit­ter at @colinmarshall or on Face­book.