There was a time, fair chil­dren of the late 20th cen­tu­ry, when every movie and tele­vi­sion show had itself a board game. Most were bad. But we bought them, and then tried our best to make it work. You can see a col­lec­tion here. Few ever recre­at­ed the spir­it of the orig­i­nal work, but instead coast­ed by on a cyn­ic's heart hop­ing to har­vest your pop cul­ture mem­o­ries.
How­ev­er, the board game ver­sion of Fear and Loathing in Las Vegas, cre­at­ed by design­er, pro­gram­mer, and artist J.R. Bald­win, is very much in the spir­it of Hunter S. Thompson's book and well-loved film adap­ta­tion by Ter­ry Gilliam. It is also very dan­ger­ous to play, and is prob­a­bly not sur­viv­able unless you are Hunter S. Thomp­son and you have trav­eled in time to 2009. That's the year of our clip above, when Alana Joy inter­viewed Bald­win for a web chan­nel called Life on Blast.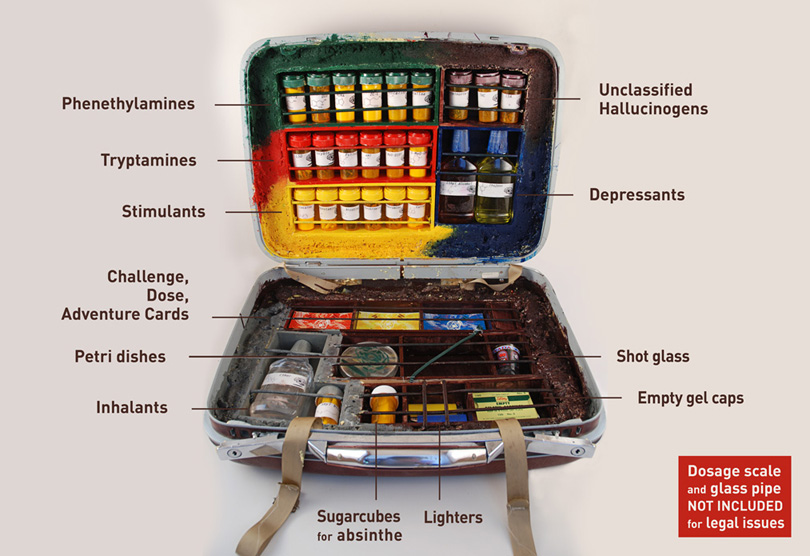 The game comes in a brief­case mod­eled after Thompson's trav­el­ing apothe­cary, and uses a board, game pieces, and cards. The board is designed to look like a psy­che­del­ic trip, with the spaces and indeed the whole board mod­eled after pey­ote but­tons, which were also part of Thompson's Gonzo logo. The start­ing space quotes the famous first lines of the book ("We were some­where around Barstow on the edge of the desert when the drugs began to take hold") and the goal space uses the quote "All ener­gy flows accord­ing to the whims of the great mag­net" writ­ten around a brain.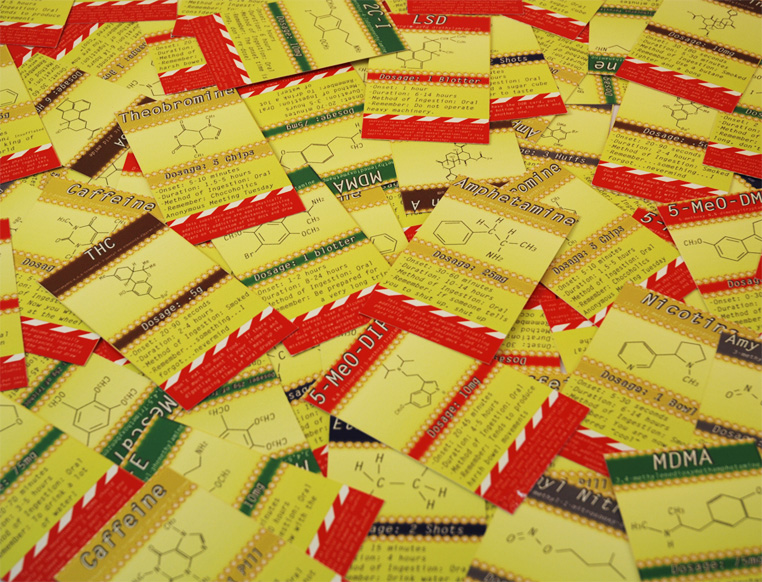 But it's the oth­er con­tents of the case that make the game spe­cial: drugs and alco­hol, to be tak­en depend­ing on what cir­cle you land on the game board. Three dif­fer­ent card groups dic­tate actions to take dur­ing the game. Yel­low cards mean the play­er must mea­sure out an amount of drugs (includ­ing stim­u­lants, inhalants, or hal­lu­cino­gens) or a shot of booze or absinthe and ingest. (The game help­ful­ly comes with a scale.) Blue cards send the play­er on an adven­ture or activ­i­ty. Red cards are chal­lenges to be tak­en while under the influ­ence of the sub­stances.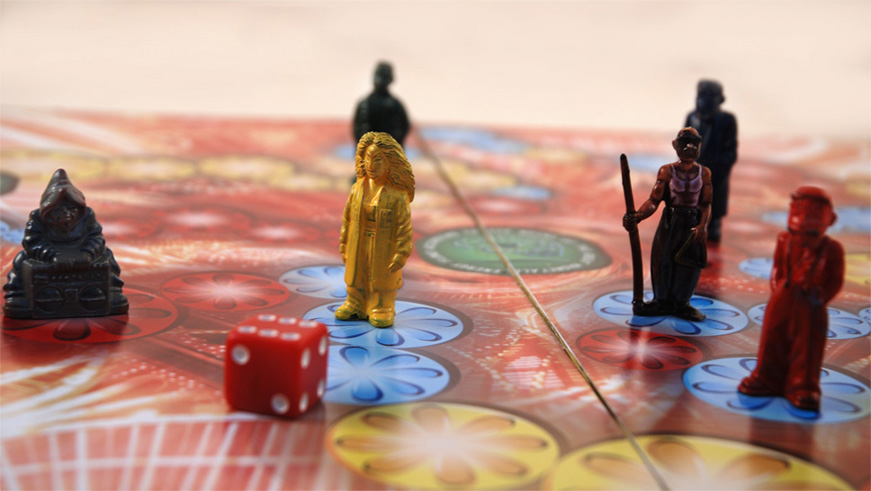 So, okay, Baldwin's game is not to be tak­en seriously…or tak­en oral­ly. It's actu­al­ly a one-of-its-kind piece of art that can be pur­chased for $3,500. Drugs, like bat­ter­ies, are not includ­ed. You must sup­ply your own, pos­si­bly through your attor­ney.
"You could, the­o­ret­i­cal­ly, sur­vive the entire game, on all these dif­fer­ent sub­stances" Bald­win says. "So why not?"
You can get a sense of the game from the images above. They come from Bald­win's web­site, where you can see yet more visu­als.
Relat­ed Con­tent:
Hunter S. Thompson's Har­row­ing, Chem­i­cal-Filled Dai­ly Rou­tine
Read 11 Free Arti­cles by Hunter S. Thomp­son That Span His Gonzo Jour­nal­ist Career (1965–2005)
Play­ing Golf on LSD With Hunter S. Thomp­son: Esquire Edi­tor Remem­bers the Odd­est Game of Golf
Ted Mills is a free­lance writer on the arts who cur­rent­ly hosts the FunkZone Pod­cast. You can also fol­low him on Twit­ter at @tedmills, read his oth­er arts writ­ing at tedmills.com and/or watch his films here.