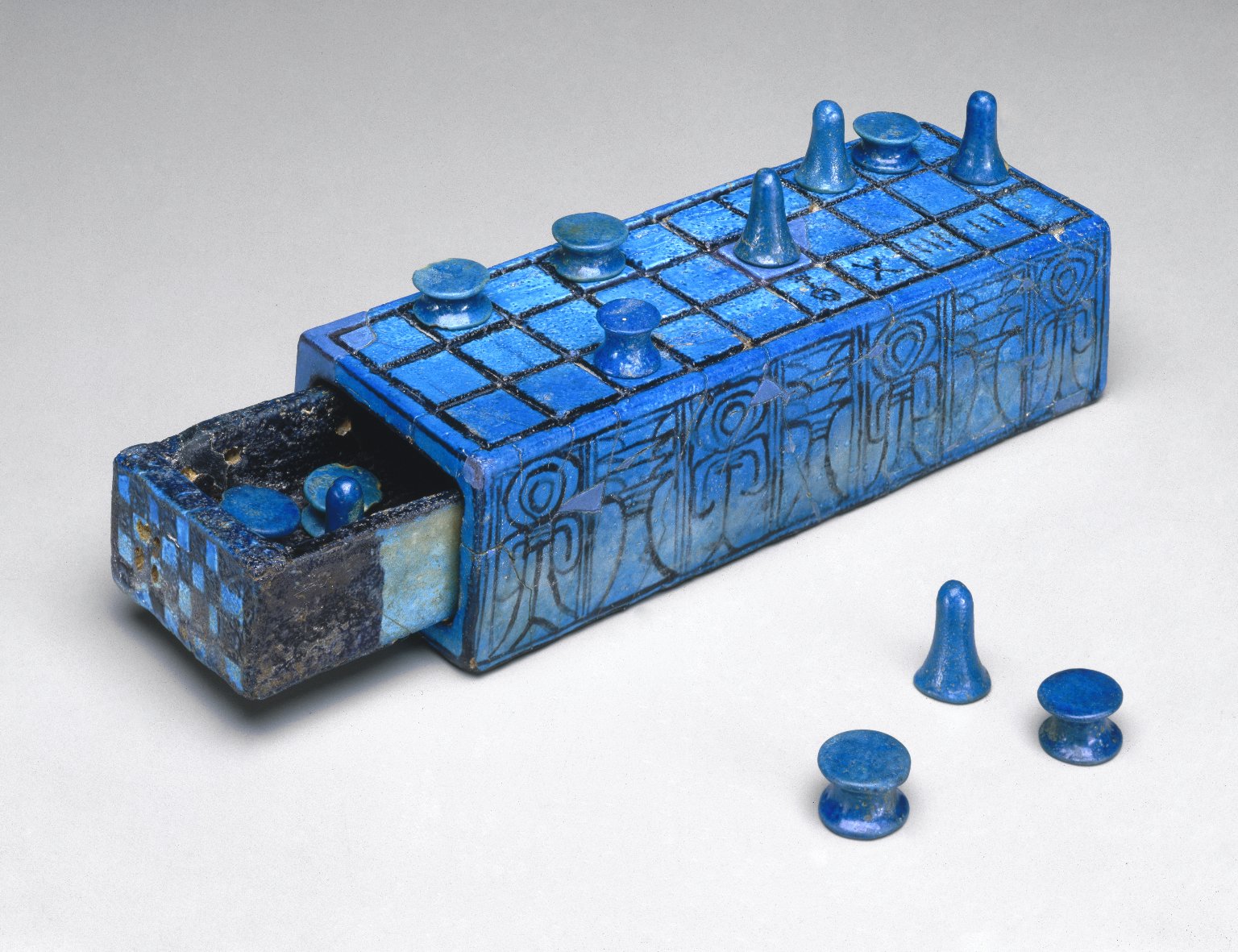 Senet gam­ing board inscribed for Amen­hotep III with sep­a­rate slid­ing draw­er, via Wiki­me­dia Com­mons
Games don't just pass the time, they enact bat­tles of wits, proxy wars, train­ing exer­cis­es…. And his­tor­i­cal­ly, games are cor­re­lat­ed with, if not insep­a­ra­ble from, forms of div­ina­tion and occult knowl­edge. We might point to the ancient prac­tice of "astra­ga­lo­man­cy," for exam­ple: read­ing one's fate in ran­dom throws of knuck­le­bones, which were the orig­i­nal dice. Games played with bones or dice date back thou­sands of years. One of the most pop­u­lar of the ancient world, the Egypt­ian Senet, may not be the old­est known, but it could be "the orig­i­nal board game of death," Col­in Bar­ras writes at Sci­ence, pre­dat­ing the Oui­ja board by mil­len­nia.
Begin­ning as "a mere pas­time," Senet evolved "over near­ly 2 mil­len­nia… into a game with deep links to the after­life, played on a board that rep­re­sent­ed the under­world." There's no evi­dence the Egyp­tians who played around 5000 years ago believed the game's dice rolls meant any­thing in par­tic­u­lar.
Over the course of a few hun­dred years, how­ev­er, images of Senet began appear­ing in tombs, show­ing the dead play­ing against sur­viv­ing friends and fam­i­ly. "Texts from the time sug­gest the game had begun to be seen as a con­duit through which the dead could com­mu­ni­cate with the liv­ing" through moves over a grid of 30 squares arranged in three rows of ten.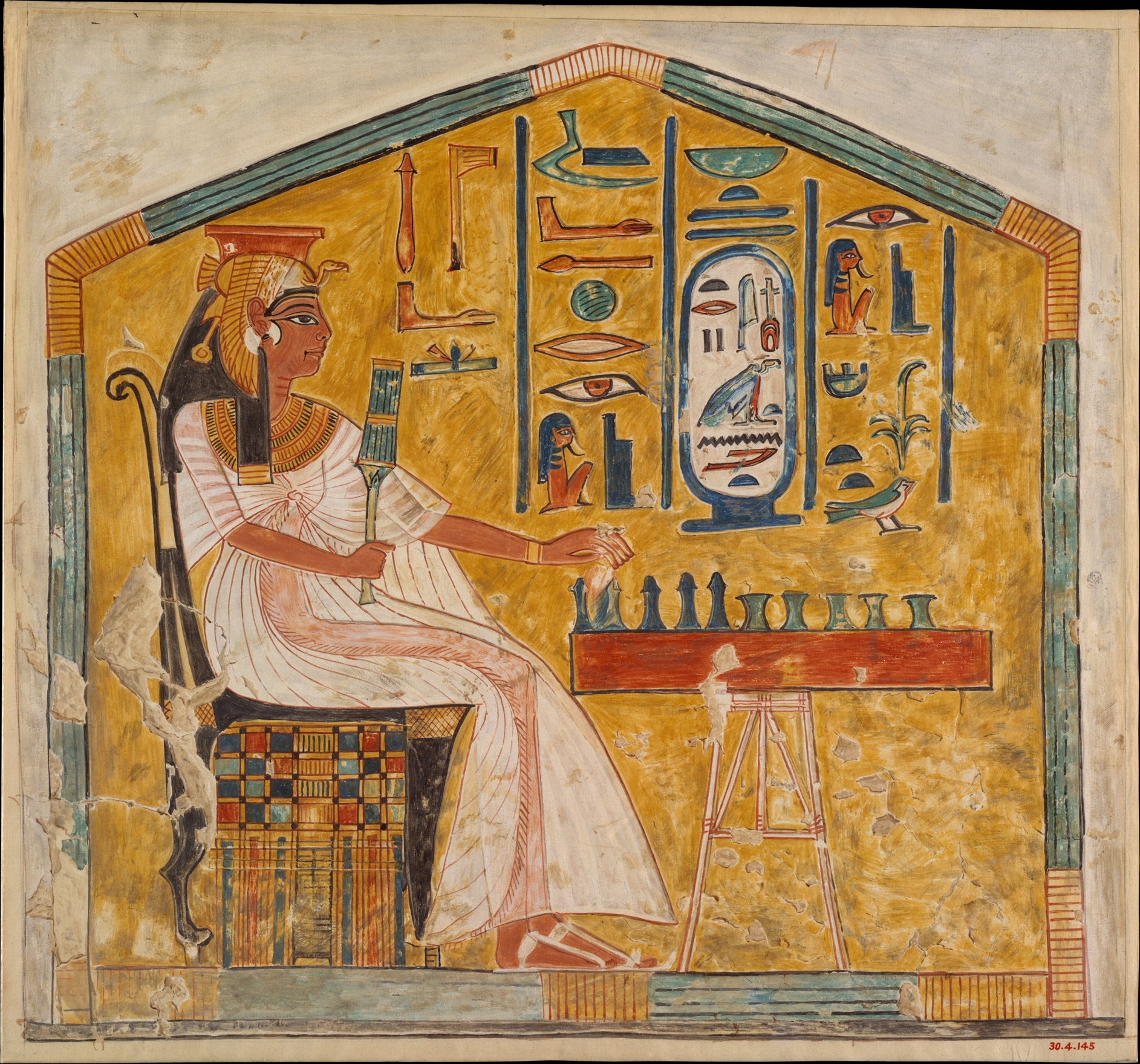 Fac­sim­i­le copy of ca. 1279–1213 B.C. paint­ing of Queen Nefer­ti­ti play­ing Senet, via the Met­ro­pol­i­tan Muse­um of Art
"Beloved by such lumi­nar­ies as the boy pharaoh Tutankhamun and Queen Nefer­tari, wife of Ramess­es II," Meilan Sol­ly notes at Smith­son­ian, Senet was played on "ornate game boards, exam­ples of which still sur­vive today." (Four boards were found in Tut's tomb.) "Those with few­er resources at their dis­pos­al made do with grids scratched on stone sur­faces, tables or the floor." As the game became a tool for glimps­ing one's fate, its last five spaces acquired hiero­glyph­ics sym­bol­iz­ing "spe­cial play­ing cir­cum­stances. Pieces that land­ed in square 27's 'waters of chaos,' for exam­ple, were sent all the way back to square 15 — or removed from the board entire­ly," sort of like hit­ting the wrong square in Chutes and Lad­ders.
Senet game­play was com­pli­cat­ed. "Two play­ers deter­mined their moves by throw­ing cast­ing sticks or bones," notes the Met. The object was to get all of one's pieces across square 30 — each move rep­re­sent­ed an obsta­cle to the after­life, tri­als Egyp­tians believed the dead had to endure and pass or fail (the game's name itself means "pass­ing"). "Because of this con­nec­tion, senet was not just a game; it was also a sym­bol for the strug­gle to obtain immor­tal­i­ty, or end­less life," as well as a means of under­stand­ing what might get in the way of that goal.
The game's rules like­ly changed with its evolv­ing pur­pose, and might have been played sev­er­al dif­fer­ent ways over the course 2500 years or so. As Bran­deis Uni­ver­si­ty pro­fes­sor Jim Stor­er notes in an expla­na­tion of pos­si­ble game­play, "the exact rules are not known; schol­ars have stud­ied old draw­ings to spec­u­late on the rules" — hard­ly the most reli­able guide. If you're inter­est­ed, how­ev­er, in play­ing Senet your­self, res­ur­rect­ing, so to speak, the ancient tra­di­tion for fun or oth­er­wise, you can eas­i­ly make your own board. Storer's pre­sen­ta­tion of what are known as Jequier's Rules can be found here. For anoth­er ver­sion of Senet play, see the video above from Egyp­tol­ogy Lessons.
Relat­ed Con­tent:
Watch a Playthrough of the Old­est Board Game in the World, the Sumer­ian Roy­al Game of Ur, Cir­ca 2500 BC
A Brief His­to­ry of Chess: An Ani­mat­ed Intro­duc­tion to the 1,500-Year-Old Game
A 3,000-Year-Old Painter's Palette from Ancient Egypt, with Traces of the Orig­i­nal Col­ors Still In It
Josh Jones is a writer and musi­cian based in Durham, NC. Fol­low him at @jdmagness