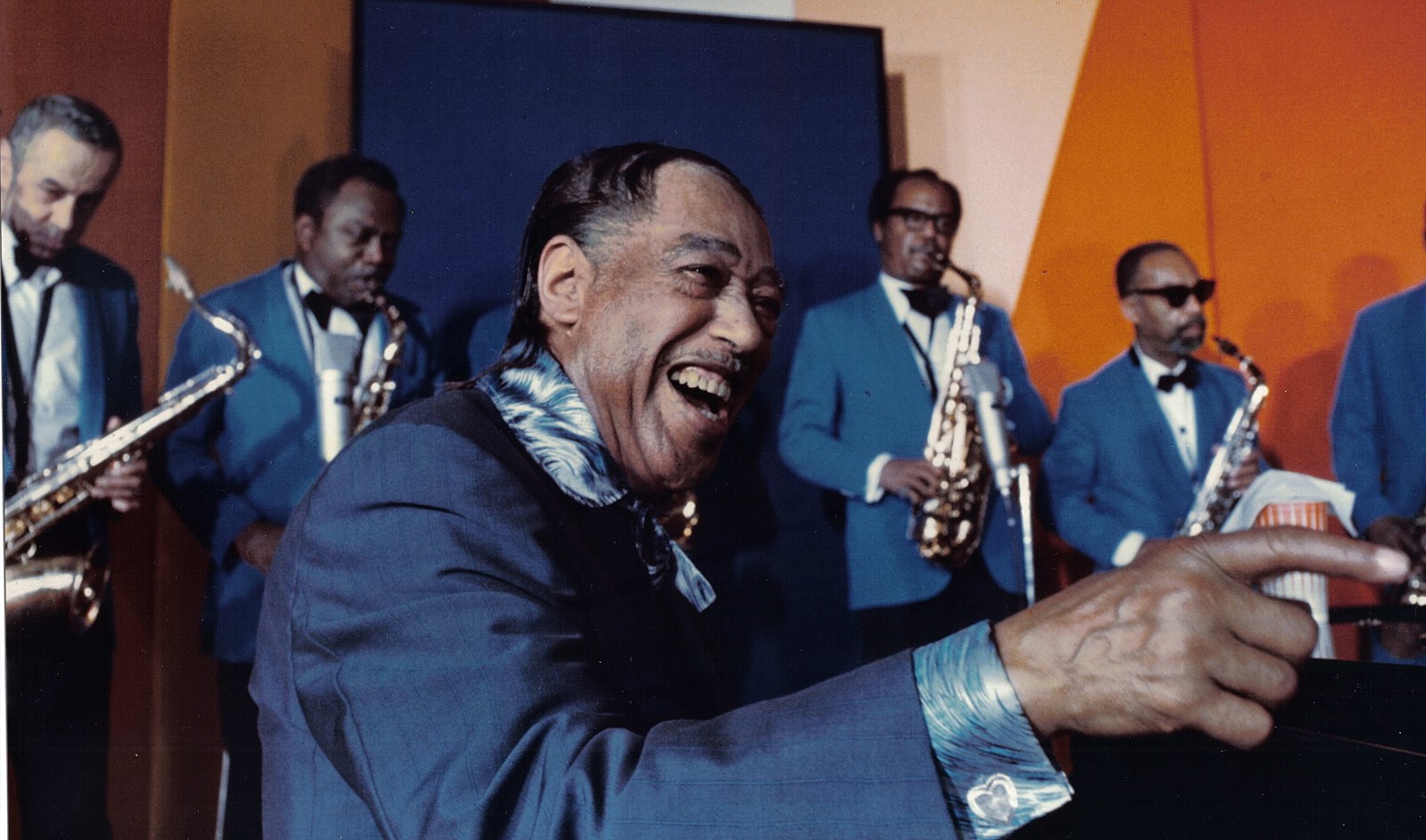 Image by Louis Panassié, via Wikimedia Commons
Duke Ellington has been commemorated in a variety of forms: statues, murals, schools, and even United States commemorative stamps and coins. In his lifetime he received a star on the Hollywood Walk of Fame, a Grammy Lifetime Achievement, a Presidential Medal of Freedom, and a Légion d'honneur. His posthumous honors even include a Special Pulitzer Prize awarded in 1999, the centennial year of his birth. 34 years earlier, in 1965, he'd been named for–but ultimately denied–a regular Pulitzer Prize for Music, a decision his appreciators are now trying to reverse.
"The jury that judged the entrants that year decided to do something different," writes jazz critic Ted Gioia. "They recommended giving the honor to Duke Ellington for the 'vitality and originality of his total productivity' over the course of more than forty years." This broke from tradition in that the Pulitzer Prize for Music usually honors a single work: in 1945 it went to Aaron Copland for his ballet Appalachian Spring; in 1958 it went to Samuel Barber for his opera Vanessa; in 1960 it went to Elliott Carter for his Second String Quartet.
Alas, "the Pulitzer Board refused to accept the decision of the jury, and decided it would be better to give out no award, rather than honor Duke Ellington. Two members of the three-person judging panel, Winthrop Sargeant and Robert Eyer, resigned in the aftermath." Ellington, for his part, reacted to this unfortunate development with characteristic equanimity: "Fate is being kind to me," he told the press. "Fate doesn't want me to be famous too young" — to which Gioia adds that "he was 66 years old at the time, and in the final decade of his life."
In an effort to retroactively award Ellington his Pulitzer Prize for Music, Gioia has has launched an online petition. If you sign it, you'll join the likes of John Adams, Michael Dirda, Steve Reich, and Gene Weingarten, all Pulitzer winners themselves, as well as other luminaries and enthusiasts who've voiced their support — nearly 9,000 of them as of this writing. "We assume that Pulitzers are awarded to work that qualifies as for the ages, that pushes the envelope, that suggests not just cleverness but genius," writes the New York Times' John McWhorter. "There can be no doubt that Ellington's corpus fits that definition."
Reversing the committee decision of 1965, Gioia writes, would enhance "the prestige and legitimacy of the Pulitzer — and every award needs that nowadays, when many have grown skeptical about our leading prizes." What's more, "it's the proper thing for the music — because every time genuine artistry is recognized it sets an example for the present generation, and lays a foundation for the future." In recent decades, the aesthetic range of Pulitzer-honored music has widened considerably: McWhorter points as an example to 2018's winner, Kendrick Lamar's album Damn. It could be that, as far as Ellington is concerned, it's taken the rest of us 57 years to catch up with him. Sign the petition here.
Related content:
Such Sweet Thunder: Duke Ellington & Billy Strayhorn's Musical Tribute to Shakespeare (1957)
Duke Ellington's Symphony in Black, Starring a 19-Year-old Billie Holiday in Her First Filmed Performance
Deconstructing Stevie Wonder's Ode to Jazz and His Hero Duke Ellington: A Great Breakdown of "Sir Duke"
How Old School Records Were Made, From Start to Finish: A 1937 Video Featuring Duke Ellington
Based in Seoul, Colin Marshall writes and broadcasts on cities, language, and culture. His projects include the Substack newsletter Books on Cities, the book The Stateless City: a Walk through 21st-Century Los Angeles and the video series The City in Cinema. Follow him on Twitter at @colinmarshall, on Facebook, or on Instagram.