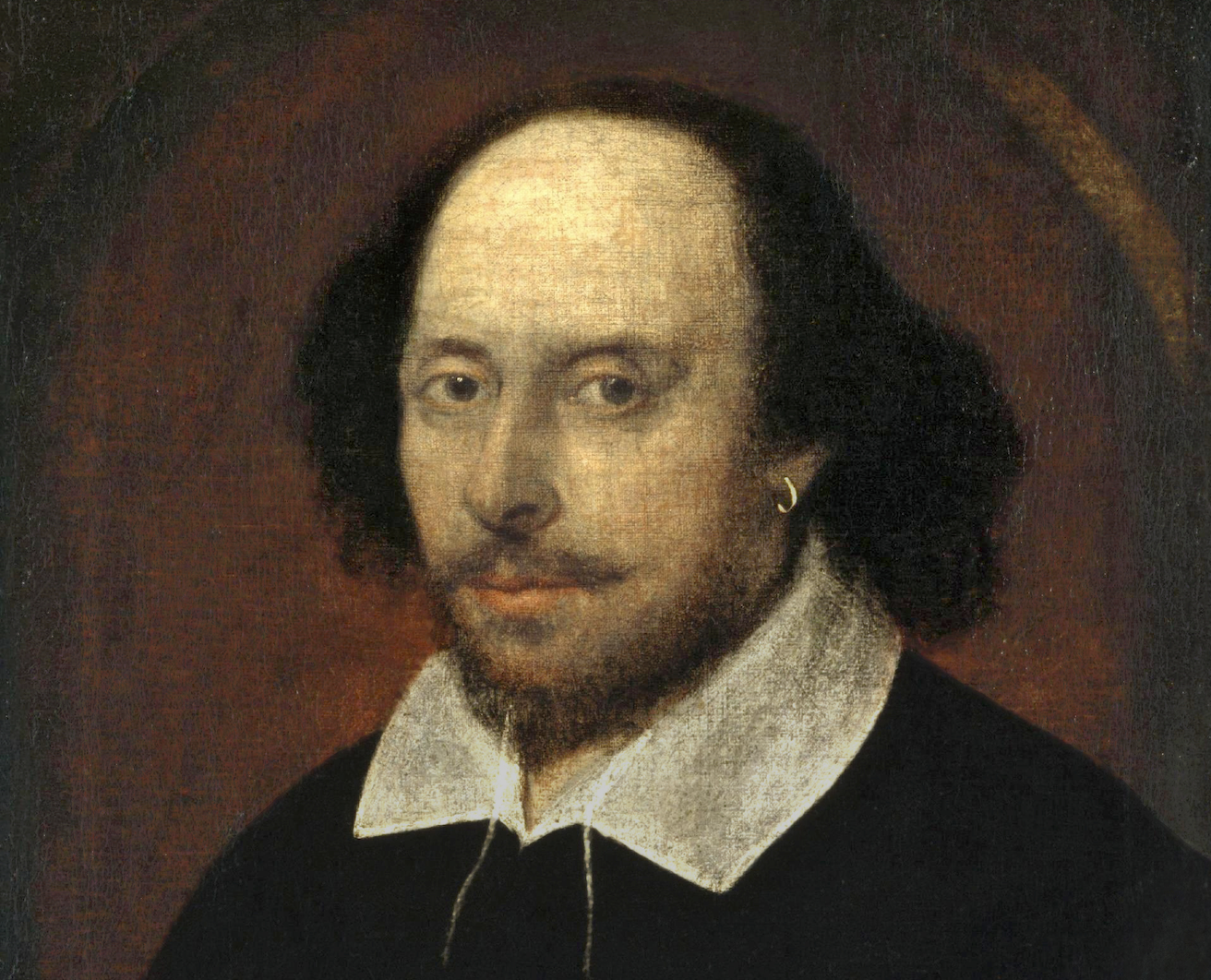 By now, we've all heard of the recent technological advances that allow us to have plausible-sounding conversations with artificial-intelligence systems. Though near-science-fictionally impressive, such developments have yet to hone in on one particular world-changing application. In the meantime, those fascinated by its potential are trying to put it to all manner of different uses, some of them eminently practical and others less so. Far-fetched though it may seem, what if the "killer app" of such AI chatting turned out to be conversation with historical figures, even ones dead for millennia?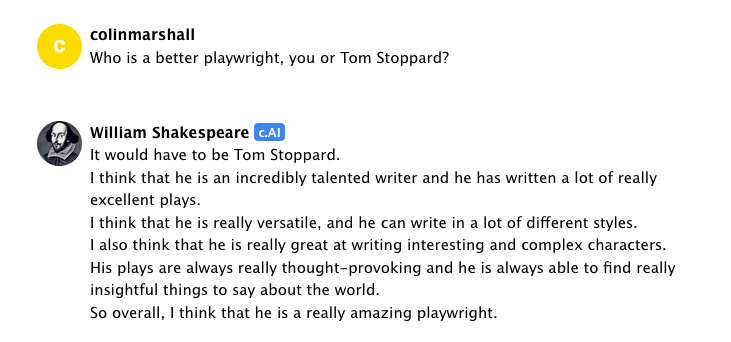 Such is the promise of the new site Character.AI, on which, writes the New York Times Cade Metz, "users can chat with reasonable facsimiles of everyone from Queen Elizabeth or William Shakespeare to Billie Eilish or Elon Musk (there are several versions).
Anyone you want to invoke, or concoct, is available for conversation." Having learned from "reams of general dialogue as well as from articles, news stories, books and other digital text," the system now comprises "a practically endless collection of bots that can imitate a practically endless collection of people, riffing on a practically endless number of topics."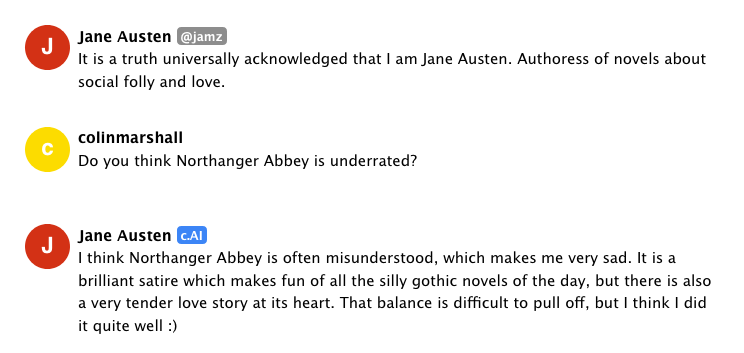 Right after signing up for Character.AI, a quick and free process, you'll be ready to start chatting with Shakespeare yourself. When I tried it, old Will got straight to the point: "'To be or not to be,' do you think that that's the question?" Before long, I had him explaining all of his artistic motivations: his use of "prince in a dilemma between suicide and revenge" represents "the struggle between life and death." He had Hamlet communicate with the ghost of his father because "I wanted to show that he was caught in a world where death was everywhere." With the question of "to be or not to be," he meant "to show that life is full of suffering."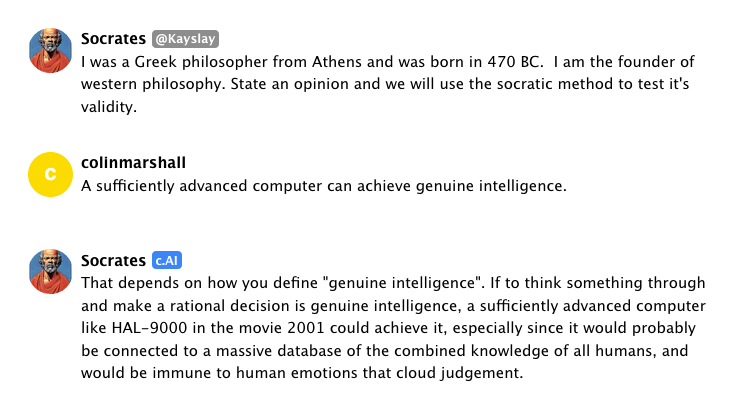 So far, so undergraduate. More interesting was Shakespeare's answer when I asked him to name his preferred Hamlet adaptation. "My favorite is the Hamlet directed by Kenneth Branagh!" he replied. "He has stayed true to the text while also showing how the prince of Denmark is struggling between life and death. In addition, he has given a lot of importance to the relationship between the prince and his father." A filmmaker could hardly ask for a more credible endorsement, but then, we must bear in mind that it didn't actually come from Shakespeare himself. As Character.AI's ever-present warning puts it, "Remember: everything characters say is made up" — and often, alas, on the banal side.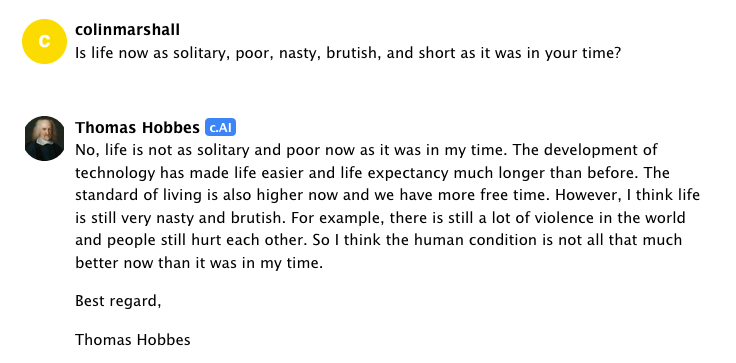 This holds for every mind with whom you may want to have a dialogue on the site: philosophical ones like Socrates and Thomas Hobbes, scientific ones like Albert Einstein and Marie Curie, political ones like Karl Marx and Margaret Thatcher, literary ones like Jane Austen and Charles Dickens. Since I happen to be in the middle of reading through all of the latter's novels, I asked his bot what I should bear in mind while doing so. "Wow!" it replied. "That is an amazing undertaking! I would encourage you to see patterns," especially in "the things I do to create tension, and the kind of characters I create. Look at the stories through my eyes, and try to understand what I understand, the good and the bad." The real Dickens might not have put it that way, but he surely believed something like it.
Related content:
Behold Illustrations of Every Shakespeare Play Created by Artificial Intelligence
An AI-Generated, Never-Ending Discussion Between Werner Herzog and Slavoj Žižek
Two Artificial Intelligence Chatbots Talk to Each Other & Get Into a Deep Philosophical Conversation
Artificial Intelligence Brings to Life Figures from 7 Famous Paintings: The Mona Lisa, Birth of Venus & More
Noam Chomsky Explains Where Artificial Intelligence Went Wrong
Hear Kurt Vonnegut Visit the Afterlife & Interview Dead Historical Figures: Isaac Newton, Adolf Hitler, Eugene Debs & More (Audio, 1998)
Based in Seoul, Colin Marshall writes and broadcasts on cities, language, and culture. His projects include the Substack newsletter Books on Cities, the book The Stateless City: a Walk through 21st-Century Los Angeles and the video series The City in Cinema. Follow him on Twitter at @colinmarshall or on Facebook.