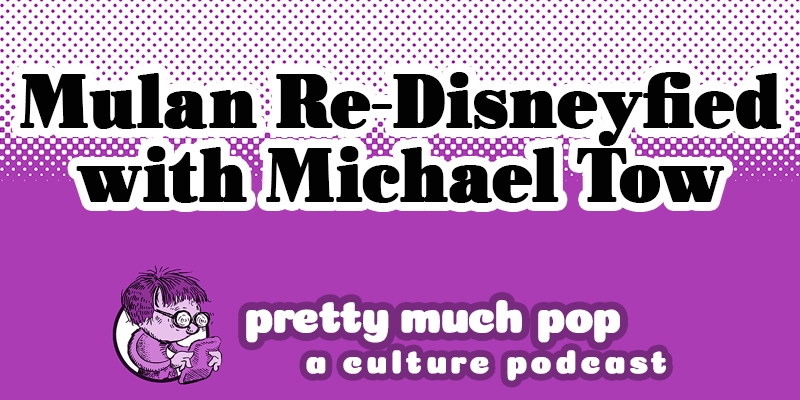 Is the new Mulan the equiv­a­lent for Asian-Amer­i­cans what Black Pan­ther was for African-Amer­i­cans? The largest enter­tain­ment machine we have fea­tured an all-Asian cast telling a tra­di­tion­al Chi­nese sto­ry aimed at the widest pos­si­ble audi­ence. Did it work?
Actor Michael Tow joins your hosts Eri­ca Spyres, Mark Lin­sen­may­er, and Bri­an Hirt to dis­cuss the devel­op­ment, aes­thet­ics, and polit­i­cal con­tro­ver­sies sur­round­ing the film. The vision of fem­i­nism changed between the orig­i­nal poem from ca. 550 C.E. ("When the two rab­bits run side by side, how can you tell the female from the male?") to the present, and the "just be you" eth­ic (with your mag­i­cal chi!) is not the norm for Chi­na in any peri­od. Was the project in its very con­cep­tion doomed to fall short of some of its goals? Was the live-action an improve­ment over the 1998 ani­mat­ed ver­sion?
Read the poem, and watch a read­ing of the illus­trat­ed 1998 Robert San Souci book Fa Mulan that the films were based on. There have been many adap­ta­tions of the sto­ry in Chi­na.
Oth­er sources we read to pre­pare includ­ed:
Fol­low Michael on Twit­ter @michaelctow and check out his imdb cred­its. Michael host­ed a Q&A with the Mulan cast short­ly after the film's release.
Learn more at prettymuchpop.com. This episode includes bonus dis­cus­sion that you can only hear by sup­port­ing the pod­cast at patreon.com/prettymuchpop. This pod­cast is part of the Par­tial­ly Exam­ined Life pod­cast net­work.
Pret­ty Much Pop: A Cul­ture Pod­cast is the first pod­cast curat­ed by Open Cul­ture. Browse all Pret­ty Much Pop posts