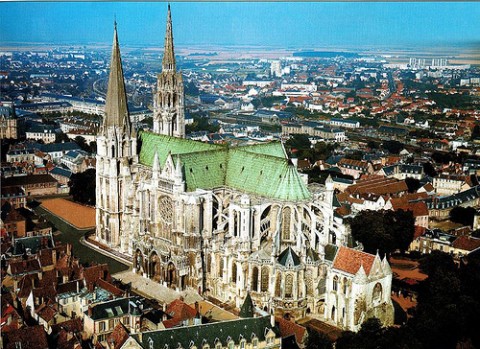 If you have plans to visit the Old World any time soon, you should spend a few good minutes — make that hours — with The History of Architecture, a free course that recently debuted on iTunes. Taught by Jacqueline Gargus at Ohio State, the course features 39 video lectures that collectively offer a classic survey of Western architecture. We begin in Ancient Egypt, Greece and Rome, laying the conceptual foundations for what's to come. Then we dive headlong into Islamic, Byzantine and Medieval architecture, before spending a good deal of time with Renaissance, Baroque, and Rococo styles. Of course, we encounter many great landmarks along the way: the pyramids of Egypt, the temples of Ancient Greece, the Hagia Sophia in Constantinople, Chartres in France, Brunelleschi's Duomo of Florence, and the list goes on…
The course only appears on iTunes right now. But don't worry. Even if you don't have an iPod/iPhone/iPad, you can download iTunes for free and watch the lectures on your computer at no cost.
The History of Architecture has been added to our collection of 1100 Free Online Courses from Top Universities. And if/when Prof. Gargus posts a sequel that gets us into modern times, we'll be sure to let you know.
Related Content:
What Makes Paris Look Like Paris? A Creative Use of Google Street View
David Byrne: How Architecture Helped Music Evolve
Alain de Botton's Quest for The Perfect Home and Architectural Happiness