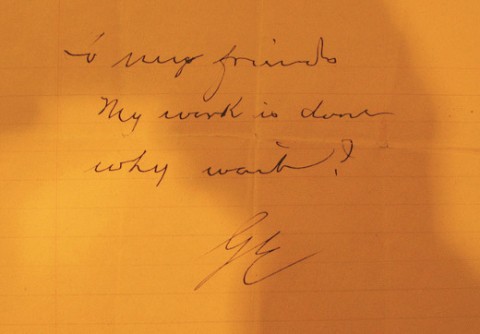 In 1932 George Eastman, the 77 year old entrepreneur who established the Eastman Kodak Company, popularized the use of roll film, and brought photography to the mainstream, found himself in declining health. Suffering from lumbar spinal stenosis, a narrowing of the spinal canal that can lead to considerable back pain and difficulty walking, Eastman was depressed and increasingly disabled. On March 14th, he committed suicide by firing a single gunshot through his heart. An act as brief, and to the point, as the note he left behind. It read:
To my friends
My work is done
Why wait?
GE
Follow Open Culture on Facebook and Twitter and share intelligent media with your friends. Or better yet, sign up for our daily email and get a daily dose of Open Culture in your inbox. 
If you'd like to support Open Culture and our mission, please consider making a donation to our site. It's hard to rely 100% on ads, and your contributions will help us provide the best free cultural and educational materials.
Related Content:
How Film Was Made: A Kodak Nostalgia Moment
Early Experiments in Color Film (1895-1935)
Anne Sexton, Confessional Poet, Reads "Wanting to Die" in Ominous 1966 Video