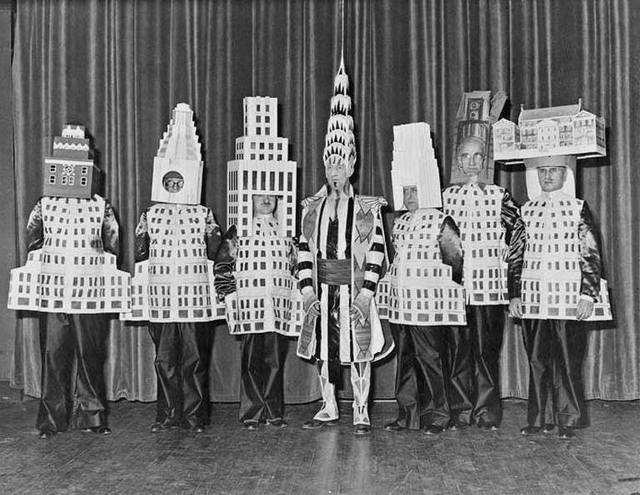 On January 13, 1931, the Society of Beaux-Arts Architects held a ball at the Hotel Astor in New York City. According to an advertisement for the event, anyone who paid $15 per ticket (big money during the Depression) could see a "hilarious modern art exhibition" and things "modernistic, futuristic, cubistic, altruistic, mystic, architistic and feministic." Attendees also got to witness more than 20 famous architects dressed as buildings they had designed, some of them now fixtures of the New York City skyline.
In the picture above, we have from left to right: A. Stewart Walker as the Fuller Building (1929), Leonard Schultze as the Waldorf-Astoria Hotel (1931) , Ely Jacques Kahn as the Squibb Building (1930), William Van Alen as the Chrysler Building (1930), Ralph Walker as 1 Wall Street (1931), D.E.Ward as the Metropolitan Tower and Joseph H. Freelander as the Museum of the City of New York (1930).
A 2006 article in The New York Times notes that the event, now considered "one of the most spectacular parties of the last century," was covered by WABC radio. A few photographs remain (like the one above – click it to enlarge). As does a tantalizing short bit of video.
Follow Open Culture on Facebook, Twitter, Instagram, Google Plus, and Flipboard and share intelligent media with your friends. Or better yet, sign up for our daily email and get a daily dose of Open Culture in your inbox. To make sure that our posts definitely appear in your Facebook newsfeed, just follow these simple steps.
If you'd like to help support Open Culture, please consider making a small monthly donation to our site. We would greatly appreciate it!
via NYT
Related Content:
The History of Western Architecture: From Ancient Greece to Rococo (A Free Online Course)
David Byrne: How Architecture Helped Music Evolve
Ten Buildings That Changed America: Watch the Debut Episode from the New PBS Series
A Tour Inside Salvador Dalí's Labyrinthine Spanish Home