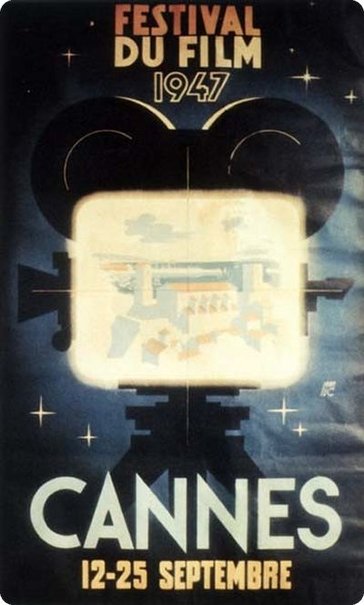 The 64th Annual Cannes Film Festival opens tonight, and the cineastes among you have probably already bookmarked the film site MUBI, where you can find all things Cannes (and all things international cinema, for that matter) at the site's blog: the MUBI Daily.
Edited by Daniel Kasman, the MUBI Daily features stellar writers, including Glenn Kenny, Ignatiy Vishnevetsky, and the wonderful David Hudson, whom you may recognize from his days at Greencine and IFC.  You'll find review round-ups, commentary, interviews, updates, trailers for many films at Cannes, and finally, quirky entries like this one: Contributor Adrian Curry's commentary on a L'Express collection of 64 year's worth of official Cannes Festival posters. Curry highlights the best and worst of the lot (along with a special wince d'or for 1995's pastel nightmare of a seascape, to which designer Ryszard Horowitz may as well have added rainbows and unicorns).
The site is definitely worth keeping tabs on, especially this week, when they'll be offering a virtual ticket to the south of France, minus the lines, mobs, and high likelihood of laptop theft.
A last note: you can find several prize-winning films from the Cannes Film Festival (including two by Andrei Tarkovksy) in our collection of Free Movies Online.
via MUBI and A Life in Film
Sheerly Avni is a San Francisco-based arts and culture writer. Her work has appeared in Salon, LA Weekly, Mother Jones, and many other publications. You can follow her on twitter at @sheerly
via