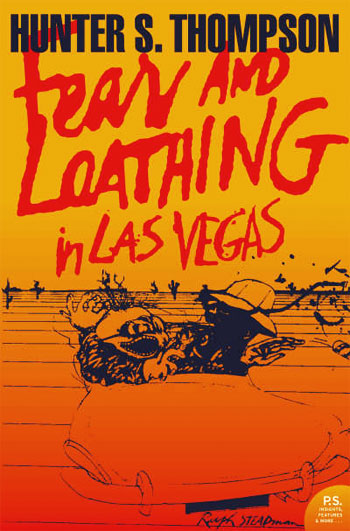 Last week, we asked Open Cul­ture read­ers to write in with your favorite non-fic­tion titles of all time, and you did­n't dis­ap­point. We had a hard time culling from the more than 100 sug­ges­tions, but we did have a few cri­te­ria to guide us:
1. Pri­or­i­ty went to repeat nom­i­nees (Bill Bryson, Hunter S. Thomp­son, and Richard Dawkins, to name a few).
2. We leaned toward books that are avail­able for free online.
3. When all else failed, we relied on our own pref­er­ences — or prej­u­dices.
Thanks again for all of your rec­om­men­da­tions, and may we con­grat­u­late you on your excel­lent taste in non-fic­tion, equalled by only your excel­lent taste in web­sites.
The List
Hunter S. Thomp­son — Fear and Loathing in Las Vegas
Friedrich Niet­zsche — The Gay Sci­ence
Richard Dawkins - The Self­ish Gene
Wen­dell Berry — The Way of Igno­rance
Joseph Mitchell — Up in the Old Hotel
Bri­an Greene — The Ele­gant Uni­verse
Nor­man Lewis - Voic­es of the Old Sea
Joan Did­ion — The White Album
Ben­jamin Franklin - The Auto­bi­og­ra­phy of Ben­jamin Franklin
Tony Judt — Post­war: A His­to­ry of Europe Since 1945
Hen­ry David Thore­au — Walden
Mar­cus Aure­lius — Med­i­ta­tions
Bill Bryson — A Walk in the Woods
George Orwell — Homage to Cat­alo­nia
Han­nah Arendt — Eich­mann in Jerusalem
Book­er T. Wash­ing­ton — Up From Slav­ery
Jorge Luis Borges - Oth­er Inqui­si­tions (1937–1952)
Mar­cus Redik­er — Vil­lains of all Nations: Atlantic Pirates in the Gold­en Age
Mihaly Csik­szent­mi­ha­lyi — Flow: The Psy­chol­o­gy of Opti­mal Expe­ri­ence
Lao Tzu, Stephen Mitchell, trans. Tao Te Ching
Vic­tor Klem­per­er — I Will Bear Wit­ness: A Diary of the Nazi Years (1933–1941)
Greil Mar­cus — Lip­stick Traces: A Secret His­to­ry of the Twen­ti­eth Cen­tu­ry
Philip Goure­vitch — We Wish to Inform You That Tomor­row We Will be Killed with Our Fam­i­lies
Win­ston Churchill — A His­to­ry of the Eng­lish Speak­ing Peo­ples
Last­ly, and only in part because we've been warned that we would be round­ly scold­ed for the omis­sion: The Ele­ments of Style, by William Strunk and E.B. White
Thanks again, and hap­py read­ing!
Sheer­ly Avni is a San Fran­cis­co-based arts and cul­ture writer. Her work has appeared in Salon, LA Week­ly, Moth­er Jones, and many oth­er pub­li­ca­tions. You can fol­low her on twit­ter at @sheerly.