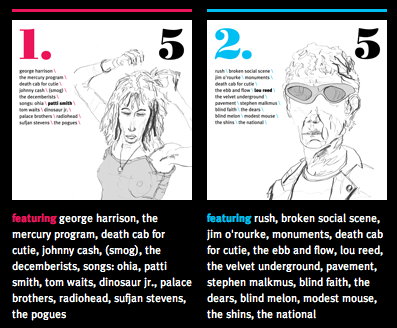 We love the design and overall layout of The Illuminated Playlists by Brooklyn-based designer Adam Parks, but the real delight of the website is its sound, not its look. Parks has grouped 21 music collections into four categories, from slow to very fast  (or rather, Adagio to Presto), so you can choose a playlist depending on the pace of your current activity or mood.
As a DJ, Parks has made consistently solid choices, culling from both the classics (Bob Dylan, Neal Young, Rolling Stones, Curtis Mayfield) and more recent artists (TV on the Radio, The Decemberists, Arcade Fire, etc.). These aren't the lists you would use to impress the cool kids with your eclecticism, ironic tastes, or love of the obscure, but if you're just looking for great soundtracks for the shifting rhythms of the day, they're a perfect fit. Dive in here.
We'd love to see similar collections for jazz and classical — we might just need to make a few of our own.
via Metafilter
Sheerly Avni is a San Francisco-based arts and culture writer. Her work has appeared in Salon, LA Weekly, Mother Jones, and many other publications. You can follow her on twitter at @sheerly.