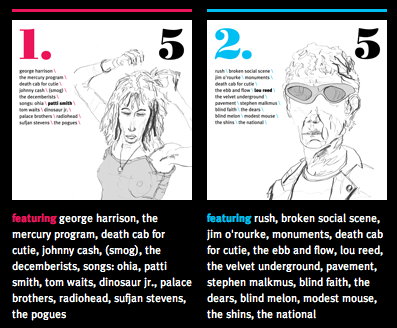 We love the design and over­all lay­out of The Illu­mi­nat­ed Playlists by Brook­lyn-based design­er Adam Parks, but the real delight of the web­site is its sound, not its look. Parks has grouped 21 music col­lec­tions into four cat­e­gories, from slow to very fast (or rather, Ada­gio to Presto), so you can choose a playlist depend­ing on the pace of your cur­rent activ­i­ty or mood.
As a DJ, Parks has made con­sis­tent­ly sol­id choic­es, culling from both the clas­sics (Bob Dylan, Neal Young, Rolling Stones, Cur­tis May­field) and more recent artists (TV on the Radio, The Decem­berists, Arcade Fire, etc.). These aren't the lists you would use to impress the cool kids with your eclec­ti­cism, iron­ic tastes, or love of the obscure, but if you're just look­ing for great sound­tracks for the shift­ing rhythms of the day, they're a per­fect fit. Dive in here.
We'd love to see sim­i­lar col­lec­tions for jazz and clas­si­cal — we might just need to make a few of our own.
via Metafil­ter
Sheer­ly Avni is a San Fran­cis­co-based arts and cul­ture writer. Her work has appeared in Salon, LA Week­ly, Moth­er Jones, and many oth­er pub­li­ca­tions. You can fol­low her on twit­ter at @sheerly.