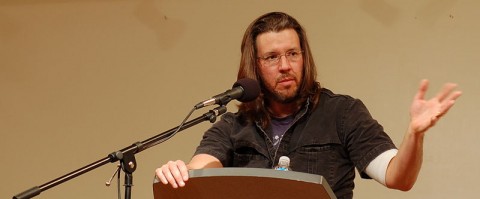 When we fea­tured David Fos­ter Wal­lace's big, uncut inter­view yes­ter­day, one impor­tant detail escaped us — the fact that the nov­el­ist would have turned 50 years old today. Kind of a stun­ning thought, espe­cial­ly if you vivid­ly remem­ber the wun­derkind tak­ing the lit­er­ary world by storm with Infi­nite Jest in 1996. Seems like only yes­ter­day.
To cel­e­brate his 50th, we're high­light­ing for you The David Fos­ter Wal­lace Audio Project — a site that brings togeth­er most of the mean­ing­ful DFW audio avail­able on the web. Built in 2009 by Jor­dyn Bonds and Ryan Walsh, a short while after the nov­el­ist com­mit­ted sui­cide, the audio site is divid­ed into four sec­tions:
As you sift through the col­lec­tion, you will find 70+ clips, includ­ing a seg­ment of DFW's 2005 com­mence­ment speech at Keny­on Col­lege, his first and sec­ond appear­ances on the Char­lie Rose Show, his read­ing from "Con­sid­er the Lob­ster" at UCLA, and the author con­tem­plat­ing the play of Roger Fed­er­er. Dive into the full col­lec­tion here.