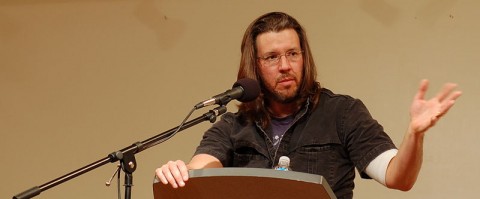 When we featured David Foster Wallace's big, uncut interview yesterday, one important detail escaped us — the fact that the novelist would have turned 50 years old today. Kind of a stunning thought, especially if you vividly remember the wunderkind taking the literary world by storm with Infinite Jest in 1996. Seems like only yesterday.
To celebrate his 50th, we're highlighting for you The David Foster Wallace Audio Project — a site that brings together most of the meaningful DFW audio available on the web. Built in 2009 by Jordyn Bonds and Ryan Walsh, a short while after the novelist committed suicide, the audio site is divided into four sections:
As you sift through the collection, you will find 70+ clips, including a segment of DFW's 2005 commencement speech at Kenyon College, his first and second appearances on the Charlie Rose Show, his reading from "Consider the Lobster" at UCLA, and the author contemplating the play of Roger Federer. Dive into the full collection here.