The discovery of the South Pole is a story whose hero seems to change with every telling. Sometimes it's Robert Scott, sometimes Norwegian Roald Amundsen, and, most recently, Scott's protégé, Sir Ernest Shackleton. All three—and geologist Sir Douglas Mawson—are essential characters in a series of early 20th century expeditions to a forbidding territory nearly inaccessible to the average human being. Now, Google has opened up the Antarctic for everyone to explore from the safety of padded office chairs, comfy couches, and coffee-shop seating. Google Street View was launched in May 2007 and has since expanded its scope to give the average user visual access to some fairly remote and exotic locations. Google's World Wonders Project provides astonishing views of an ancient Zen Temple in Kyoto and the coasts of Dorset and East Devon in England, among many other stunning sites. Most recently, Google Street View has made available 360-degree views of the wooden huts used by Robert Scott and Ernest Shackleton a century ago during their Antarctic expeditions. (Start your tour here.)
Both Scott's and Shackleton's huts have been preserved intact as historical sites by New Zealand's Antarctic Heritage Trust. The explorers' tools and supplies, in their original arrangement, are on full display in detailed panoramic images of the huts' interiors—a departure from the typical exterior perspectives of Street View. Also viewable in the Antarctic series of views is the Cape Royds Adelie Penguin Rookery, the world's southernmost penguin colony and home to many thousands of Adelie penguins. Like all Street View images, including the Scott and Shackleton huts, the Rookery views are static—images of bygone moments frozen in time—but they are no less breathtaking for it.
The image below shows the interior of Shackleton's hut and all of its belongings.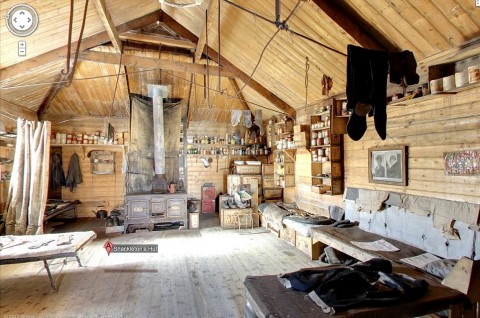 Related Content:
Tour the Amazon with Google Street View; No Passport Needed
Google Art Project Expands, Bringing 30,000 Works of Art from 151 Museums to the Web
Josh Jones is currently a doctoral student in English at Fordham University and a co-founder and former managing editor of Guernica / A Magazine of Arts and Politics.