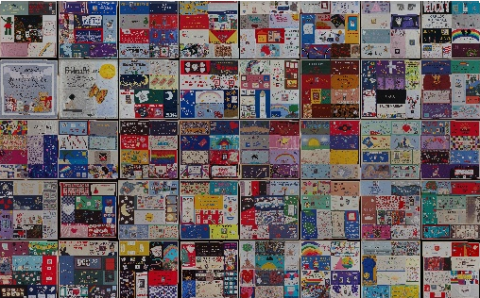 Twenty-five years ago a group of friends gathered in a San Francisco apartment to memorialize companions who had died of AIDS. They used one of the oldest techniques around to honor their loved ones: they made a quilt, the now-famous AIDS Memorial Quilt, with unique panels for each person felled by the disease. Now including some 48,000 panels, the quilt has grown into a massive, public expression of grief. Its panels come from around the world. It was even nominated for the Nobel Peace Prize in 1989. (Find more on the history of the quilt here.)
Like any good archive—and the quilt is an archive of life and loss—the AIDS Memorial Quilt serves as a historical repository, a storehouse of sentimental information for scores of people. But beyond that the quilt is a piece of political folk art. AIDS, after all, is a uniquely political disease, at least in the United States. The idea for the quilt was conceived during a candlelight march for assassinated San Francisco Mayor George Moscone and Supervisor Harvey Milk. Efforts to lift the stigma of AIDS are closely linked to gay rights activism.
While the quilt is on view in Washington, D.C. this summer, Microsoft offers the world up close and personal access. Even if the Mall is too small to hold the entire quilt, the Internet isn't. All 48,000 panels are newly digitized through a collaboration between Microsoft and the University of Iowa, the University of Southern California and the Names Quilt Foundation.
You can fly like a bird over the whole, beautiful piece. You can zoom in to read the thousands of names—some in block letters, others stitched in cursive. You can count the rainbows, too.
You can also search the quilt by name or, if you know it, by the block number of a particular panel through the AIDS Quilt Touch interface. The site allows unique searches for each time the quilt has been displayed. This is important because the quilt is so massive that the Mall in Washington can't hold it all. It's always displayed in sections, so if you want to know where a special panel has been on view, recently, it's now possible to find out.
Kate Rix is a freelance writer based in Oakland. See more of her work at .