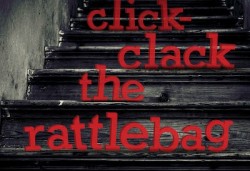 We've previously featured the free, downloadable stories and novels by author Neil Gaiman available online in video, audio, and text format. This is a wonderful thing, to be sure; Gaiman's a fantastic writer of dark fantasy for children and adults alike, so who better to inaugurate this year's Halloween celebrations with a new free story, available for download through Audible.com and read by Neil himself?
Gaiman's new story, entitled "Click-Clack the Rattlebag," is creepy, for sure, but that's all I'm going say about it. You'll need to download it yourself to find out more, and you really should because for every download of the story, Audible has agreed to donate a dollar to one of two charities that Neil has chosen—one for the U.S. and one for the U.K.. Gaiman has more information on his personal website, where he describes his negotiations with Audible in setting up the donations and the process of recording the story. He writes:
The story is unpublished (it will be published in a forthcoming anthology called Impossible Monsters, edited by Kasey Lansdale and coming out from Subterranean Press). It's funny, a little bit, and it's scary, just enough for Hallowe'en, I hope.
Gaiman also has a few requests: first, you need to download the story by Halloween in order to make the donation; second, please don't give the story away—encourage people to go download it for themselves; and lastly, "wait to listen to it until after dark." Atmosphere matters.
You do not need an Audible account to download the story, but you do need to give them your email address to prove you're a human. U.S. readers should go to www.audible.com/ScareUs and U.K. readers to www.audible.co.uk/ScareUs. (Gaiman provides no instructions for readers in other countries; I suppose they could go to either site). So don't wait—help Audible raise money for some worthy educational charities and get in the spirit with some great new fiction from one of the most imaginative writers working today. Finally, if you're looking for more scary reads this Halloween, download Gaiman's "All Hallow's Read" book recommendations in a .pdf.
Note: Do you want to listen to other free audio books by Neil Gaiman? Just head over to Audible.com and register for a 30-day free trial. You can download any audiobook for free. Then, when the trial is over, you can continue your Audible subscription, or cancel it, and still keep the audio book. The choice is entirely yours. And, in full disclosure, let me tell you that we have a nice arrangement with Audible. Whenever someone signs up for a free trial, it helps support Open Culture.
Finally, we also suggest that you explore our collection of 450 Free Audio Books. It's loaded with great classics.
Josh Jones is a doctoral candidate in English at Fordham University and a co-founder and former managing editor of Guernica / A Magazine of Arts and Politics.