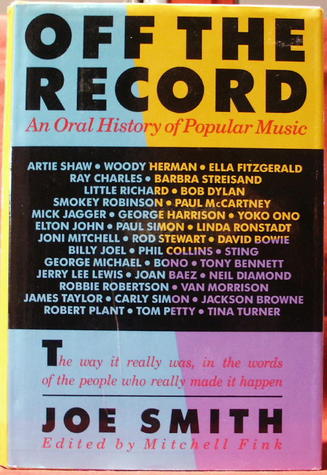 Back in the mid-to-late 1980s, some of the figures we consider Rock and Roll icons were near or at the nadir of their popularity. With Duran Duran, The Police and Michael Jackson at the top of the charts, artists like George Harrison, Bob Dylan and even David Bowie had put out their last great records and were waiting for the nostalgia wheel to turn.
Enter Joe Smith, recording industry executive and former disc jockey. Over two years in the late 80s, while president of Capitol Records/EMI, Smith recorded nearly 240 hours of interviews with a catalog of major musical artists from Mick Jagger, Bowie and Paul McCartney to Yoko Ono, George Harrison and Linda Ronstadt.
Smith used excerpts of the interviews for the book Off the Record, published in 1988. Now retired, he has donated the archive of unedited audio interviews to the Library of Congress. The Joe Smith Collection will feature talks with more than 200 artists. As an industry insider Smith had extraordinary access. It's not that these artists aren't already heavily interviewed and documented. It's the intimate tone of the conversations that pleases and surprises.
In a leisurely conversation with Smith, David Bowie (above) talks about taking classes from Peter Frampton's father in art school. Yoko Ono, interviewed in late 1987, comes across as still living in the shadow of her late husband. By now, Ono has a bigger reputation as an artist in her own right. Linda Ronstadt, who Smith signed to a recording contract, reflects on her years performing at L.A.'s Troubadour nightclub during the rise of country rock.
By now each of these superstars has written his or her memoir and the golden era of major labels has been dissected by musical diggers. So listening to these interviews from the 1980s takes on a nostalgic feel of its own. Smith's questions sound naive now. Isn't it amazing, he remarks to the legendary producer George Martin, that the Beatles were so heavily influenced by African-American blues?! It's sweet to hear legendary artists and an industry insider stumble upon observations like that one, which have now been so thoroughly digested.
Smith transitioned from broadcast radio to record promotions, eventually rising to executive ranks as president of Warner Brothers, Elektra/Asylum and Capitol Records/EMI. He signed the Grateful Dead, Jimi Hendrix and Van Morrison, so it's no surprise that Mickey Hart is interviewed, sharing an intimate story about his father.
So far, audio for only 25 interviews is available on the library's site. More interviews will be uploaded over time, including one with Smith himself in which he talks dirt about his relationship with former business partner Frank Sinatra.
Kate Rix writes about digital media and education. Read more of her work at and thenifty.blogspot.com.