One of the most unique and intimate concerts from the British blues revival of the 1960s was the "Blues and Gospel Train," filmed in a suburb of Manchester, England. In 2011 we posted an excerpt featuring Muddy Waters singing "You Can't Lose What You Ain't Never Had." Today we're pleased to bring the whole show–or at least most of it.
The "Blues and Gospel Train" was staged on May 7, 1964 by Granada TV. Fans who were lucky enough to get tickets–some 200 of them–were instructed to meet at Manchester's Central Station at 7:30 that evening for a short train ride to the abandoned Wilbraham Road Station in Whalley Range.
When the train pulled in at Wilbraham Road, the audience poured out and found seats on the platform, making their way past Muddy Waters, who was singing "Blow Wind Blow." The opposite platform, decorated to look like an old railway station in the American South, served as a stage for a lineup of now-legendary blues artists including Waters, Sister Rosetta Sharpe, Sonny Terry & Brownie McGhee, Cousin Joe, Otis Spann and Reverend Gary Davis.
The complete concert is available on DVD as part of American Folk -Blues Festival: The British Tours 1963-1966. The version above is not of the greatest quality, but it's still interesting to watch. Rev. Gary Davis's contribution appears to have been cut, but much of the show is intact. The taping was interrupted by a heavy downpour. Fittingly, Sister Rosetta Tharpe begins her set with a performance of "Didn't It Rain." Here's the full list of performances, in order of appearance:
Muddy Waters: "Blow Wind Blow"
Cousin Joe: "Chicken a la Blues"
Cousin Joe: "Railroad Porter Blues"
Sister Rosetta Tharpe: "Didn't It Rain"
Sister Rosetta Tharpe: "Trouble in Mind"
Muddy Waters: "You Can't Lose What You Ain't Never Had"
Sonny Terry & Brownie McGhee: "Talking Harmonica Blues"
Sonny Terry & Brownie McGhee: "Rambler's Blues" medley
Sonny Terry & Brownie McGhee: "Walk On"
Sister Rosetta Tharpe: "He's Got the Whole World in His Hands"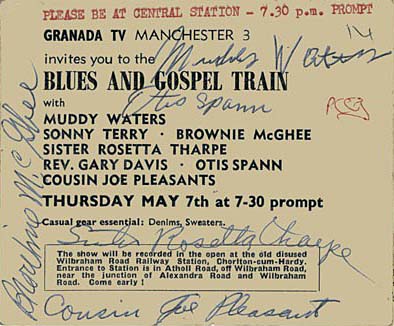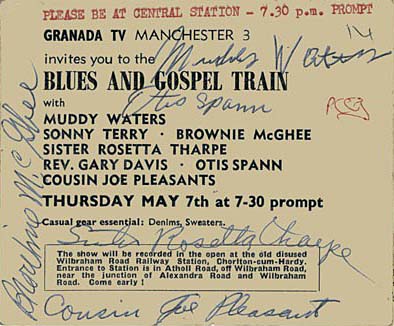 Related content:
Martin Scorsese Presents The Blues
Robert Johnson's 'Me and the Devil Blues,' Animated
Lead Belly: Only Known Footage of the Legendary Bluesman, 1935 and 1945