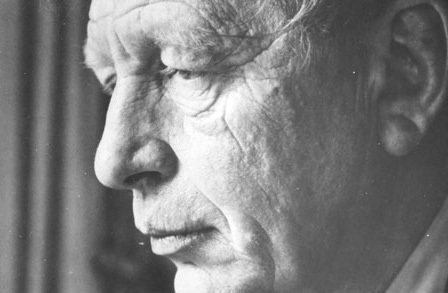 Today we bring you one of the best-loved poems of W.H. Auden, "As I Walked Out One Evening," read (below) by the poet himself. Auden wrote the poem in 1937 and first published it in his 1940 volume, Another Time. The poem is a variant of the ballad form, made up of 15 rhymed quatrains. It's a meditation on love and the remorselessness of time, told in three voices: the narrator, a rapturous lover, and the reproachful clocks that speak back to the lover.

'The years shall run like rabbits,
     For in my arms I hold
The Flower of the Ages,
    And the first love of the world.'
But all the clocks in the city
    Began to whirr and chime:
'O let not Time deceive you,
    You cannot conquer Time
Auden made a number of audio recordings over the years, and we were unable to track down the time and place of this one. It may be a 1953 recording originally released by Caedmon Records. "As I Walked Out One Evening" is included in the Random House audio collection, Voice of the Poet: W.H. Auden.
Related Content:
500 Free Audio Books: Download Great Books for Free 
375 Free eBooks: Download to Kindle, iPad/iPhone & Nook