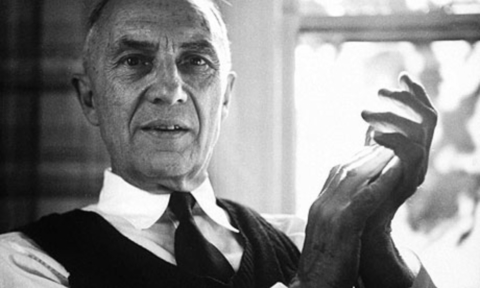 Want to know what's going on the poetry world? Ask University of Pennsylvania professor Al Filreis. A national treasure for modern American poetry, Filreis serves as Faculty Director of the Kelly Writers House, Director of UPenn's Center for Programs in Contemporary Writing, and Co-Director of the excellent poetry recording series and archive PennSound. He also teaches a Coursera massive open online course, "ModPo," which has reached over 36,000 students, bringing his thirty years of seminar-style teaching experience to the masses. On top of all that, Filreis is the publisher of contemporary poetry webzine Jacket 2, which hosts a podcast called "PoemTalk."
"PoemTalk" brings together poets, writers, and teachers to informally discuss a single poem. Like Filreis' classes—in which he prefers lively discussions over long lectures—these seminar-like sessions involve a lot of friendly disagreement and serendipitous insights, with many pearls of poetic wisdom scattered throughout. The first episode of "PoemTalk" (above), from December 2007, took on William Carlos Williams' fragmentary modernist provocation "Between Walls":
Between Walls
the back wings
of the
hospital where
nothing
will grow lie
cinders
in which shine
the broken
pieces of a green
bottle
If you don't see much in this little imagist exercise, you might just want to read it again, several times, after listening to Filreis, Saigon-born poet Linh Dinh, teacher and poet Randall Couch, and poet Jessica Lowenthal unpack the poem's many resonances and reflections. (Or you might have had your fill by then). Williams' approach was completely innovative, stripping all of the rhetorical excesses from American poetry, which suffered from a kind of Victorian hangover into the first decades of the twentieth century until those nasty modernists finished roughing it up. As the episode's page points out, "'Between Walls' has had a huge influence on poetry and photography since its first publication in 1934." Listen to the discussion above to find out why such a seemingly straightforwardly unsentimental, un-"poetic" piece of writing had such an impact.
Since this inaugural episode, "PoemTalk" has covered several dozen contemporary, living poets, as well as such notables as Ezra Pound, John Ashbery, Adrienne Rich, Allen Ginsberg, and Wallace Stevens. By the way, as an added bonus, all of the poems discussed on "PoemTalk" are available as audio recordings on PennSound, read by the poets themselves. Here's Williams reading "Between Walls."
"PoemTalk"'s most recent episode takes as its text Charles Alexander's "Near or Random Acts." You can listen through the website or subscribe on iTunes.
Related Content:
William Carlos Williams Reads His Poetry (1954)
Listening to Famous Poets Reading Their Own Work
Josh Jones is a writer, editor, and musician based in Washington, DC. Follow him @jdmagness