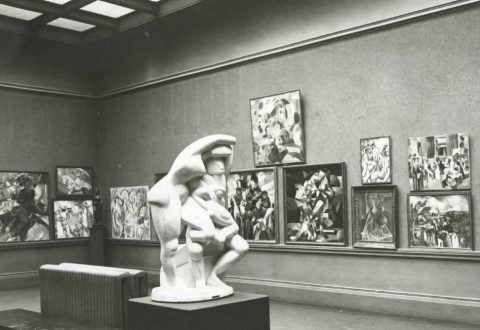 One hun­dred years ago, Amer­i­ca had only just begun talk­ing about "avant garde" art. Before the famous "Armory Show," no one was even using the term; after it, Unit­ed States' art-watch­ers had many rea­sons to. It's what they saw on dis­play at the exhi­bi­tion, mount­ed by two dozen artists entire­ly with­out pub­lic fund­ing. Prop­er­ly called The Inter­na­tion­al Exhi­bi­tion of Mod­ern Art, the show got its pop­u­lar name by start­ing out in the 69th Reg­i­ment Armory on Lex­ing­ton Avenue in New York. It then moved to Chica­go and Boston, pro­vok­ing shock, dis­missal, and some­times even appre­ci­a­tion across the East Coast and Mid­west. A lit­tle Van Gogh, Gau­guin, Cezanne, Picas­so, Matisse, and Duchamp can do that to you.
Or at least, they do that to you if you live in 1913 and have nev­er seen such bold destruc­tion and rein­ven­tion of visu­al art's estab­lished forms. To mark the Armory Show's cen­ten­ni­al, the Art Insti­tute of Chica­go has recre­at­ed its view­ing expe­ri­ence on the web. There you can explore the gal­leries as Chicagoans actu­al­ly saw them a cen­tu­ry ago, albeit in black-and-white. The site also pro­vides much in the way of con­text, offer­ing arti­cles on the exhi­bi­tion's gen­e­sis, pro­gram notes, lega­cy, and more. You can learn more about the impact of the Armory Show in this recent NPR piece, which quotes Muse­um of Mod­ern Art cura­tor Leah Dick­er­man on the sub­ject: "It's this moment in time, 100 years ago, in which the foun­da­tions of cul­tur­al prac­tice were total­ly reordered in as great a way as we have seen. And that this marks a reorder­ing of the rules of art-mak­ing — it's as big as we've seen since the Renais­sance."
via @coudal
Relat­ed con­tent:
Icon­ic Artists at Work: Watch Rare Videos of Picas­so, Matisse, Kandin­sky, Renoir, Mon­et and More
Free: The Guggen­heim Puts 65 Mod­ern Art Books Online
Down­load Hun­dreds of Free Art Cat­a­logs from The Met­ro­pol­i­tan Muse­um of Art
MoMA Puts Pol­lock, Rothko & de Koon­ing on Your iPad
Col­in Mar­shall hosts and pro­duces Note­book on Cities and Cul­ture and writes essays on lit­er­a­ture, film, cities, Asia, and aes­thet­ics. He's at work on a book about Los Ange­les, A Los Ange­les Primer. Fol­low him on Twit­ter at @colinmarshall.