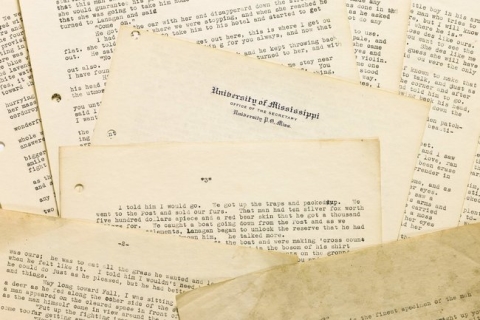 Just when it seemed, after decades of scholarship, criticism, and commentary on the life's work of William Faulkner, that there was nothing more to say, along comes The New York Times with a report of an early unpublished story and a batch of letters to his wife Estelle, recently uncovered in a box found in the barn at the Faulkner family farm in Charlottesville, Virginia. The new work, discovered last year, will go on auction at Sotheby's this June, along with hand-corrected manuscripts, a hand-bound poetry book, Faulkner's 1949 Nobel prize medal and diploma, and a handwritten draft of his acceptance speech.
The Times comments that the Nobel items are "likely to be the most sought after" by collectors, but for scholars and us lovers of the writing, it's the unpublished work that holds the most interest. Says Faulkner scholar Sally Wolff-King: "In literary circles a newly discovered first draft of a famous story or novel can be as significant as an early version of the Gettysburg Address to American historians."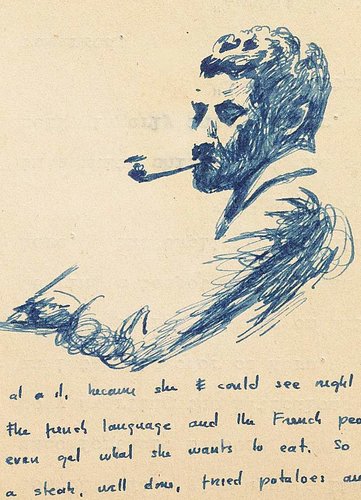 In addition to his Nobel-winning literary skill, Faulkner was quite the illustrator, often including pen-and-ink drawings in his letters and postcards, such as the self-portrait at left, drawn on the back of a draft of a story, with newly-grown beard and pipe. "My beard is getting along quite well," he writes. Faulkner sent illustrated letters and postcards to his parents from his sojourn in Paris, signing them "Billy."
The image at the top shows the unpublished story—about a fur trapper's trip to the city—typed on the back of University of Mississippi letterhead, where Faulkner was a student for three semesters between 1919 and 1920.
Related Content:
William Faulkner (Who Died 50 Years Ago Today) Reads His Nobel Prize Speech
William Faulkner Explains Why Writing is Best Left to Scoundrels … Preferably Living in Brothels (1956)
Seven Tips From William Faulkner on How to Write Fiction
William Faulkner Audio Archive Goes Online
Josh Jones is a writer, editor, and musician based in Washington, DC. Follow him @jdmagness