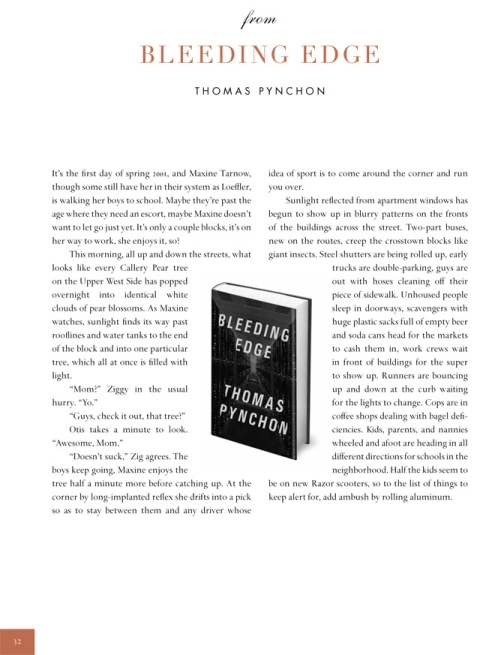 Click the image for a larger view. And if it doesn't get large enough, click it again…
Pynchon. What to say? An all-night marathon reading of Gravity's Rainbow changed my brain chemistry. A couple days locked in a room with V altered my reality forever. I read the first chapter of Mason & Dixon. Bought and forgot a copy of Against the Day. Scanned a review of Inherent Vice.
So maybe the later Pynchon hasn't grabbed me, or my leisure reading time has just evaporated. Or both. I'm sure I'm not alone in this. But now we've got another chance to gape at the reclusive paranoiac's labyrinthine prose, since his new novel Bleeding Edge comes out September 17th. And publisher Penguin has thrown us a morsel—you can read the first page of Bleeding Edge (above), from Penguin's Fall 2013 catalog.
Described as a "historical romance on New York in the early days of the internet," Bleeding Edge takes place in a pre-lapserian 2001, "in the lull between the collapse of the dot-com boom and the terrible events of September 11th." The novel promises plenty of intrigue, dark humor, layers of occult foreboding, "lamentations about the '60s counterculture," and "shady fascistic organizations with futuristic names."
Read the full description of Bleeding Edge at Gothamist.
Josh Jones is a writer and musician based in Washington, DC. Follow him @jdmagness