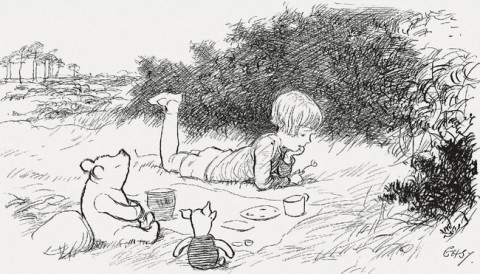 Here's a rare recording from 1929 of the British author A.A. Milne reading a chapter of his beloved children's book, Winnie-the-Pooh. Milne was a prolific writer of plays, novels and essays, but he was most widely known–much to his chagrin–as the creator of a simple and good-natured little bear.
Pooh was inspired by his son Christopher Robin's favorite teddy bear. In Milne's imagination, the stuffed bear comes alive and enters into little adventures (or one might say misadventures) with Christopher Robin and his other stuffed animals. The name "Winnie" was borrowed from a famous resident of the London Zoo: a black bear from Canada named for the city of Winnipeg. The young Christopher Robin liked visiting Winnie at the zoo. He also liked a graceful swan he saw swimming in a pond at Kensington Gardens, who he named "Pooh." His father combined the two names to create one of the most popular characters in children's literature.
Winnie-the-Pooh first appeared in stories and poems in popular magazines. In 1926 Milne collected them in a book, Winnie-the-Pooh, with illustrations by E.H. Shepard. Each chapter in the book is a self-contained episode or story. In the recording below, Milne reads Chapter Three (click here to open the text in new a window) "In Which Pooh and Piglet Go Hunting and Nearly Catch a Woozle."
Looking for free, professionally-read audio books from Audible.com? Here's a great, no-strings-attached deal. If you start a 30 day free trial with Audible.com, you can download two free audio books of your choice. Get more details on the offer here.
And note this: Audiobooks.com also has a free trial offer where you can download a free audiobook. Details.
Related Content:
200 Free Kids Educational Resources: Video Lessons, Apps, Books, Websites & More
The Epistemology of Dr. Seuss & More Philosophy Lessons from Great Children's Stories
Morgan Freeman Teaches Kids to Read in Vintage Electric Company Footage from 1971