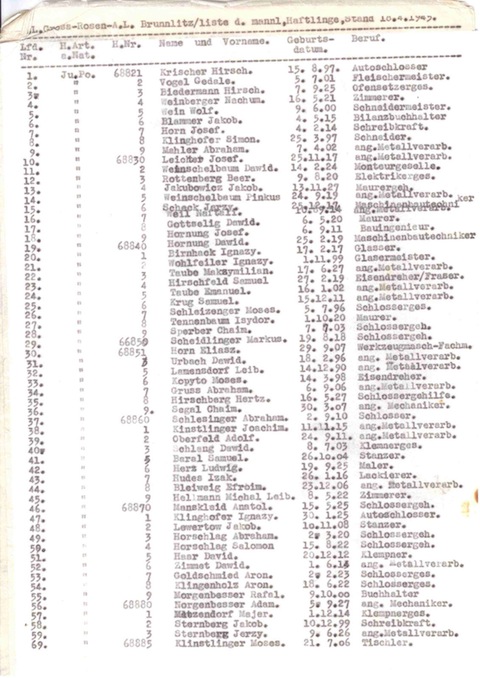 Click image above to enlarge
The story of Oskar Schindler, savior of thousands of Polish Jews, produced an epic novel, Schindler's Ark, which in turn produced Steven Spielberg's epic Schindler's List. Like that of Anne Frank, Schindler's story contains actions both unimaginably courageous and relatably human, and so his drama moves us past the stupefyingly brutal machinery of the Nazi death camps and into the lives of the real people under threat and those who helped them. But when we step out of the memoirs and fictionalizations and back into the dry history of documents, memos, and orders, the inhuman bureaucratic cast of Nazi efficiency returns, even in the case of Oskar Schindler.
Take the actual list (page one above). A featureless business ledger, the list is indistinguishable from the many concentration camp registers and death records Schindler's fellow Nazis kept assiduously as they went about the business of eradicating a whole population. We know, of course, that Schindler played the part of a party believer to save lives instead of take them, but it's still quite eerie to look over this faceless list of names and contemplate how close these men and women came to the horrors of the camps that took so many of their neighbors, friends, and relatives.
The list above is now on sale through an Ebay auction, starting bid 3 million dollars. It is certified authentic as the actual list typed up by Shindler's accountant Itzhak Stern (played by Ben Kingsley in the film). The auction page provides the following information:
Itzhak Stern typed up the 14 page list on onion skin paper. Up for auction is not a copy of that list, but the actual one. It was sold by Itzhak Stern's nephew to the current owner. It is dated in pencil on the first page, April 18, 1945. The auction will also include a copy of the affidavit from Stern's nephew, recounting more details and provenance on The List. There's a complete history of the composition of the list in David Crowe's brilliant bio, Oskar Schindler: The Untold Account of His Life, Wartime Activities, and the True Story Behind the List.
Related Content:
The Trial of Adolf Eichmann at 50
Rare 1940 Audio: Thomas Mann Explains the Nazis' Ulterior Motive for Spreading Anti-Semitism
Rudolf Brazda, Last Man to Wear the Pink Triangle During the Holocaust, Tells His Story
Hannah Arendt Discusses Philosophy, Politics & Eichmann in Rare 1964 TV Interview
Josh Jones is a writer and musician based in Washington, DC. Follow him at @jdmagness