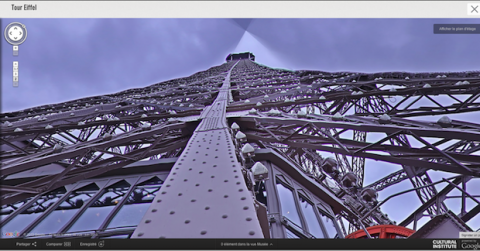 One of the most stunning views a traveler can have in Paris is to round a corner and see the massive four-legged base of the Eiffel Tower. One of the beautiful things about Eiffel's tower is that it is so colossal and yet so airy and delicate.
The view from the top is also amazing (though truth be told the views from Notre Dame and Sacré-Coeur may be better because they include the Eiffel Tower too)—so much so that Google photographers hoisted their panoramic Street View camera into the tower and recorded breathtaking views from the three main levels.
The day Google showed up was a typically overcast Paris day. The sky is even a little threatening. After so much gazing out at the city, you might want to dip into a café for un petit café crème.
But keep your laptop with you. The Street View exhibit is one of three that Google now offers about the tower. Google's Cultural Institute collaborated with the Eiffel Tower Operating Company to create three additional exhibits: The Birth of the Eiffel Tower, the tower's construction, and another about its inauguration and early visitors.
One of the coolest pieces of archival material is a recording of tower engineer Gustave Eiffel's voice made by Thomas Edison, who was a big fan of the tower.
Built to display France's engineering prowess at the centenary of the French Revolution, the tower's construction is amazing to contemplate. Four men were needed to install one rivet: one to heat it up, another to hold it in place, a third to shape the head and a fourth to beat it with a sledgehammer. A total of 2,500,000 rivets were used to hold the tower together.
For a much older view of the ride up the tower's elevator, check out this film by the Lumière brothers, made the year the tower opened in 1898.
Related Content:
Climb Three of the World's Highest Peaks on Google Street View
Google Street View Takes You on a Panoramic Tour of the Grand Canyon
Google Street View Opens Up a Look at Shackleton's Antarctic
Kate Rix writes about digital media and education. Follow her on Twitter @mskaterix. Learn more about her work by visiting .