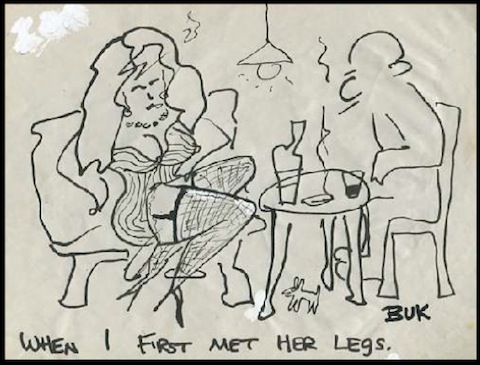 The poet Charles Bukowski has appeared often on Open Culture lately, and I have no objection. Not only do I savor writing about a literary figure thoroughly representative of Los Angeles, where I live, but about one who, even nineteen years after his death, keeps producing interesting things. Or at least we keep finding them.
A case in point comes from this post by Stephen J. Gertz of Booktryst about evidence rediscovered earlier this year of Bukowski's efforts as a cartoonist: "Nineteen long-lost original drawings by Charles Bukowski, America's poet laureate of the depths, surfaced at the 46th California International Antiquarian Book Fair February 15-17, 2013, offered by ReadInk of Los Angeles. Sixteen of them appeared as accompaniment to Bukowski's classic column in the Los Angeles Free Press (The Freep), 'Notes of a Dirty Old Man'. The remaining three originally appeared in Sunset Palms Hotel, Issue #4 (1974)."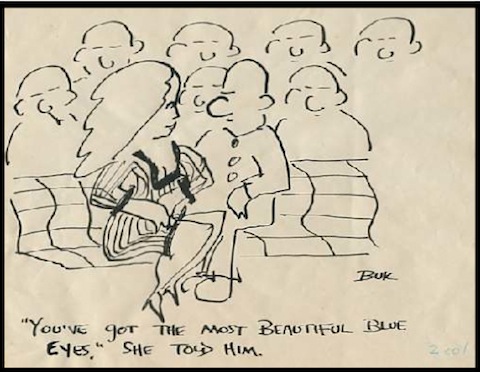 Less comics per se than drawn windows into Bukowski's worldview, these panels show, in a shaky yet bold line, the poet's views on drinking, smoking, staying in bed, and conducting relations with the fairer sex. "Until its termination in 1976," Gertz continues, "Bukowski's 'Notes of a Dirty Old Man' was probably the single biggest contributing factor to both the spread of his literary fame and his local notoriety as a hard-living, hard-drinking L.A. character." The very idea of Bukowski as a regular columnist may strike some familiar with his poetry as incongruous, but you can get an idea of how the gig formed his literary persona by reading the 1969 collection Notes of a Dirty Old Man and the 2011 More Notes of a Dirty Old Man: The Uncollected Columns. Neither, however, contain Bukowski's illustrations, but now you can appreciate them on the internet. They almost make you believe the man could have published a cartoon or two in the New Yorker, but no — wrong coast. (And wrong sensibility, certainly.)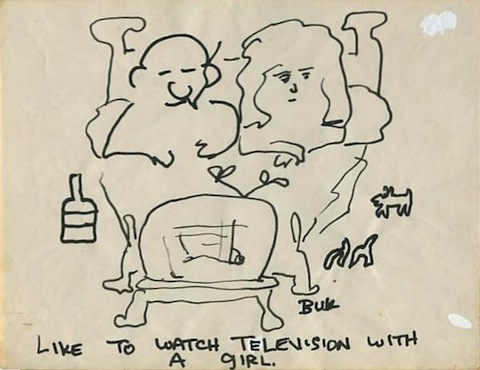 via Book Tryst
Related Content:
Listen to Charles Bukowski Poems Being Read by Bukowski, Tom Waits and Bono
Charles Bukowski Sets His Amusing Conditions for Giving a Poetry Reading (1971)
"Don't Try": Charles Bukowski's Concise Philosophy of Art and Life
Charles Bukowski: Depression and Three Days in Bed Can Restore Your Creative Juices (NSFW)
Colin Marshall hosts and produces Notebook on Cities and Culture and writes essays on literature, film, cities, Asia, and aesthetics. He's at work on a book about Los Angeles, A Los Angeles Primer. Follow him on Twitter at @colinmarshall.