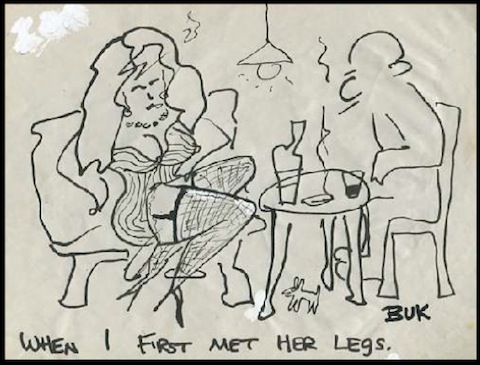 The poet Charles Bukows­ki has appeared often on Open Cul­ture late­ly, and I have no objec­tion. Not only do I savor writ­ing about a lit­er­ary fig­ure thor­ough­ly rep­re­sen­ta­tive of Los Ange­les, where I live, but about one who, even nine­teen years after his death, keeps pro­duc­ing inter­est­ing things. Or at least we keep find­ing them.
A case in point comes from this post by Stephen J. Gertz of Book­tryst about evi­dence redis­cov­ered ear­li­er this year of Bukowski's efforts as a car­toon­ist: "Nine­teen long-lost orig­i­nal draw­ings by Charles Bukows­ki, Amer­i­ca's poet lau­re­ate of the depths, sur­faced at the 46th Cal­i­for­nia Inter­na­tion­al Anti­quar­i­an Book Fair Feb­ru­ary 15–17, 2013, offered by ReadInk of Los Ange­les. Six­teen of them appeared as accom­pa­ni­ment to Bukowski's clas­sic col­umn in the Los Ange­les Free Press (The Freep), 'Notes of a Dirty Old Man'. The remain­ing three orig­i­nal­ly appeared in Sun­set Palms Hotel, Issue #4 (1974)."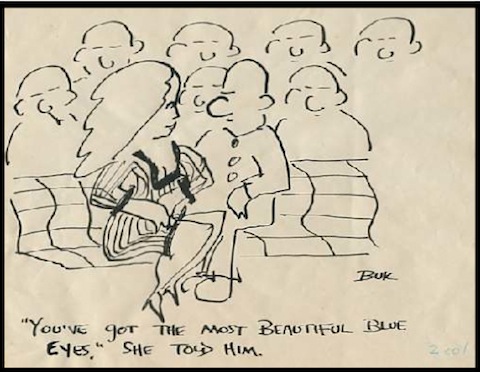 Less comics per se than drawn win­dows into Bukowski's world­view, these pan­els show, in a shaky yet bold line, the poet­'s views on drink­ing, smok­ing, stay­ing in bed, and con­duct­ing rela­tions with the fair­er sex. "Until its ter­mi­na­tion in 1976," Gertz con­tin­ues, "Bukowski's 'Notes of a Dirty Old Man' was prob­a­bly the sin­gle biggest con­tribut­ing fac­tor to both the spread of his lit­er­ary fame and his local noto­ri­ety as a hard-liv­ing, hard-drink­ing L.A. char­ac­ter." The very idea of Bukows­ki as a reg­u­lar colum­nist may strike some famil­iar with his poet­ry as incon­gru­ous, but you can get an idea of how the gig formed his lit­er­ary per­sona by read­ing the 1969 col­lec­tion Notes of a Dirty Old Man and the 2011 More Notes of a Dirty Old Man: The Uncol­lect­ed Columns. Nei­ther, how­ev­er, con­tain Bukowski's illus­tra­tions, but now you can appre­ci­ate them on the inter­net. They almost make you believe the man could have pub­lished a car­toon or two in the New York­er, but no — wrong coast. (And wrong sen­si­bil­i­ty, cer­tain­ly.)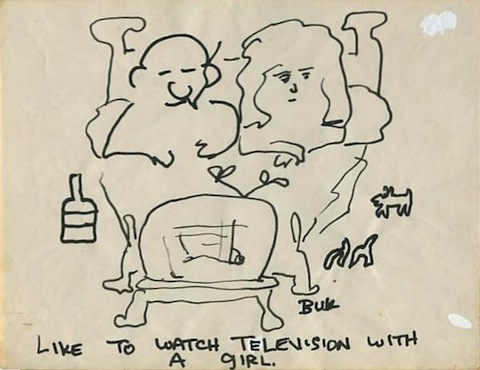 via Book Tryst
Relat­ed Con­tent:
Lis­ten to Charles Bukows­ki Poems Being Read by Bukows­ki, Tom Waits and Bono
Charles Bukows­ki Sets His Amus­ing Con­di­tions for Giv­ing a Poet­ry Read­ing (1971)
"Don't Try": Charles Bukowski's Con­cise Phi­los­o­phy of Art and Life
Charles Bukows­ki: Depres­sion and Three Days in Bed Can Restore Your Cre­ative Juices (NSFW)
Col­in Mar­shall hosts and pro­duces Note­book on Cities and Cul­ture and writes essays on lit­er­a­ture, film, cities, Asia, and aes­thet­ics. He's at work on a book about Los Ange­les, A Los Ange­les Primer. Fol­low him on Twit­ter at @colinmarshall.