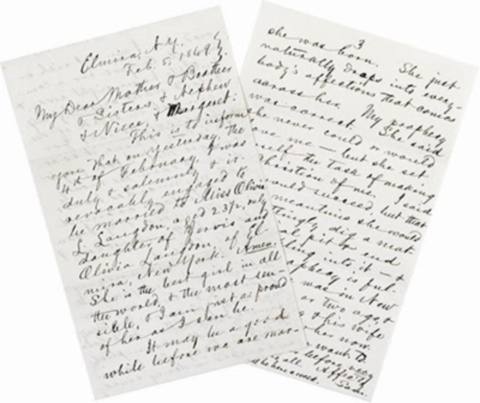 I am of the rather uncontroversial opinion that any marriage is what any two people make of it themselves. I'm also of the opinion that no matter how many people may publicly disagree with that idea, in private, people make their own rules. Nonetheless, the less outspoken among us often respond to moralists and scolds in our lives with the live-and-let live attitude expressed by a character in E.M. Forster's Where Angels Fear to Tread: "Let Philip say what he likes, and he will let us do what we like."
Such passive-aggressive arrangements can be alienating, an opinion Mark Twain seemed to hold when he announced to his family the upcoming nuptials to his future wife of 34 years, Olivia Langdon. In a display of what Booktryst calls "the sort of sentiment deeply appreciated by a prospective spouse," Twain wrote his family in 1869 to tell them the news, and he tried to win them over. His announcement is a "gushing, self-deprecating declaration of intent." One, moreover, that presumes his audience's contrariness. The then 34-year-old Twain anticipates and addresses what seems his family's primary objection to his marriage in general: he details his financial plans and expresses his intention to proceed "unaided."
Twain then mounts his best persuasive case to sway his readers—Mother & Brother & Sisters & Nephew & Niece, & Margaret—in Langdon's favor. He says that everyone who knows her "naturally" loves her. He also goes so far as to say that Langdon "set herself the task of making a Christian of me" and that "she would succeed." Anyone who knows Twain's attitudes toward religion, and Christianity in particular, may see some hyperbole, or even disingenuousness, here, but perhaps it's a sincere expression of how far he was willing to go for the woman who stood by his side as he lost his fortune and hers in scheme after failed get-rich-quick scheme. As Booktryst nicely puts it, "Aside from pen & paper, the only investment that ever paid off for him was his effort to win the heart of Olivia Langdon."
Read a full transcript of the letter below.
My dear Mother & Brother & Sisters & Nephew & Niece, & Margaret: 
This is to inform you that on yesterday, the 4th of February, I was duly & solemnly & irrevocably engaged to be married to Miss Olivia L. Langdon, of Elmira, New York. Amen. She is the best girl in all the world, & the most sensible, & I am just as proud of her as I can be.

It may be a good while before we are married, for I am not rich enough to give her a comfortable home right away, & I don't want anybody's help. I can get an eighth of the Cleveland Herald for $25,000, & have it so arranged that I can pay for it as I earn the money with my unaided hands. I shall look around a little more, & if I can do no better elsewhere, I shall take it.

I am not worrying about whether you will love my future wife or not—if you know her twenty-four hours & then don't love her, you will accomplish what nobody else has ever succeeded in doing since she was born. She just naturally drops into everybody's affections that comes across her. My prophecy was correct. She said she never could or would love me—but she set herself the task of making a Christian of me. I said she would succeed, but that in the meantime she would unwittingly dig a matrimonial pit & end up tumbling into it—& lo! the prophecy is fulfilled. She was in New York a day or two ago, & George Wiley & his wife Clara know her now. Pump them, if you want to. You shall see her before very long. 
Love to all. Affect'ly 
Sam. 
P.S. Shall be here a week.
via Booktryst
Related Content:
Mark Twain Drafts the Ultimate Letter of Complaint (1905)
Mark Twain Wrote the First Book Ever Written With a Typewriter
Mark Twain Shirtless in 1883 Photo