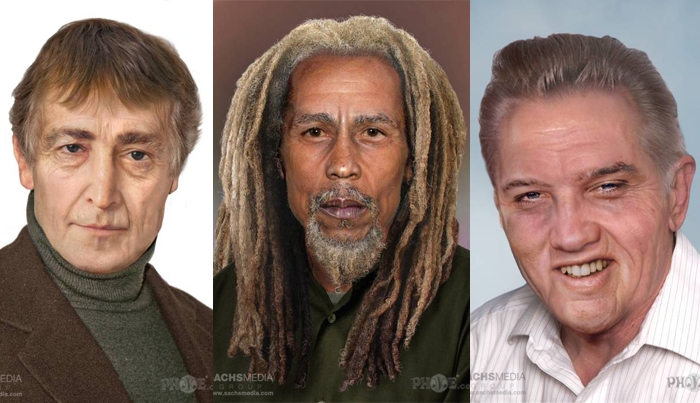 Live fast.
Die young.
Spare yourself the grim realities of the state fair reunion tour circuit.
On the other hand, it's deathly hard to control one's image from beyond the grave. Especially when you've got an award-winning PR Agency and a photo manipulation company teaming up to imagine how you might look had you survived!
The twelve unlucky recipients of these posthumous makeovers remain household names (see the gallery here), even though it's nearly twenty years since the last of their number drew breath. Like Jim Morrison, Janis Joplin and Jimi Hendrix, Kurt Cobain was but 27 when he passed, though at the time of his birth, the other three were all old enough to be his mommy or daddy. Fitting, then, that he appears to be the baby of the golden group.
Music writer Elijah Wald and popular music scholar Reebee Garofalo offer insights below each portrait in the gallery about where the subjects might now find themselves in their careers. It's all conjecture, but their experience ensures that their opinions can be taken as educated guesses, at least.
Less convincing are the sartorial choices on display. Dennis Wilson in a Hawaiian shirt, okay, but were he alive, might not Keith Moon follow suit with former-bandmates Pete Townshend and Roger Daltrey, both of whom have adopted the sleek, monochromatic wardrobe favored by aging rock gods?
And who here thinks the 78-year-old Elvis would traipse around in the sort of short-sleeved poly-blend shirt my late grandfather wore to his weekly men's prayer breakfast?
For pity's sake, age does not automatically imply drabness!
(Who's that I see over there? Could it be Yoko Ono, looking great at 80, in a top hat and tap pants? Even if she were looking less-than-fit, it would still be a bold choice! I doubt she wears that get-up to the grocery store, but the progression of time has not robbed her of the ability to make a deliberate visual impression.)
What is refreshing—though not necessarily believable—is how none of the resurrected icons in these portraits seem to have gone in for plastic surgery.
Related Content: 
Jimi Hendrix's Final Interview on September 11, 1970: Listen to the Complete Audio

Watch Janis Joplin's Final Interview Reborn as an Animated Cartoon
Animated Video: Kurt Cobain on Teenage Angst, Sexuality & Finding Salvation in Punk Music
Ayun Halliday is the author of seven books, most recently Peanut. Follow her @AyunHalliday.