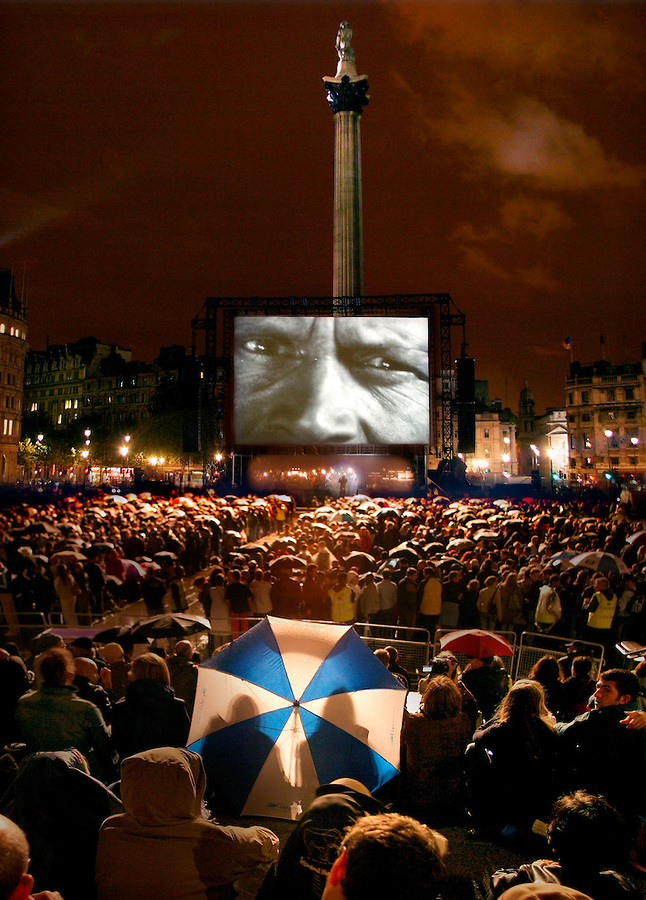 Like many philistines, my famil­iar­i­ty with Sergei Eisen­stein's silent mas­ter­piece, Bat­tle­ship Potemkin—hailed by Cracked mag­a­zine as the "longest 70 min­utes of com­mu­nist pro­pa­gan­da every first year film school stu­dent will ever be forced to watch" —was large­ly lim­it­ed to par­o­dies of and homages to its famous "Odessa Steps" sequence.
The orig­i­nal scene is absolute­ly hor­ri­fy­ing. There's a rea­son this silent film nev­er gets pro­ject­ed on the back walls of piz­za par­lors for the enter­tain­ment of wait­ing cus­tomers. I can also see why it has spooked var­i­ous gov­ern­ments. The dra­mat­ic tram­pling of chil­dren and shoot­ing of young moth­ers and old ladies def­i­nite­ly could spur cit­i­zens to action. (It's impor­tant to note here that the famous scene is not a fac­tu­al retelling. Eisen­stein, the father of mon­tage, com­bined a num­ber of inci­dents, set­ting them in such a mem­o­rable loca­tion that this mas­sacre eas­i­ly pass­es for a mat­ter of his­toric record.)
This 1920s clip fea­tures a score bor­rowed from Shostakovich. What might be the effect with a sound­track sup­plied by the elec­tron­ic duo Pet Shop Boys? (Can't wait to find out? Click here.)
I'm not kid­ding. In 2004, Lon­don's Insti­tute of Con­tem­po­rary Arts invit­ed band­mates Neil Ten­nant and Chris Lowe to com­pose a new score to be per­formed with Dres­d­ner Sin­foniker at a screen­ing in Trafal­gar Square. To no one's sur­prise, they went with an elec­tro-prog sound. What would the film­mak­er, who died in 1948, have made of that?
In order to make an edu­cat­ed guess, let's turn to crit­ic and film his­to­ri­an Roger Ebert, who attend­ed a more mod­est screen­ing in Three Oaks, Michi­gan, fea­tur­ing a live, orig­i­nal sound­track by local band Con­crete. (Who knew com­pos­ing music for this near 90-year-old film would turn out to be such a thing?) Ebert approved of Con­crete's use of "key­boards, half-heard snatch­es of speech, cries and choral pas­sages, per­cus­sion, mar­tial airs and found sounds… played loud, by musi­cians who saw them­selves as Eisen­stein's col­lab­o­ra­tors, not his meek accom­pa­nists."
We may not be able to scare up fur­ther doc­u­men­ta­tion of Con­crete's work, but you can view the film in its entire­ty with its Pet Shop Boys score. Their sound­track is also avail­able for pur­chase by those who would lis­ten to it on its own mer­its.
You can find the orig­i­nal Bat­tle­ship Potemkin here or in our col­lec­tion of 600 Free Movies Online. And if you're inter­est­ed in anoth­er remix of a silent clas­sic, please see The Pix­ies' Black Fran­cis Cre­ates a Sound­track for the Famous Ger­man Expres­sion­ist Film, The Golem
via Metafil­ter
Relat­ed Con­tent:
Watch Ten of the Great­est Silent Films of All Time — All Free Online
The Pow­er of Silent Movies, with The Artist Direc­tor Michel Haz­anavi­cius
Ayun Hal­l­i­day's most recent book is Peanut, a graph­ic nov­el about a girl who fakes a peanut aller­gy. @AyunHalliday