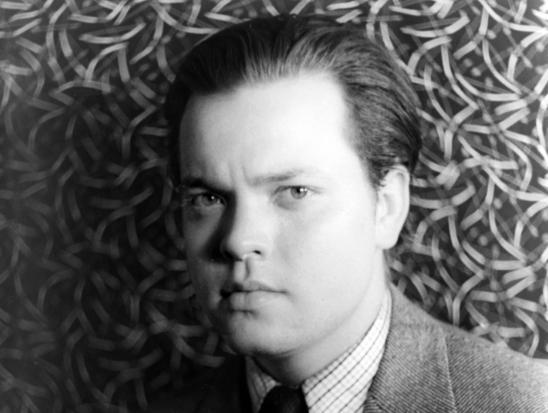 Image by Carl Van Vecht­en, via Wiki­me­dia Com­mons
Orson Welles nev­er wrote a prop­er auto­bi­og­ra­phy, but we have a book that comes close: This is Orson Welles, assem­bled by crit­ic Jonathan Rosen­baum and film­mak­er Peter Bog­danovich (Tar­gets, The Last Pic­ture Show, Paper Moon) out of a series of in-depth record­ed con­ver­sa­tions between Bog­danovich and Welles. That vol­ume has giv­en the younger film­mak­er some­thing of a sub-career as the old­er one's Boswell, which has led to a cer­tain degree of rib­bing about his will­ing­ness to trot out an Orson Welles anec­dote for every con­text. Though I've always enjoyed hear­ing Bog­danovich's inter­pre­ta­tions of Welles, they always get me curi­ous to hear the sto­ries of the life and career of the man who made The War of the Worlds, Cit­i­zen Kane, and (my per­son­al favorite) F for Fake straight from, well, the man who made The War of the Worlds, Cit­i­zen Kane, and F for Fake. You can do just that at the Inter­net Archive, which offers near­ly four hours of audio of the very inter­views that gave This is Orson Welles its source mate­r­i­al. (Audio starts at the 12 sec­ond mark.)
"I first met Orson Welles toward the end of 1968," says Bog­danovich in his intro­duc­tion, "and not long after we began tap­ing our con­ver­sa­tions for a book about his career that he hoped would 'set the record straight.' We start­ed in his bun­ga­low at the Bev­er­ly Hills Hotel, and then resumed a cou­ple of weeks lat­er in Guay­mas, Mex­i­co, where Orson was act­ing in the movie of Catch-22." Their talks con­tin­ued in places from New York's Plaza Hotel and Rome's Hotel Eden to, for what­ev­er rea­son, Care­free, Ari­zona, explor­ing not just the well-known chap­ters of Welles' career, but his expe­ri­ences with now-over­looked or nev­er-com­plet­ed projects like most of his count­less radio dra­mas, his ear­ly adap­ta­tion of Cecil Day-Lewis' Smil­er with a Knife, and his lat­er adap­ta­tion of Kafka's The Tri­al. Some may accuse Bog­danovich of over-milk­ing his asso­ci­a­tion with Welles, but if I had con­ver­sa­tions this fas­ci­nat­ing with per­haps the most respect­ed auteur in Amer­i­can film his­to­ry, I'd prob­a­bly talk about them all the time too.
Relat­ed Con­tent:
Orson Welles Remem­bers his Stormy Friend­ship with Ernest Hem­ing­way
Orson Welles' Last Inter­view and Final Moments Cap­tured on Film
Orson Welles Explains Why Igno­rance Was His Major "Gift" to Cit­i­zen Kane
Revis­it Orson Welles' Icon­ic 'War of the Worlds' Broad­cast That Aired 75 Years Ago Today
Orson Welles Meets H.G. Wells in 1940: The Leg­ends Dis­cuss War of the Worlds, Cit­i­zen Kane, and WWII
Col­in Mar­shall hosts and pro­duces Note­book on Cities and Cul­ture and writes essays on cities, Asia, film, lit­er­a­ture, and aes­thet­ics. He's at work on a book about Los Ange­les, A Los Ange­les Primer. Fol­low him on Twit­ter at @colinmarshall or on his brand new Face­book page.