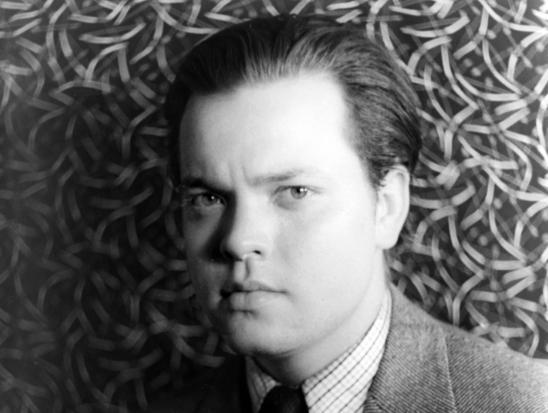 Image by Carl Van Vechten, via Wikimedia Commons
Orson Welles never wrote a proper autobiography, but we have a book that comes close: This is Orson Welles, assembled by critic Jonathan Rosenbaum and filmmaker Peter Bogdanovich (Targets, The Last Picture Show, Paper Moon) out of a series of in-depth recorded conversations between Bogdanovich and Welles. That volume has given the younger filmmaker something of a sub-career as the older one's Boswell, which has led to a certain degree of ribbing about his willingness to trot out an Orson Welles anecdote for every context. Though I've always enjoyed hearing Bogdanovich's interpretations of Welles, they always get me curious to hear the stories of the life and career of the man who made The War of the Worlds, Citizen Kane, and (my personal favorite) F for Fake straight from, well, the man who made The War of the Worlds, Citizen Kane, and F for Fake. You can do just that at the Internet Archive, which offers nearly four hours of audio of the very interviews that gave This is Orson Welles its source material. (Audio starts at the 12 second mark.)
"I first met Orson Welles toward the end of 1968," says Bogdanovich in his introduction, "and not long after we began taping our conversations for a book about his career that he hoped would 'set the record straight.' We started in his bungalow at the Beverly Hills Hotel, and then resumed a couple of weeks later in Guaymas, Mexico, where Orson was acting in the movie of Catch-22." Their talks continued in places from New York's Plaza Hotel and Rome's Hotel Eden to, for whatever reason, Carefree, Arizona, exploring not just the well-known chapters of Welles' career, but his experiences with now-overlooked or never-completed projects like most of his countless radio dramas, his early adaptation of Cecil Day-Lewis' Smiler with a Knife, and his later adaptation of Kafka's The Trial. Some may accuse Bogdanovich of over-milking his association with Welles, but if I had conversations this fascinating with perhaps the most respected auteur in American film history, I'd probably talk about them all the time too.
Related Content:
Orson Welles Remembers his Stormy Friendship with Ernest Hemingway
Orson Welles' Last Interview and Final Moments Captured on Film
Orson Welles Explains Why Ignorance Was His Major "Gift" to Citizen Kane
Revisit Orson Welles' Iconic 'War of the Worlds' Broadcast That Aired 75 Years Ago Today
Orson Welles Meets H.G. Wells in 1940: The Legends Discuss War of the Worlds, Citizen Kane, and WWII
Colin Marshall hosts and produces Notebook on Cities and Culture and writes essays on cities, Asia, film, literature, and aesthetics. He's at work on a book about Los Angeles, A Los Angeles Primer. Follow him on Twitter at @colinmarshall or on his brand new Facebook page.