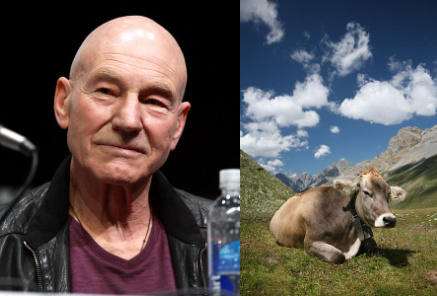 Having spent the fall lounging in the bath dressed as a lobster, and gamboling around New York City with Waiting for Godot cast mate Ian McKellen, the irrepressible Patrick Stewart brought 2013 to a close by indulging a curious fan of NPR's How To Do Everything podcast.
Her question? What do English cows sound like when they moo.
The knighted star does not skimp on his answer, even if, as he repeatedly suggests, one cannot do the subject justice in less than an entire afternoon. The dialects of British cows, like those of their human counterparts, underscore that theirs is a society "dominated by class, social status and location."
The moo of a cow from West Oxfordshire, home to Prime Minister David Cameron, is quite conservative compared to the lusty bellow of a specimen from West Yorkshire, where Stewart grew up. (The latter is so astonishing, he immediately offers to produce it twice.)
Cockney cows, a breed whose ranks have thinned considerably since Shakespeare's day, sound like sheep.
Mayfair cows sound like former Prime Minister Sir Alec Douglas-Home.
As an extra treat, Stewart generously agrees to the host's request for an American cow, impersonating a Nevada-dweller, a geographic homage to the original questioner as well as his bride, jazz singer Sunny Ozell.
Is there anything this man can't – or won't – do?
via Laughing Squid
Ayun Halliday wishes her favorite playwright a very happy birthday. Follow her @AyunHalliday
Related Content:
Peter Sellers Gives a Quick Demonstration of British Accents
Peter Sellers Reads The Beatles' "She Loves You" in Four Different Accents
Patrick Stewart Talks Candidly About Domestic Violence in a Poignant Q&A Session at Comicpalooza
Acclaimed BBC Production of Hamlet, Starring David Tennant (Doctor Who) and Patrick Stewart (Star Trek)