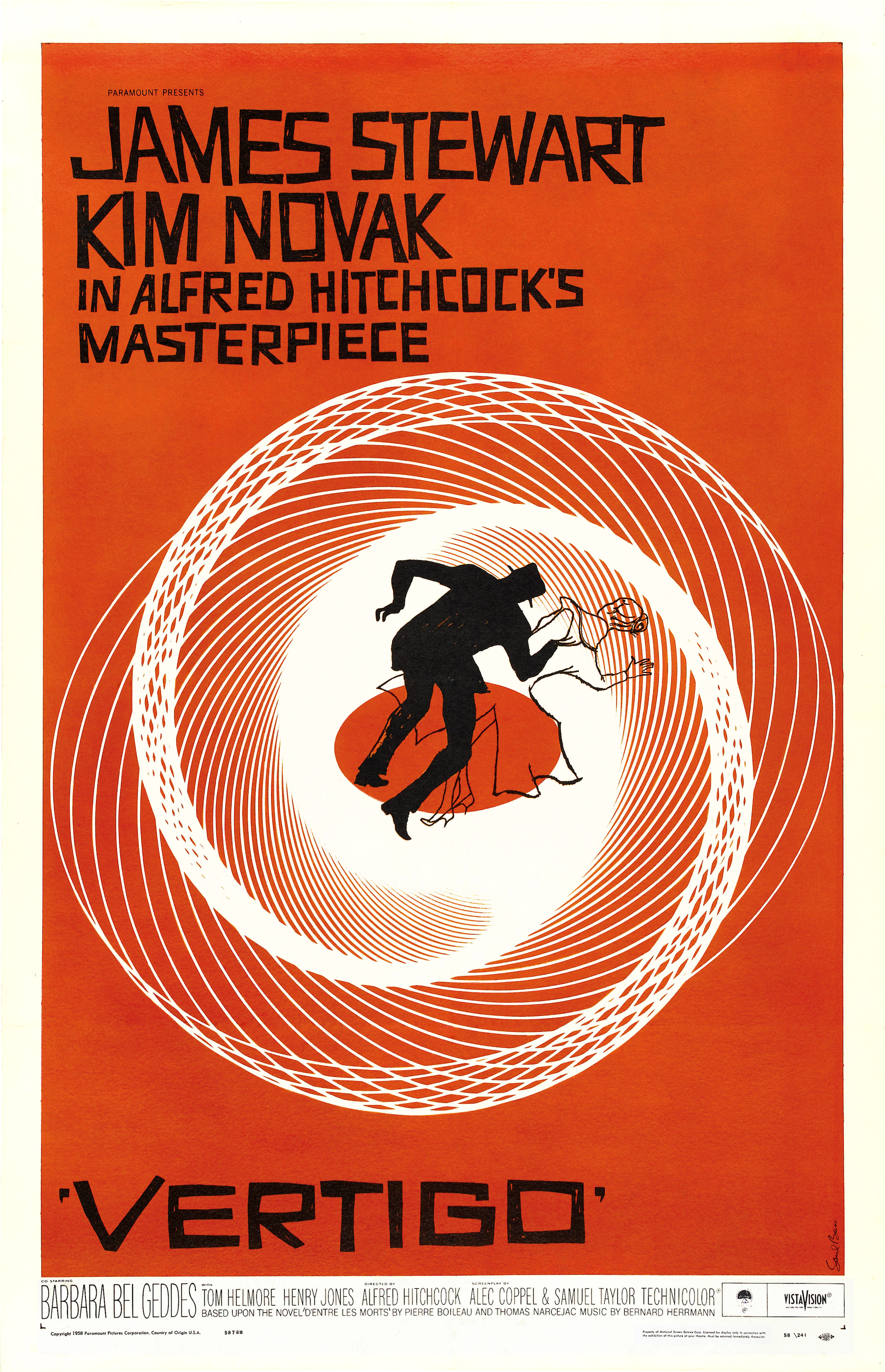 Alfred Hitch­cock's Ver­ti­go might have been a crit­i­cal dis­ap­point­ment when it came out in 1958, but it def­i­nite­ly had one of the most eye-catch­ing poster designs in cin­e­ma his­to­ry.
The poster was designed by Saul Bass who also did the movie's ground­break­ing title sequence. It fea­tures hand-drawn male and female fig­ures that are stand­ing before a mas­sive white spi­ral against a strik­ing orange back­ground. It might be one of the few movie posters out there that you can iden­ti­fy from 100 yards away.
Ver­ti­go played around the world and, as you can see below, the movie's poster changed great­ly to appeal to a local audi­ence. The dif­fer­ences are fas­ci­nat­ing.
Eng­lish-speak­ing coun­tries tend­ed to keep Bass's spi­ral while for­eign-lan­guage mar­kets large­ly did not. The Japan­ese poster plays up the roman­tic ele­ments of Ver­ti­go while the Ital­ian poster focus­es on the psy­cho­log­i­cal weird­ness of the movie. And the Pol­ish poster – which ditch­es all ref­er­ences to Saul Bass's design and, real­ly, any­thing from the film itself – is pret­ty damned awe­some.
Of course, in the years since Vertigo's release, its rep­u­ta­tion has only grown. And in a 2012, Sight and Sound mag­a­zine put Ver­ti­go at the top of their list for Great­est Films of All Time, unseat­ing Cit­i­zen Kane. Maybe the poster had some­thing to do with that.
Bonus Poster from Bel­gium
Relat­ed Con­tent:
Who Direct­ed the Psy­cho Show­er Scene?: Hitchcock's Film & Saul Bass' Sto­ry­boards Side by Side
Alfred Hitchcock's Rules for Watch­ing Psy­cho (1960)
Hitch­cock (Antho­ny Hop­kins) Pitch­es Janet Leigh (Scar­lett Johans­son) on the Famous Show­er Scene
A Brief Visu­al Intro­duc­tion to Saul Bass' Cel­e­brat­ed Title Designs
21 Free Hitch­cock Movies Online
Jonathan Crow is a Los Ange­les-based writer and film­mak­er whose work has appeared in Yahoo!, The Hol­ly­wood Reporter, and oth­er pub­li­ca­tions. You can fol­low him at @jonccrow.