Ask an American or an Englishman who the best Russian poet is, and they'll genuinely consider the question. The same query, when posed to a Russian, invariably yields a single answer: Alexander Pushkin. While his reputation possesses a certain renown amid some rarefied literary circles in the West, in Russia, Pushkin is worshipped: elementary school students memorize his verses, and one would be hard pressed to find a person ignorant of Eugene Onegin's plot.
By extension, Pushkin's sketches — so beloved in Russia that they've been compiled and published numerous times — remain almost unheard of elsewhere. Above we've included a simple drawing that the poet sketched of the great Russian writer, Nikolai Gogol. In the following image, below, Pushkin depicted another authorial contemporary: Aleksander Griboedov, whose Woe from Wit remains a Russian classic.
Further down is the poet himself, all curls and sideburns, in a self-portrait that dates from somewhere between 1827 and 1830.
Pushkin would frequently jot down these charming black and white sketches both in his personal writings, and in the margins of his manuscripts. The final image, a page from Eugene Onegin, is a terrific example of his notebooks. Alongside the text, Pushkin included a sketch of a well-known Russian painter and aristocrat, with whom the author was certainly acquainted: Count Fyodor Petrovich Tolstoy (not to be confused with the Leo Tolstoy).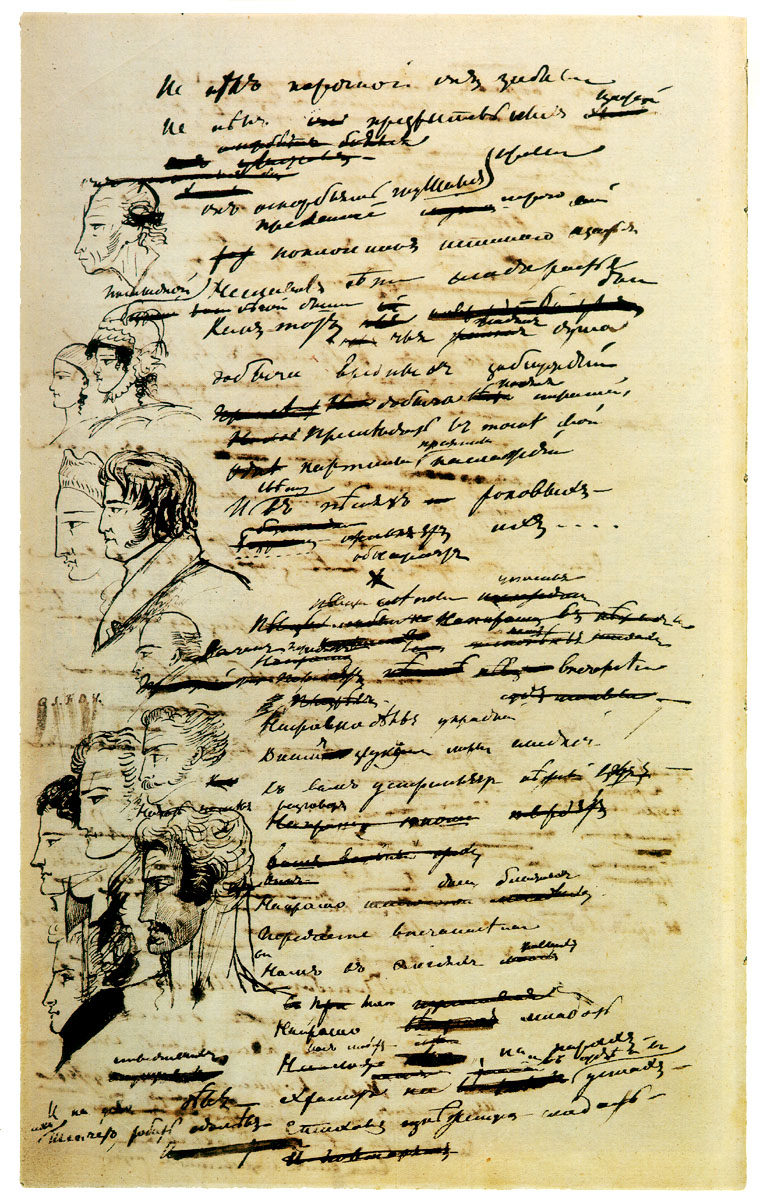 Ilia Blinderman is a Montreal-based culture and science writer. Follow him at @iliablinderman, or read more of his writing at the Huffington Post.
Related Content:
The Historic Meeting Between Dickens and Dostoevsky Revealed as a Great Literary Hoax
George Saunders' Lectures on the Russian Greats Brought to Life in Student Sketches
Stephen Fry Profiles Six Russian Writers in the New Documentary Russia's Open Book