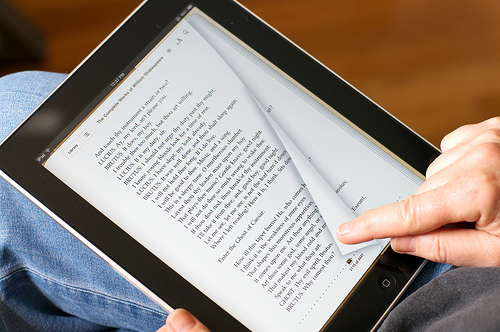 If you're looking for a free read today, let us turn your attention to our collection, 800 Free eBooks for iPad, Kindle & Other Devices. Arendt, Asimov, Austen, Balzac, Baudelaire, Bradbury, Bukowski, Calvino, Chekhov, Clarke (as in Arthur C.), Dante, Dick (as in Philip K.), Dickens, Dickinson, Dostoevsky, Faulkner, Fitzgerald, Flaubert, Freud, Gaiman, Ginsberg, Gogol, Hemingway, Huxley, Joyce, Kafka, Kierkegaard, Lovecraft, Melville, Nabokov, Nietzsche, Oates (as in Joyce Carol), Orwell, Plath, Poe, Pound, Proust, Russell (as in Bertrand), Sartre, Shakespeare, Stein, Tolstoy, Twain, DFW, Wells (as in H.G.), Whitman, Zola — they're all on the list.
If you're an iPad/iPhone user, the download process is super easy. Just click the "iPad/iPhone" links and you're good to go. Kindle users will generally want to click the "Kindle + Other Formats links" to download ebook files, but we'd suggest watching this instructional video (not made by us) beforehand to take full advantage of the collection. And, if downloading files seems like a burden, fear not. We often give you the ability to simply read texts online.
Find our full collection here: 700 Free eBooks for iPad, Kindle & Other Devices. You might equally enjoy our related collection, 1,000 Free Audio Books: Download Great Books for Free. Enjoy.