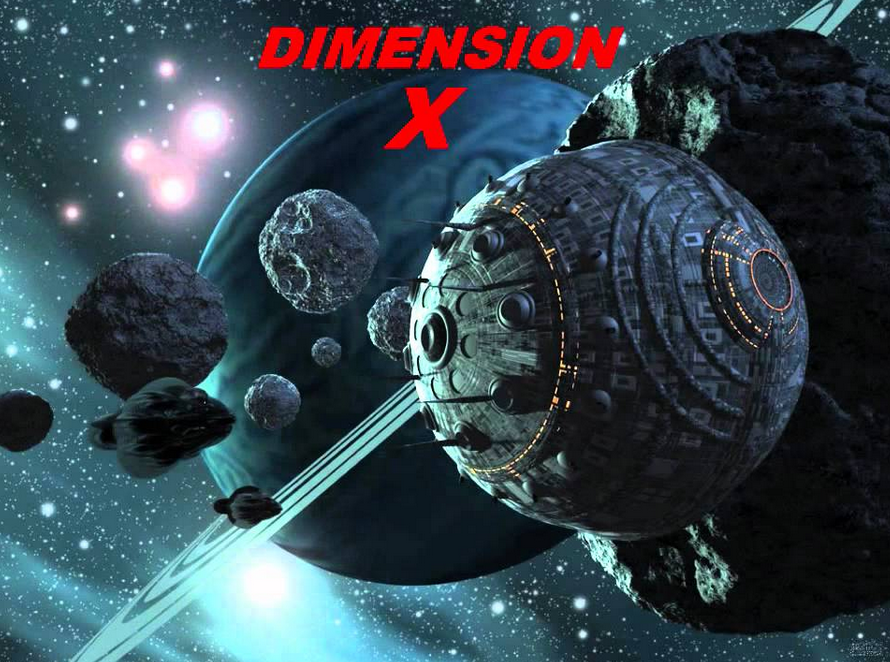 Enthusiasts of American radio drama usually place the form's "Golden Age" as beginning in the 1920s and ending, almost at the stroke of television's mass adoption, in the 1950s. NBC's Dimension X, which ran in 1950 and 1951, came somewhat late to the game, but it did more than its part to give "old time radio" a strong last decade — indeed, perhaps its strongest. Other famous "serious" science-fiction programs had aired in the 20s, 30s, and 40s, but Dimension X made its mark by adapting short stories by acknowledged masters of the craft: Isaac Asimov, Ray Bradbury, Robert Heinlein, and even a non-genre-bound literary mind like Kurt Vonnegut. All of these world-creators knew well the value of imagination, and radio, in its way, stood then and remains today the most evocative, imagination-driven medium of them all. At the Internet Archive (certainly a more convenient old time radio source than the bootleg cassette tapes I used to have to buy) you can download all of Dimenson X's "adventures in time and space, transcribed in future tense."
If you don't know where in this speculative field of time and space to begin, we've highlighted a few Dimension X episodes drawn from works of the most notable authors. June 10, 1950's "The Green Hills of Earth", based upon the Robert Heinlein story of the same name, relates the life of "Noisy" Rhysling, a blind space-age troubadour who realizes he must pay tribute to the planet he long ago left behind. The very next week's "There Will Come Soft Rains", one of Ray Bradbury's many works adapted for the show, describes the apocalypse through the processes of the self-maintaining high-tech miracle house. June 17, 1951's "Pebble in the Sky" takes its theme from the eponymous Isaac Asimov novel that thrusts a 20th-century everyman into a complex future of a galactic empire, a radioactive Earth, and mandatory euthanasia at age sixty. And in February 11, 1950's "Report on the Barnhouse Effect", only the show's third broadcast, we hear the testimony of a telekinetic — one who, given that Kurt Vonnegut wrote the original story, it won't surprise you to hear the government immediately (and haplessly) tries to weaponize.
"The Green Hills of Earth" (Robert Heinlein)
"There Will Come Soft Rains" (Ray Bradbury)
"Pebble in the Sky" (Isaac Asimov)
"Report on the Barnhouse Effect" (Kurt Vonnegut)
Related content:
Orson Welles Vintage Radio: The War of the Worlds That Petrified a Nation
The Relativity Series Features 24 Free Plays About Great Scientists and Scientific Endeavors
Isaac Asimov's Science Fiction Classic, The Foundation Trilogy, Dramatized for Radio (1973)
Colin Marshall hosts and produces Notebook on Cities and Culture and writes essays on cities, language, Asia, and men's style. He's at work on a book about Los Angeles, A Los Angeles Primer. Follow him on Twitter at @colinmarshall or on Facebook.