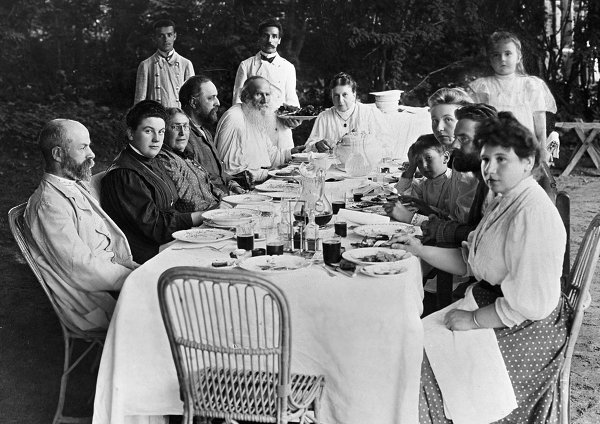 In 1874, Stepan Andree­vich Bers pub­lished The Cook­book and gave it as a gift to his sis­ter, count­ess Sophia Andreev­na Tol­staya, the wife of the great Russ­ian nov­el­ist, Leo Tol­stoy. The book con­tained a col­lec­tion of Tol­stoy fam­i­ly recipes, the dish­es they served to their fam­i­ly and friends, those for­tu­nate souls who belonged to the aris­to­crat­ic rul­ing class of late czarist Rus­sia. Almost 150 years lat­er, this cook­book has been trans­lat­ed and repub­lished by Sergei Bel­tyukov.
Avail­able in an inex­pen­sive Kin­dle for­mat ($3.99), Leo Tol­stoy's fam­i­ly recipe book fea­tures dozens of recipes, every­thing from Tar­tar Sauce and Spiced Mush­rooms (what's a Russ­ian kitchen with­out mush­rooms?), to Stuffed Dumplings and Green Beans à la Maître d'Hô­tel, to Cof­fee Cake and Vien­nese Pie. The text comes with a trans­la­tion, too, of Russ­ian weights and mea­sures used dur­ing the peri­od. One recipe Mr. Bel­tyukov pro­vid­ed to us (which I did­n't see in the book) is for the Tol­stoy's good ole Mac 'N' Cheese dish. It goes some­thing like this:
Bring water to a boil, add salt, then add mac­a­roni and leave boil­ing on light fire until half ten­der; drain water through a colan­der, add but­ter and start putting mac­a­roni back into the pot in lay­ers – lay­er of mac­a­roni, some grat­ed Parme­san and some veg­etable sauce, mac­a­roni again and so on until you run out of mac­a­roni. Put the pot on the edge of the stove, cov­er with a lid and let it rest in light fire until the mac­a­roni are soft and ten­der. Shake the pot occa­sion­al­ly to pre­vent them from burn­ing.
We'll leave you with bon appétit! — an expres­sion almost cer­tain­ly heard in the homes of those French-speak­ing Russ­ian aris­to­crats.
Relat­ed Con­tent:
Rare Record­ing: Leo Tol­stoy Reads From His Last Major Work in Four Lan­guages, 1909
Vin­tage Footage of Leo Tol­stoy: Video Cap­tures the Great Nov­el­ist Dur­ing His Final Days
The Com­plete Works of Leo Tol­stoy Online: New Archive Will Present 90 Vol­umes for Free (in Russ­ian)
Works by Tol­stoy can be found in our col­lec­tions, 800 Free eBooks for iPad, Kin­dle & Oth­er Devices and 1,000 Free Audio Books: Down­load Great Books for Free