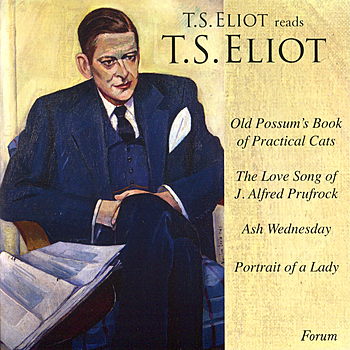 Not only did T.S. Eliot draw the cover for the first edition of his Old Possum's Book of Practical Cats, featured yesterday, he even read it aloud for the audiobook edition. You may think the time of the audiobook, now a popular form on digital audio devices everywhere, must have begun long after the time of Eliot had already ended. (Eliot died in 1965.) But as we know from having previously featured their mid-1970s albums of Leonard Nimoy reading Ray Bradbury, the record label Caedmon positioned themselves well ahead of the audiobook game. Using recordings made from readings given in London in 1955, Caedmon managed to release albums of Eliot speaking his own work aloud. Today we offer you T.S. Eliot Reads T.S. Eliot, made available via Spotify. The 18 tracks, running some 75 minutes, mostly features Eliot reading from Old Possum's Book of Practical Cats. But he also recites a handful of other classic poems. (If you need Spotify, you can download the software here):
Other audio editions of Old Possum's Book of Practical Cats (some including a score) would come out later, but, for many Eliot enthusiasts, nothing else can quite match hearing the man himself introduce the likes of Rum Tum Tugger, Mr. Mistoffelees, and Bustopher Jones. Listeners in most geographies should be able to access the Spotify playlist. But if you live in Canada and South Africa (where some readers have reported problems) we can recommend that you listen (or re-listen) to Eliot's readings of his modernist masterpieces "The Waste Land" and "The Love Song of J. Alfred Prufrock", plus his Four Quartets. And if, by chance, you feel like hearing Eliot's verse but not Eliot's voice, how about letting Bob Dylan take over reading duties?
Eliot's reading of Old Possum's Book of Practical Cats will be added to our collection, 1,000 Free Audio Books: Download Great Books for Free.
Related content:
T.S. Eliot Illustrates His Letters and Draws a Cover for Old Possum's Book of Practical Cats
Listen to T.S. Eliot Recite His Late Masterpiece, the Four Quartets
T.S. Eliot Reads His Modernist Masterpieces "The Waste Land" and "The Love Song of J. Alfred Prufrock"
Bob Dylan Reads From T.S. Eliot's Great Modernist Poem The Waste Land
Colin Marshall hosts and produces Notebook on Cities and Culture and writes essays on cities, language, Asia, and men's style. He's at work on a book about Los Angeles, A Los Angeles Primer. Follow him on Twitter at @colinmarshall or on Facebook.