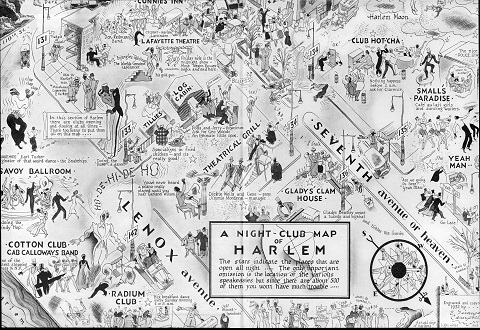 Harlem's undergoing another Renaissance of late. Crime's down, real estate prices are up, and throngs of pale-faced hipsters are descending to check the area out.
Sure, something's gained, but something's lost, too.
For today's holiday in Harlem, we're going to climb in the Wayback Machine. Set the dial for 1932. Don't forget your map. (Click the image above to view a larger version.)
This delirious artifact comes courtesy of Elmer Simms Campbell (1906-1971), an artist whose race proved an impediment to career advancement in his native Midwest. Not long after relocating to New York City, he had the good fortune to be befriended by the great Cab Calloway, star of the Cotton Club. Hi-de-hi-de-hi-de-ho! Check the lower left corner of your map.
You may notice that the compass rose deviates rather drastically from established norms. As you've no doubt heard, the Bronx is up, and the Battery's down, but not in this case. Were you to choose those trees in the upper left corner as your starting point, you'd be at the top of Central Park, basically equidistant from the east and west sides. (Take the 2 or the 3 to 110th St…)
But keep in mind that this map is not drawn to scale. I know it looks like the joints are jumping from the second you step off the curb, but in reality, you'll need to hoof it 21 blocks from the top of Central Park to 131st street for things to start cookin'. Hopefully, this geographical liberty won't get you too hot under the collar. And if it does, well, it may be Prohibition, but stress-relieving beverages await you in every location listed, as well as in some 500 speakeasies Campbell allowed to remain on the down low.
If that doesn't do it for you, there's a guy selling reefer across the street from Earl "Snakehips" Tucker.
As you stagger back and forth between Seventh Avenue to Lenox (now referred to as Adam Clayton Powell Jr. Boulevard and Malcolm X), bear in mind that Campbell was the first African-American cartoonist to be nationally published in the New Yorker, Playboy, and Esquire, whose bug-eyed, now retired mascot, Esky, was a Campbell creation.
In the end, he was an extremely successful illustrator, though few of his creations are reflective of his race.
The map above, which did double duty as endpapers for Calloway's autobiography, Of Minnie the Moocher and Me, is far closer to home.
Right above, see Cab Calloway perform "Hotcha Razz Ma Tazz" at the famous Cotton Club, in Harlem, 1935.
Related Content:
Watch Langston Hughes Read Poetry from His First Collection, The Weary Blues (1958)
Duke Ellington's Symphony in Black, Starring a 19-Year-old Billie Holiday
Rare Recording of Controversialist, Journalist and American Literary & Social Critic, H.L. Mencken
Ayun Halliday is an author, Hoos-Yorker, homeschooler, and Chief Primatologist of the East Village Inky zine. Follow her @AyunHalliday