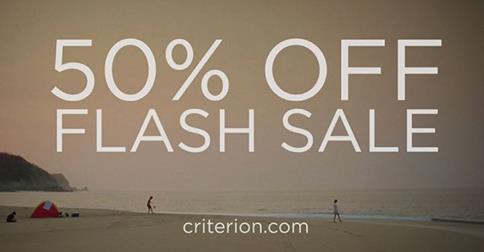 A quick heads up for film buffs. For the next 12 hours — or until 2pm ET on Friday October 10 — you can get 50% off Blu-rays and DVDs in the Criterion Collection if you use the promo code SPIKE.
Criterion specializes in selling "important classic and contemporary films" to film aficionados. If you like masterpieces by David Lynch, Andrei Tarkovsky, John Cassavetes, Truffaut, Fellini and the rest, you won't want to miss this rare sale.
If you prefer "Free" to "50% off," I'm sure you can find something that piques your interest in our collection, 4,000+ Free Movies Online: Great Classics, Indies, Noir, Westerns, Documentaries & More.
Sign up for our daily email and, once a day, we'll bundle all of our daily posts and drop them in your inbox, in an easy-to-read format. You don't have to come to us; we'll come to you!